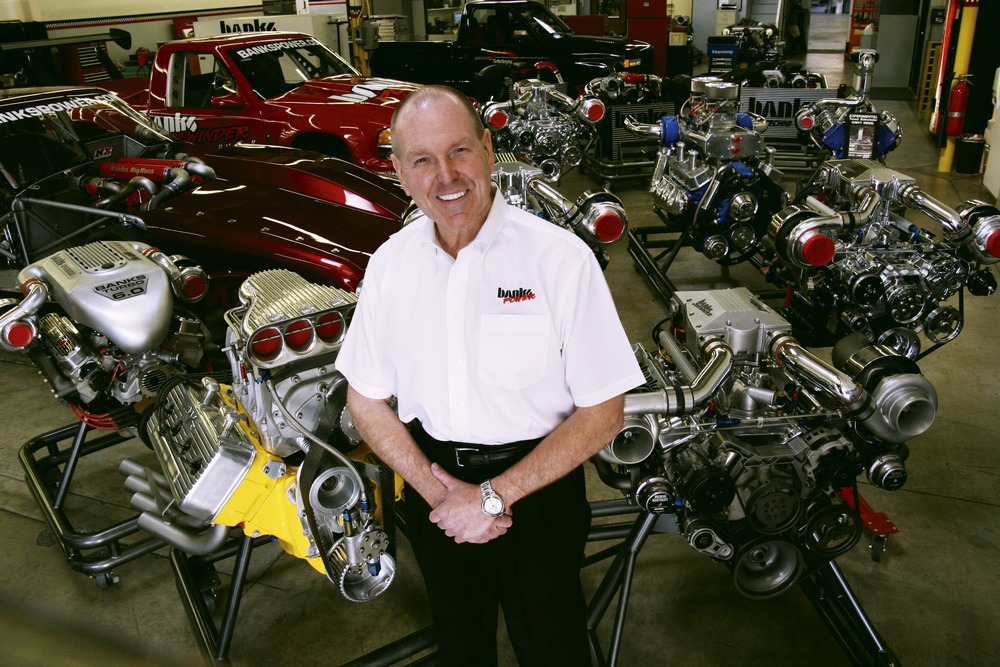 I knew I'd like Gale Banks the minute my publisher called and said, "He's great; he doesn't like to sit still; he's always thinking ahead and outside of the box."
That's what this industry needs to thrive-not just out-of-the-box thinking, but rather a let's-deny-the-box-exists-at-all-and-instead-look-ahead mindset.
It's the kind of visionary thinking that exemplifies Gale Banks. We could easily devote an entire issue to listing Gale's accomplishments in the automotive aftermarket, but that's old news.
Gale is a hardworking, humble, successful businessman with some great advice to share. He's also a visionary, an engineer, and at the core, a true car guy.
Most of you know Banks Engineering as a leader in diesel performance. But did you know Banks is a leader in the development and building of marine engines? Did you know Gale's working with the Defense Department to make the Humvees more efficient? Did you know the company does prototyping, testing, engineering and manufacturing for the OE and the aftermarket? Trucks, motorhomes, boats, cars?
I didn't either. In fact, there was much I didn't know about the former SEMA board member until we had the chance to chat over the phone one rainy afternoon in Detroit.
Lou: Gale, thanks so much for taking the time to chat today. There's a huge thunderstorm going on outside here in Detroit, so if I lose you, I'll call ya right back.
Gale: Ha! No problem.
Lou: Alright, so I read somewhere that Banks Engineering got its start when you rebuilt your mom's '31 Ford. True?
Gale: Yeah, I'm from California and when I was in school in the '50s, if you had a car back then, well, then you had a lot more dates.
Lou: You know, that's still how it works today!
Gale: Ha! I know, for sure. So, I started driving my mother's car, a '31 Ford, when I was 12. She didn't know it, 'cause I figured out how to hotwire it.
So, one day I blow a head gasket and, of course, I offer to fix it for her. It took so long for me to fix it my Dad ended up getting her another car. In any event, when I fixed it up I took it up 40 hp to 105 hp.
But that really wasn't the start of the business-that was more the start of me getting greasy. I guess the business really got its start in August 1958 when I started building production-based engines for the Indianapolis Speedway using the "junkyard" formula.
The real genius of Indy at the time came from L.A. There were about five of us doing it.
Lou: It's a great entrepreneurial story and it's one I hope the guys back at the Detroit-based OEMs are reading. 
Gale: I used to tell those guys back in the day-when Detroit dictated rather than discerned what the public wanted-I'd say, "You guys are sitting here in rooms with no windows. You can't see the parking lot, let alone the West or East Coast, so how on earth do you know what the public wants?"
Lou: So true. In my world, we saw it with GM's decision to end the minivan. Don't any of these execs have any kids they cart around to a busy Target parking lot?
Gale: Exactly. But I gotta say, things are getting better. I've been doing engineering consulting with Detroit-based manufacturers for three generations now. They're getting better and I'm optimistic.
Lou: It's hard to be optimistic at times, but I'm right there with you when I see cars like the Cadillac CTS-V, the new 5.0 Mustang, the ZL1 Camaro and the SRT8 Challenger. So where are things going in the aftermarket?
Gale: Tell you what, I'm a futurist. Let's just lay that out there now. I'm real bored with retro. Hot rodding is and has always been about being different.
Lou: Being different is more than just a new paint job. You're talking about things like alternative fuels, right?
Gale: Absolutely alternative fuels. I'm all over it. And high-speed diesel, alternative diesel, things like that.
Jay Leno and I were joking around the other day. I told him I haven't used a carburetor in 30 years, and he says he hasn't eaten a vegetable in 30 years! I swear that man should have heart trouble.
Lou: Ha! I read once that you are a pioneer in turbocharging smaller engines-in fact, one of the first to really make it happen?
Gale: Yes. In 1980, I was advocating a small-displacement turbocharged engine versus the big V-8s. In fact, in 1986, we did a project to turbocharge a Volvo that actually became a production engine.
The cool thing was Volvo had electronic engine control management and O2 sensing. We built the first electronically injected, O2-sensing turbocharged engine on the face of the earth in the late 1970s in the back of a speed shop in San Gabriel, Calif., and years ago I was teaching a course at GMI (now Kettering) on how to design a turbocharged engine.
Lou: Well, many people say the future of hot rodding is likely to be smaller motors with turbochargers. GM effectively brought back the "T-Type" in the new Regal GS (Dear GM: please do a new Grand National!) and Volvo just announced they're capping future engines at four cylinders.
Gale: Exactly. Right now we're working on an interesting project for the U.S. Government's Humvees.
The current Humvees in operation in the Middle East are 17,000 pounds with only 110 hp and the elevation is around 14,000 feet. So the current Humvees aren't what we call "altitude-ready." I've devised a new way of adjusting a turbocharger to accommodate for higher altitudes.
Lou: Cool stuff. So, what's a typical day like for you?
Gale: Oh boy, a typical day involves a morning like I just spent working with the HR people on a new employee handbook because California keeps changing things. Then I'm off to work with the creative team reviewing the content for the website, the rich media, etc.
We're a very vertically integrated company. We do everything internally, like copy, photography, video, post-production, we design our own stuff, we production engineer it, engine management-everything is done internally.
And then I spend most of my time on the creative programs.
Lou: Speaking of your website (www.BanksPower.com), this a great site with tons of great content.
Gale: Lou, I gotta tell ya, wait till you see what's coming. Give me 90 days. You think it's great now, you just wait.
Plus, we also have several other sites devoted to our different business models like banksmarine.com for our marine market business and coming soon our new Banks Defense site.
You know Lou, if you want to give your readers some good advice, tell them to get a good website going.
Lou: Agreed. Now do you guys do anything special or unique for your performance retailers in terms of sales & marketing support or training?
Gale: Well, normally we bring in the top jobbers 60 at a time (for training). They show up, we pay for their hotel and food, and it's usually a Thursday-through-Saturday thing.
More recently, and it's much easier than bringing them in, we're using more and more video. We make these training videos in-house and use them to train the new guys, jobbers, etc. We'll go through everything in simple terms and give them all the sales tools-such as, "here are the ins and outs of an intercooler," etc.
Lou: That's great-training is so important. I can't tell you how many people I've interviewed who all say the same thing: "Know what you're selling!" OK Gale, looks like the storm has passed here in Detroit, I've got a long drive ahead of me, and you've got a long day ahead of you. So, let me ask, what's your message to our readers? What one thing can they take away from this interview and implement today?
Gale: First, your differentiator is your service and your knowledge about what you sell. If you want to beat mail-order, you must have excellent knowledge and service. You'll also need people skills.
Secondly, I was a shop owner, and I think most importantly, don't just go out and sponsor someone. Instead, build your own race car or project car, involve all your people in it, and get it out there.
Lastly, you can go on all day about the Internet and the lack of price integrity online, which we know is hurting all the guys reading this magazine. So, here are two things that must happen regarding pricing: the manufacturers must seek price integrity, and they must enforce it with tools like MAP (minimum advertised price).
Lou: Great advice-differentiate or die, invest time into sales and product training, and work with the manufacturers to protect pricing parity.
Gale: Basically, yes. You know Lou, here's the thing-fads like rice rockets will come and go, but you need to know and improve your skill set, have exemplary service and open your mind up to new ideas in mileage and horsepower.
Jay Leno asked me the other day, "is mileage the new horsepower?" I said, "no way, it's a new niche and it's an emerging marketplace."
Lou: Thanks again, Gale. Good luck with the rest of your day, and we'll see you SEMA!
Gale: Thanks Lou, look forward to catching up with you then.
More with Gale Banks
Person you'd most like to have lunch with? Allan Mullaly
Last book read? "SEAL Team Six: Memoirs of an Elite Navy SEAL Sniper" by Howard E. Wasdin & Stephen Templin
Favorite vacation spot? I'm building a house in Yosemite, right inside the park
Favorite place to drive? Any mountain driving to me is hugely enjoyable
Current ride? I've got a Merc Marauder with a blown 32-valve in it that makes mountain driving a lot of fun!