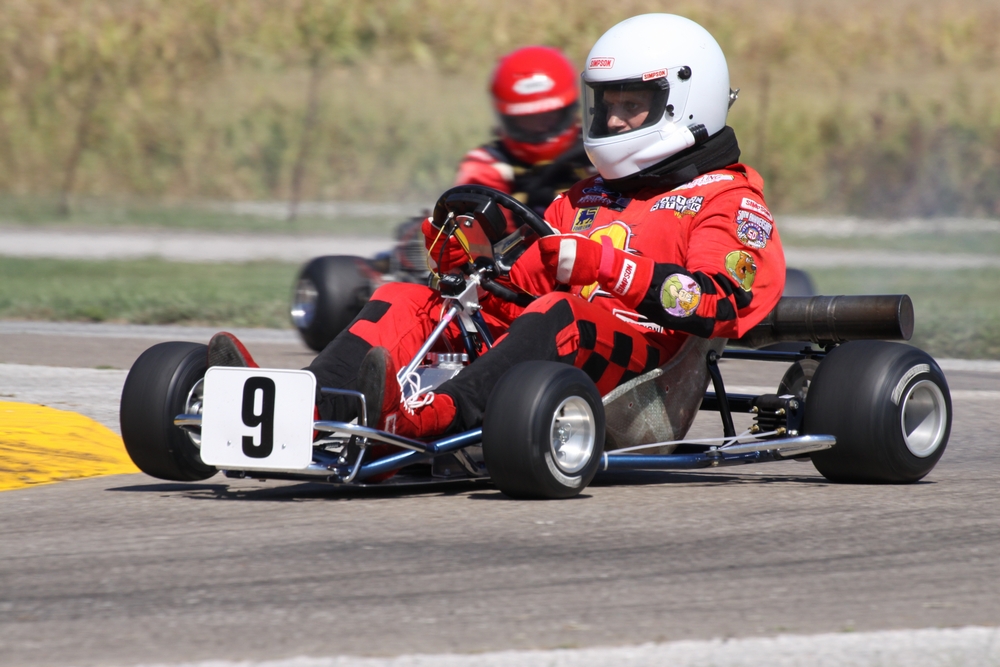 With his name and pedigree, Lake Speed Jr. was destined to make his mark in the performance aftermarket.
His name came from his father, who was named after his father's two business partners from back in the day: Bob Lake and Paul Chambers.
Lake Speed Jr., owner and general manager of Driven Racing Oil, Huntersville, N.C., got something else from his Dad as well-an unbridled, life-long love affair with cars, engines and racing.
Lake Speed Sr. was a NASCAR driver and businessman and, as Lake Speed Jr. says, "I've never known anything else."
We found time to chat with Speed in between appointments that have him flying across the country to teach the fine points of lubrication and then returning to Huntersville, where Driven Racing Oil's crew and company work to keep their products and knowledge two steps ahead of the rest of the automotive and racing crowds.
PB: Hi Lake. It's great to get a chance to talk with you. I guess we'll start with the obvious-what got you interested in the automotive aftermarket?
LSJ: I grew up in it. My Dad, with his racing career, had me growing up at the race track. In the '70s my Dad had a mail-order go-kart parts business. We sold complete racing karts, engines, everything for racing karts. We were racing and selling parts.
The truth is that I was born into this business and lived in it. I've never known anything but racing.
Today, our business is not a typical oil company. I don't define us as an oil company. We're a technology solutions company that specializes in using chemicals to overcome challenges and limitations. What we're best at is looking at performance engines, drivetrains, anything that involves a vehicle, and we look at limits or problems. We know how to overcome some of those problems with chemicals.
Too often we're too focused on hard parts. You have to be able to focus on the parts, but realize that there's more to enabling performance than just hard parts. Through chemical engineering we can enhance performance, protect and allow a part to do things it couldn't do before.
Some are oil-based products; some are not. That's how we look at ourselves. We really understand race cars, performance cars, the engines, the complexities, the owners, the users and the designers of that equipment and work with them.
We don't make the product and then find a place for it to be used. We turn that around and say, "Here's the need; now, what are the products to fill that need?"
PB: What's it like working in a family business?
LSJ: We're a business within a business. We're an independently owned business, but operate alongside Joe Gibbs Racing. We do our own product development and that is our standalone business that coexists within the race team.
Joe Gibbs Racing is a family-owned company, and they allow us to do what we do and we have their support. We rely on them for engineering support. It's like having many different companies putting strength into one business.
PB: Tell us about your company and its place in the performance aftermarket.
LSJ: I always want to be the best. One of the keys in racing is continuous improvement.
We're from a racing background and we understand the needs of engine builders, racers, and distribution channels. Everything needs to be done yesterday and things change constantly.
You have to keep up with changing technology, and cars and engines are always evolving. No one goes backward; no one wants 100 less horsepower-they want the opposite.
Our place is to be the solutions provider that's tied in to what's going on, so we're the solutions provider that adds value.
PB: What's a typical day like for you?
LSJ: Getting up early, going for a run, coming home and changing, heading to the airport, flying to visit engine shops and doing technical training.
I do a lot of seminars for racers and engine builders, teaching them the principles of lubrication. I'm one of the few certified lubricant specialists and have years of training and experience in best practices in lubrication. I can tell someone what the best practices are.
So a typical day is a lot of running around, talking and teaching.
PB: What's the best thing about your job?
LSJ: I love the interaction and developing with engine builders. I have a passion for engines and being able to work with engine guys and bring them the info we've gathered over the years and helping overcome their problems.
When we can solve the problem and make that motor run better or prevent failure, that's the best; the win.
PB: What's the biggest challenge?
LSJ: I can't be all the places I want to be all the time. I'm still waiting for them to invent that thing from Star Trek so I can beam to Iowa and beam myself home to dinner with my family and then beam myself somewhere to interact with customers.
PB: How do you see the current state of the performance aftermarket?
LSJ: We just had our best two months back-to-back we've ever had. All the machine shops I've been in in the last two months are busy.
A guy said yesterday that business is back to what it was four years ago before the recession.
PB: So, where do you think the industry will be in 10 years?
LSJ: No one has a crystal ball and this industry constantly changes. Somebody's going to race something-it's always about who can find that next thing.
That's the fun, being at the leading edge, trying to find that next thing. It makes you want to get up in the morning and get inside an engine.
PB: Which professional accomplishment are you most proud of?
LSJ: Achieving the certifications I have in the lubricant industry, because I'm the only one who has done it without coming from a chemical background.
Most of my peers are chemical engineers or have a chemical background. I'm the guy that grew up from a race team and had to be self-taught.
PB: What's your next big goal to achieve?
LSJ: There are a few more certifications out there, but the next big goal is for us as a team in product development.
Rules change and technologies change, so being the first to market with the best product incorporates those changes. Things are always ebbing and flowing and we respond by delivering so our customer wins races. There's no better feeling than seeing your customer succeed.
PB: As a final question, what's your advice for speed shops seeking long-term success in the performance aftermarket?
LSJ: Relationships. It's not about me; it's about our team. Teams are built around relationships. Joe Gibbs taught me that. People win championships.
I truly believe that for any speed shop, distributor or engine shop, the value of your business is in the people you have. If you have the right people, all the other stuff flows from that.
More with Lake Speed Jr.
What was your first car?
My very first car was a 1978 Buick Regal, black with T-tops and a small-block V-8.
What's your dream ride?
That depends on my mood. Nostalgic? Well, I've had this crazy idea since Dad was a NASCAR driver to get a stock car-a big, late-'70s-era stock car. That's why I loved that '78 Buick Regal-it was the same body style they ran in NASCAR. That would be a crazy fun project.
It would be unique to have a '70s-era NASCAR stock car that I could drive on the road. That would be fun. Those cars had chrome bumpers too. It'd be very cool.
What's on your computer/phone wallpaper?
My family.
Person you'd most like to meet.
I get to meet a lot of interesting people in real life; really great people. For example, Coach Joe Gibbs, who I work with. He is somebody I wish I could spend more time with.
There's no one particular person, because I've been fortunate and have met a lot of great people.
But I suppose it'd be cool to meet Henry Ford or Rockefeller, one of the early titans of industry.
If I wasn't in the performance aftermarket, I'd probably be…
I'd probably go back to racing.