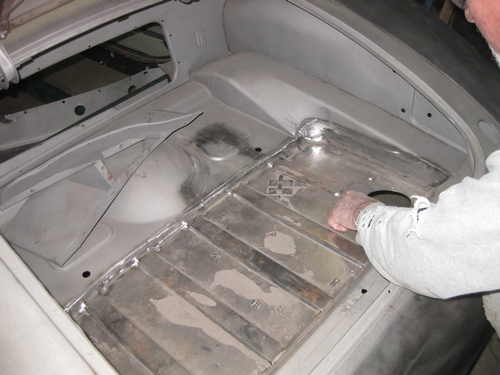 While Paul Dierschow admits that he's not easily impressed by many cars that roll through his shop after being in the business for 41 years, the owner of Arvada, Colo.-based Sports Car Craftsmen says the cars themselves are not significant-it's their backstories.
"It's the stories that make them interesting," Dierschow says. "If this was only about transportation, I wouldn't be in the business."
Special Transportation
Dierschow and his crew of eight specialists (although the number of staff members may fluctuate during busy periods) specialize in the parts, service, repair and restoration of vintage British sports cars, including MG, Triumph, Austin-Healey, Jaguar and Sunbeam cars from 1930s to the early '80s.
Sports Car Craftsmen (www.sportscarcraftsmen.com) will also take in classic Mini, Morris and Rover cars and vehicles Dierschow calls "honorary British cars" like Volvo 1800s and Datsun roadsters. But the shop doesn't work on anything with a model year later than 1981.
"I wouldn't be in the business of working on ordinary cars," Dierschow says. "By today's standards, the cheapest car that you could buy in America today would run circles around any of these cars. It would accelerate faster, have a higher top speed, brake faster and corner faster-but it's just a car. The cars we work on have character, and that's what people love about them."
Car-Sitters
While Sports Car Craftsmen has attracted customers from all over the U.S., the majority of its customers are local British sports car enthusiasts. Dierschow's crew works on anywhere from 30 to 40 vehicles at a time in the 8,000-square-foot facility, which also has an additional 10,000 square feet of space in 20 shipping containers outside of the shop.
"The containers substitute for building space, but it's far cheaper," he says. "We have 96 cars stored inside of 18 of the containers and the rest of them are full of parts."
Stored vehicles can be anything from customers' vehicles and in-progress builds to possible project vehicles.
"We have a lot of customers that will store their cars in the winter so they can have the garage space, so we'll have it for six months out of the year," Dierschow says.
Besides paint and machine work, Sports Car Craftsmen performs all of its work in-house. The shop houses one of the largest inventories of original British sports car parts in the world and sells its parts to customers who need them.
"We're really not in the parts-selling business for new parts, other than what we consume ourselves," Dierschow says. "We do, but that's not our main business."
'Not a Car Guy'
While Dierschow has a 41-year-old reputation as a leading authority on British sports car repair and restoration, he doesn't think of himself as a "car guy." Dierschow owns more than 50 vehicles himself and loves the trade, but says he has other interests.
Dierschow got into the business "unintentionally" while working toward a degree in civil engineering from the University of Colorado in Boulder when his future brother-in-law gave him a broken-down MG. Dierschow successfully repaired the MG and acquired eight other cars by the time he graduated.
He went into business with some likeminded friends from Denver in 1973, but started Sports Car Craftsmen in the late 1980s on his own and also acquired a master's in business administration from the University of Colorado in Denver.
"I entered the business at the perfect time when these cars were in their heyday," Dierschow says. "They were everywhere. The peak of production was in the early 1970s. I was in the right place at the right time, and then it took off."
By walking around Sports Car Craftsmen's facility, it's not difficult to tell that the core of the shop's business is bringing life to British classics, which populate the space from wall to wall. And Dierschow knows the story behind every single vehicle in the shop.
He points out a blue Sunbeam Harrington Le Mans that's one of only 250 built; a green MG in the showroom that's only clocked 15,000 miles; and can recount detailed stories behind customers' vehicles.
"If you go around and tell the stories behind these cars, you'll go, 'Oh wow, that is cool,'" he says. "There's always a strong connection between people and the cars that come through."
Dierschow says cars are a lot like children, and Sports Car Craftsmen's relationship with its customers is often similar to the relationship a babysitter might have with the parent of a child under his or her care.
"People understand that children have faults, but they're willing to accept them for their shortcomings and deal with them as part of the package," he says. "That's exactly like the cars we're dealing with."
Educators
Working with customers can be tough, Dierschow says, but education is key.
"It's really difficult because we're not dealing with modern cars," he says. "We're dealing with cars that are old. You wouldn't believe how many times you have to remind people of that."
Like many specialty vehicle shops, the projects that come to Sports Car Craftsmen vary significantly. Some vehicles might be in and out for service within a day, but most are probably in the shop for at least a week. Complete renovations take a minimum of a year, and it's also not unheard of for the shop to hold on to a customer's in-process build for a decade, Dierschow says.
At the start of the project, Dierschow always makes sure customers understand how difficult and time-consuming the job is going to be.
"My No. 1 job here is to be an educator," he says. "It always takes me 10 minutes to answer one question and paint the picture because I have to tell customers the background information that explains why it's going to be difficult. And if it's difficult, it's going to be expensive. They tell me their ideas, and then I'll tell them mine."
Dierschow says the shop always prices services reasonably and stays in tune with customers' feelings.
"A lot of times we are more sensitive about a bill than the customer is," he says. "We're always concerned about what the customer is going to think."
Networking
Most of Sports Car Craftsmen's employees initially established relationships with the shop as customers, and the team is tight-knit. As a result, Dierschow doesn't take hiring lightly.
"I've made mistakes in the past, and I've learned that you're better off not having anybody than having the wrong person," he says. "So much of the importance of the staff is the chemistry of how they work together. And if you get somebody that doesn't fit your chemistry, it's going to blow up sooner or later."
The best tool Dierschow has used for finding employees is word of mouth, and the right people usually stick around (the shop's average employee tenure is more than 10 years).
Word of mouth is also Sports Car Craftsmen's best marketing tool. Dierschow has never used advertising and has gained a worldwide reputation for the shop's parts inventory and his extensive British sports cars knowledge.
"One hundred percent of our business is from word of mouth, and that's how we like it," he says.
The shop is a member of the British Motor Trade Association (BMTA), and Dierschow also serves on the board of directors. Sports Car Craftsmen hosted the BMTA's annual conference in 2012, which drew 42 companies from across the country to Denver.
The shop is also always eager to facilitate discussions among the British sports car community and supports local clubs such as the MG Car Club of England, Colorado Association of Tiger Owners, the Rocky Mountain Triumph Club and Rocky Mountain Vintage Racing.
"There are only a handful of shops like ours remaining around the country, and we are all strongly related," Dierschow says. "These are the guys that send me customers every day. Networking is really everything, and the reputation you develop in your network will pay you back 100 times over."
The Next 40 Years
When Sports Car Craftsmen moved into its current location eight years ago, Dierschow made plans to retire in 15 years. With seven years to go, he is unsure about his agenda for the business' future. But one thing is certain: Dierschow will continue providing a support system for Colorado's surprisingly vast British sports car community.
"We have the most fantastic support system for these kinds of cars here," he says.