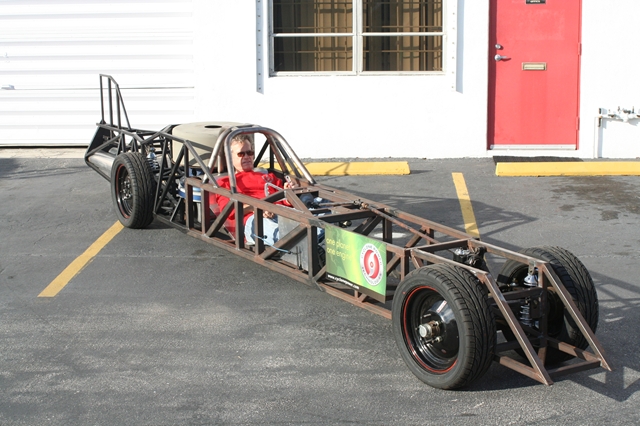 Cyclone Power Technologies Inc., Pompano Beach, Fla., recently received the streamliner vehicle designed by Chuk William's U.S. Land Steam Record Team designed to break the world speed record for steam-powered vehicles.
Cyclone's Mark V heat-regenerative external combustion engine will power the LSR car in its record-breaking attempt, scheduled for later this year. Capable of producing 100 hp with maximum starting torque of 850 foot-pounds, the stock automotive Mark V engine is expected to reach speeds of more than 160 mph, according to a press release.
Additionally, the powerful, compact Cyclone engine boasts very low emissions and can run on virtually any fuel including 100-percent biofuels or multi-fuel mixtures, according to the release.
"With the Cyclone engine, we feel that we have an excellent chance of breaking the existing record of 148 mph set by the British team 'Inspiration,'" stated Williams, a steam car veteran and team leader. "We need to bring this historic record back to the United States, and we want to do it with a steam engine that can eventually be placed into everyday passenger and commercial vehicles-something that hasn't been done in over 100 years."
The first order of business is to take measurements to complete installation of the engine, gearbox and fiberglass body.
"Our calculations show that we can break this record with our stock automotive engine," said Harry Schoell, Cyclone founder. "We considered modifying the engine and combustion chamber to increase power output and speed-which we may do in the future. But for right now, we think it's important to demonstrate the power, clean emissions and multi-fuel qualities of a Cyclone engine as you may possibly see it one day in an American-made Ford or Chevy."
The LSR team is generating interest from sponsors and supporters of modern steam power as a viable present-day alternative to gas and diesel internal combustion engines, according to the release.
The project has been endorsed by the Steam Automobile Club of America. Other individuals associated with the team include former engineers at NASA, Lockheed Martin and MIT.
Sponsorship opportunities are available for corporations and individuals who would like to participate, and the team has yet to choose a fuel for the run.
Progress of the Cyclone-Williams LSR car can be viewed at cyclonepower.com/lsr_gallery.html.