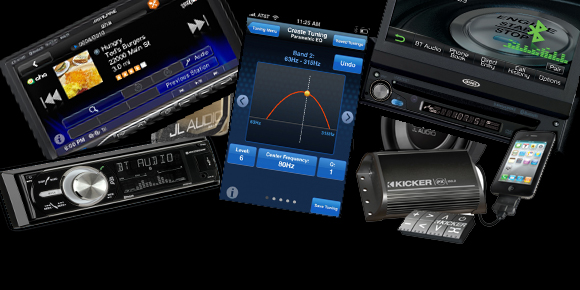 Automotive audio and in-dash infotainment suppliers have for nearly two decades grappled with increasingly fast-advancing technology. Competition is fierce, as consumers not only expect these companies to include the newest technologies, but to innovate how those technologies are utilized.
"User-friendly" is not just a buzzword tech companies use when marketing toward the expanding swath of electronics users, but a rally cry during the product design process.
"The demographic (for advanced automotive technology) is quite broad and everyone wants to have that really good user experience," says Audiovox President Tom Malone. "The generation of having immediate gratification to immediately use your content is what we want now."
Integrating Excellence
Today, no electronic device presents a more all-encompassing, user-friendly experience than smartphones. Integrating smartphone features and technology into infotainment system operations was a natural progression by aftermarket suppliers.
"Smartphones are becoming more integrated with in-dash systems, but what's key to know is that their user interfaces are being adapted for in-car use and to provide a better, more relevant experience," says Steve Brown, product marketing manager for Alpine Electronics. "Consumers depend on their smartphones for information and entertainment, and they are increasingly accessing these sources in the vehicle."
Malone of Audiovox agrees that it is highly important to "continue to create ways for wireless devices to interface with the vehicle.
"That is the secret of our success," he says.
Consumers with smartphone-integrated infotainment systems in their vehicles rely on mobile "apps" for entertainment and for accessing a plethora of tools at their fingertips.
"Within the Alpine product line we offer access to features like Internet radio (such as Pandora), select apps (such as Aha), and integration with Siri through compatible iPhone models running iOS 6 (Apple's latest mobile operating system)," Brown says.
Mobile App Connection
Some infotainment suppliers, like Alpine, Pioneer and Scosche, have even created their own apps to boost smartphone integration with their in-dash products.
Alpine this year launched a new app called Alpine TuneIt, which is available to Apple product users and soon for Android devices. The program is a "sound-tuning app that also offers Facebook notifications," Brown says. "It takes detailed sound tuning settings and makes them easily adjustable through an intuitive and interactive graphical user interface on an iPhone or Android smartphone.
"Users start by creating a profile with information about themselves, their vehicle, and their Alpine sound system," he adds. "Users also can choose from pre-made settings in the Alpine TuneIt database, and up to 100 different sound settings can be made and saved for use with specific types of music, specific vehicles, and shared with others."
Pioneer introduced its "AppRadio" app two years ago.
"In 2011, Pioneer introduced AppRadio, a revolutionary in-dash receiver-a first in the industry-to utilize the smartphone's processing power, storage capacity, network connectivity, and apps as the primary source for its information and entertainment capabilities," says Ted Cardenas, vice president of marketing of Pioneer's car electronics division. "The key benefit of our AppRadio platform is to enable consumers to utilize the power and flexibility of their smartphone, while also selecting apps safely and intuitively to enhance their driving experience.
"The library of AppRadio-compatible apps spans multiple categories, including turn-by-turn navigation, traffic information, weather information, parking information, music and multi-media entertainment, social networking, location-based services and more," he adds.
AppRadio is compatible with Apple's iPhone, and with most Android devices.
Scosche's mobile app, called "controlFREO," also works with Apple and Android devices.
"The app turns your smartphone into a wireless touchscreen remote control while giving users the freedom to change between sources, adjust (audio) EQ levels, change songs and much more from their device," says Kas Alves, executive vice president of Scosche.
Feature-Rich Devices
Alves expects in-vehicle smartphone integration to continue its rapid evolution.
"Five years ago the most popular form of connectivity involved using a smartphone to connect via USB, auxiliary input or Bluetooth. Now the emphasis has shifted toward head units being able to control multiple media devices such as tablets and smartphones," he says. "We also see companies developing technology where you will be able to use a smartphone and/or tablet as a primary source to power the entire system."
When it comes to in-vehicle GPS navigation, increased smartphone usage has forced carmakers and suppliers to innovate.
"Another feature that has progressed-especially when it comes to being more user-friendly-is the OEM navigation system, which has improved greatly over the past few years. Consumers expect more of their in-dash systems than ever before as a result," Alpine's Brown says.
Smartphones now help "in-dash navigation products to be enhanced with real-time data, such as traffic, weather and more," Pioneer's Cardenas says. "The benefit of smartphone apps or server-based navigation is that they quickly update maps, and road data changes."
While Internet radio and navigation are conventional examples of smartphone infotainment integration, Audiovox features a system that communicates vehicle health issues directly to the user.
"We are able to configure gauges, tachs, and oil pressure to wirelessly text if there are any vehicle malfunctions," Malone says. "The diagnostics will then appear on one's radio so that there is no guessing about what is going on with the car."
The audio product market also is experiencing new trends.
"Consumers want specific kits that match their vehicle's model," says Steve Outhier, Kicker's director of product planning. "These plug-and-play solutions provide serious audio improvements while keeping a straight-from-the-factory look."
With some carmakers moving toward implementing minimalist interior styles in order to expand available space, aftermarket companies have been tasked to redesign their products too.
"On the speaker front, we are witnessing a continuing emphasis on technologies that compress the mounting depth of the speaker, particularly for larger speakers," says Manville Smith, vice president of marketing for JL Audio. "This allows for speaker systems to be designed to fit in tighter spaces, which is necessary due to the degree of space optimization being applied to modern vehicle interiors."
Maintaining Safety
Increasingly relevant, driver safety is a point of emphasis for designers of new infotainment systems. For some companies, that translates to creating "larger touchscreen displays for in-dash products," Cardenas says. "Pioneer utilizes 6.1-inch and 7-inch high-resolution WVGA (wide vehicle graphic array) touchscreens to provide a dynamic and intuitive user interface that delivers more information with larger and easier to read icons/buttons, resulting in a safer product to use while driving."
Malone says Audiovox is always "developing more vehicle-friendly user interfacing products, while making them very intuitive, so as to limit all driver distraction issues."
He stressed the importance of infotainment devices being "easily reachable, accessible, and displayed properly. More and more radios are equipped with features such as rear cameras. We think the cameras are a wonderful safety feature and we want to see that grow."
Consumer demand for rear-view camera systems is steadily increasing, according to Alpine.
"Rear-view camera systems that can be added to in-dash systems and are safety-based products are gaining in popularity," Brown says. "Alpine offers a variety of camera systems, starting with a basic camera product that provides direct images from behind the vehicle. From there, more advanced systems offer a choice of angle views, such as widescreen, corner view, ground view, panoramic view, or the addition of visual and audio alerts that identify objects behind the vehicle.
"There is also a parking sensor system that works with the rear-view camera system by overlaying gridlines onto the in-dash image, to identify any obstacles behind the camera," he says.
Challenge-Defined Industry
Infotainment suppliers regularly are riddled by various technological challenges.
"Although the pace at which technology advances today is much more rapid, this speed presents both challenges and opportunities," Cardenas says.
Sometimes infotainment companies run the risk of providing technology that's too advanced for a large portion of the market.
"Even though technology seems to progress quite quickly, users are holding onto their smartphones for longer periods of time," Alves says. "The aftermarket in general faces challenges from the OEMs as they continue to offer more and more advanced features in their vehicles."
Malone elaborates: "It's a tougher environment getting consumers into the car and saying 'we have solutions for you.' The solutions are more complex and diverse than they have ever been."
Brown identifies one way infotainment companies can prepare their products for future smartphone innovations. The infotainment systems must "maintain an open firmware architecture, so that products may be updated as new smartphone features and technologies become available," he says.
Carmakers also are beginning to place significant pressure on the infotainment aftermarket.
"The way people use and access their content has been challenging to adapt because the manufacturers are staying on top of the changes," Malone says. "Now, there are so many choices to choose from, we are competing with the manufacturers who are producing technology faster than they used to."
Compatibility also becomes an issue for audio product suppliers.
"As the integration of audio functions with other vehicle functions in the dash continues to increase, so do the challenges in attaching aftermarket audio upgrades. We don't see the trend slowing down, so we will continue developing products with these interface issues in mind," Outhier says. "The F.I.T. (Fail-Safe Integration Technology) in our Kicker amplifiers is a good example. It allows our amps to accept any type of input signal the head unit provides, whether it's pre-amp signal-level or amplified speaker-level, without the need for any line output converters or other interface devices. It also has three different amplifier turn-on modes, since it's hard telling what is available from vehicle to vehicle.
"If the installer encounters a head unit that sends different equalization curves to various speakers in the vehicle," he adds, "our ZXSUM8 interface can pull all those signals together into the stereo full-range signal that amplifiers need for quality sound."
With tech giant Google in development on its new feature-loaded, smartphone-rivaling Google Glass product, the future in infotainment integration is greatly undecided. Industry wide, millions of dollars will continue to be poured into research and development operations.
"Core to the restyling and automotive aftermarket is the consumer's demand for higher performance, more advanced technology and/or personalization not offered by the equipment installed by the manufacturer," Cardenas says. "Our goal is to promote the benefits offered by the aftermarket industry, while providing products that help consumers enhance the productivity, entertainment and safety of their driving experience."