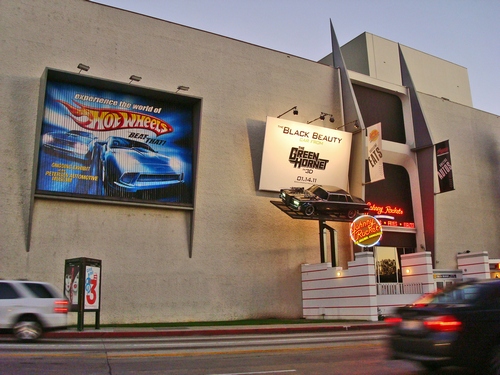 In anticipation of the Jan. 14 release of the 3-D action comedy "The Green Hornet" starring Seth Rogen, Jay Chou, and Cameron Diaz, the vigilante hero's automotive co-star "Black Beauty" is now taking on Los Angeles in a unique way, perched atop the world-famous Petersen Automotive Museum's elevated outdoor display.
Some 58,000 daily commuters travelling through L.A.'s third-busiest intersection at Wilshire Boulevard and Fairfax Avenue are greeted by the souped-up and armed-to-the-grill Chrysler Imperial, according to a press release.
The highly customized "Black Beauty"-complete with machine guns, rocket launchers and every other weapon the Green Hornet needs to take on the bad guys-is only the third vehicle to grace the 30-foot-high platform in the museum's 16-year history. Its predecessors were the "AM/PM Boss" monster truck and a 2000 NASCAR Dodge Intrepid.
"Black Beauty" will be displayed outdoors through the end of February. The museum also has an original Black Beauty from the 1966 TV series on display in its Hollywood Gallery. It is part of the museum's permanent collection.
In the new movie "The Green Hornet," Britt Reid (Rogen) is the son of L.A.'s most prominent and respected media magnate and perfectly happy to maintain a directionless existence on the party scene, until his father (Tom Wilkinson) mysteriously dies, leaving Britt his vast media empire. Striking an unlikely friendship with one of his father's more industrious and inventive employees, Kato (Chou), they see their chance to do something meaningful for the first time in their lives: fight crime. To get close to the criminals, they come up with the perfect cover: they'll pose as criminals themselves.
The Petersen Automotive Museum celebrates the automobile and its impact on society. Visit www.petersen.org.