Features
Shop Goodwill Drives 1917 Oakland Toward Much Needed Repairs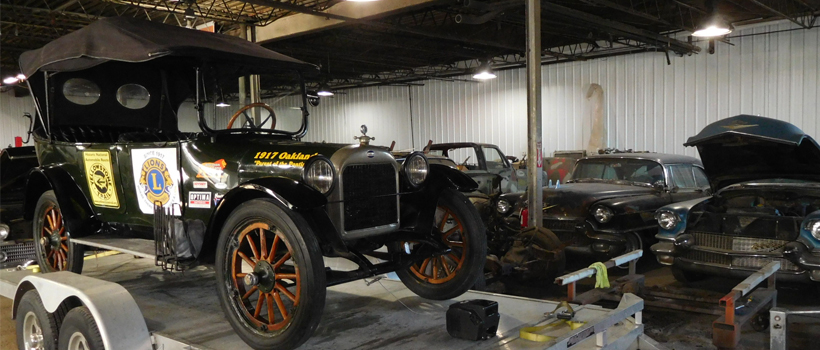 EDITOR'S NOTE: The following blog was written by John Gunnell, owner of Gunner's Great Garage Restoration Shop in Manawa, Wisconsin. Gunnell regular contributes articles and industry-driven observations for THE SHOP magazine and eNewsletter. To learn more about Gunnell's Yellowstone Trail trip, read Restoration Shop Owner Prepares 1917 Oakland for Yellowstone Trail Tour
…..
DAY THREE: Lots of Stops, Lots of Friends
We started the day at the Cobblestone Inn in Chippewa Falls, Wisconsin. We had stayed there instead of in Eau Claire, because Cadillac collector Rick Payton (owner of the '50s style Classic Garage restaurant) invited us to keep the 1917 Oakland Model 34 touring car in his shop overnight in case it rained.
Before breakfast, we sent emails out to Del Hanson at Del's Auto Repair in Rice Lake, Wisconsin, and to Bob Marx of Marx Parts in Arpin, Wisconsin. Del does mechanical restorations of old cars and is a longtime "Pontiac" friend. Bob sells parts and gaskets for very old cars, but unfortunately he did not have any Oakland parts.
After breakfast we went back to Rick's shop. The Oakland was on the trailer and Dave worked on it lying on his back. He pulled out another rod and bearing cap. This rod had gotten a little loose, but wasn't destroyed like the No. 3 rod.
Thankfully, the crank and journals look OK so far. The rods also look OK, but we can't be sure until we use Plastigauge to test clearances. While Dave was working on the car with Rick's helper, I reorganized everything in our F-150 Crew Cab chase vehicle. This time all the clothes, luggage, Lions Club pledge forms and Yellowstone Trail Association handouts went in the back seat and all the tools, equipment and parts went in the cargo bed.
While we were doing our chores, Rick Payton had his machine shop clean the Oaklands oil pan for us and gave us some supplies and a micrometer. Dave Sarnae asked him what we owed him and he said, "Don't worry about it; it's OK."
We were supposed to be in Cadott, Wisconsin for lunch. Cadott is supposedly 15 miles from Chippewa Falls by highway, but we try to avoid highway speeds so we don't hit wind that will rip the top off the car. We plugged in a random GPS address to get to Cadott by county roads and wound up driving to a rural address before we got to town "fashionably late."
This turned out to be unfortunate, as Wisconsin Gov. Scott Walker was visiting the town to promote his new plan to help out smaller school systems. We have been trying to arrange a photo op with the Oakland and the Governor at the State Capitol building, since the Capitol is also 100 years old in 2017-just like our car and like the Lions Club International.
Though we missed meeting the Governor, members of the Cadott Lions Club treated us like VIPs. We took the car off the trailer for a photo session with their plaster Lion in Riverside Park. As an interesting side note, Frank and Dennis Gapp of Eagan, Minnesota, came to Cadott to see the Oakland. They have a very rare barn find condition 1916 Model 60 Oakland that has been in their family since it was new. The totally unrestored car is a Hershey winner and is being worked on by Wayne Koefel, who has been helping us with parts and information about my car. Dennis Gapps' brother had made up three books about Frank's car and those books had photos of Wayne Koefel, who we have not yet met in person.
After loading the car on the trailer again, we left Cadott and headed for our next stop in Stanley, Wisconsin. About a dozen Lions Club members were waiting to greet us, along with one member's 1939 Ford pickup. After a ceremony and photo session, the Stanley Lions gave us a check for the charity (the Lions Club's camp for disabled kids in Rosholt, Wisconsin). Then their leader took us to see the Stanley historical museum collection, which includes a 1906 Cadillac and historic photos of old automotive buildings that were in the town. Car clubs would be wise to put a trip to this museum on their schedule for next summer.
We drove out of Stanley on an original section of the Yellowstone Trail and stopped to take photos of the old Yellowstone Garage in Stanley. As the owner of a Yellowstone Garage myself, I just had to get a picture of the Stanley building. Our next stop was Abbotsford, Wisconsin.
On the way to Abbotsfolrd, Wisconsin, we phoned car collector Guy Carpenter of Marshfield, Wisconsin, where we'll be stopping for lunch tomorrow. We asked Guy if he could arrange for the use of a lift for a couple of hours and asked him if there was an engine shop in town where we could get some used hardened rod nuts, some assembly lube and possibly some green Plastigauge. Guy gave us the name of E & M Machine Shop and we called them. They said we could actually try a shop called NMW (Northside Machine Works) in Abbotsford first.
After exiting in Abbotsford, we went to NMW and asked if they had some used rod nuts from a small-block Chevy (the same 3/8-in. size we needed), some assembly lube and some plastigauge. They had everything except the green plastigauge. We asked Jeff at the shop what we owed him. "That's OK," was the answer again.
After leaving the machine shop, we stopped at an Advance Auto Parts Store to ask about plastigauge. The man at the counter said he didn't have any, but he called the Marshfield store and they had some. "We'll pick it up tomorrow," I said. "You won't have to," said the woman at the other cash register. "I know where we have some in the back." She was correct.
We also bought some shop rags. This time we had to part with $9 and change. "That's OK," said Dave. At least we got the plastigauge. It was just about our only expense for the day, other than fuel.
Our plan is to continue on to stops in Marshfield, Stevens Point and Plover with the car on the trailer, waiting for the bearings and other parts to come from Andy Wise of Andy's Garage in Ellendale, Delaware. Then we hope to redo the bottom end of the Oakland's engine at my Yellowstone Garage in Waupaca, Wisconsin. Several other talented mechanics are going to be there to help. If all goes well, after lunch in Waupaca on Thursday, we'll have the Oakland going again under it's own power. We'll follow it to Kenosha with an empty trailer that we hope to never use again (at least on this trip).