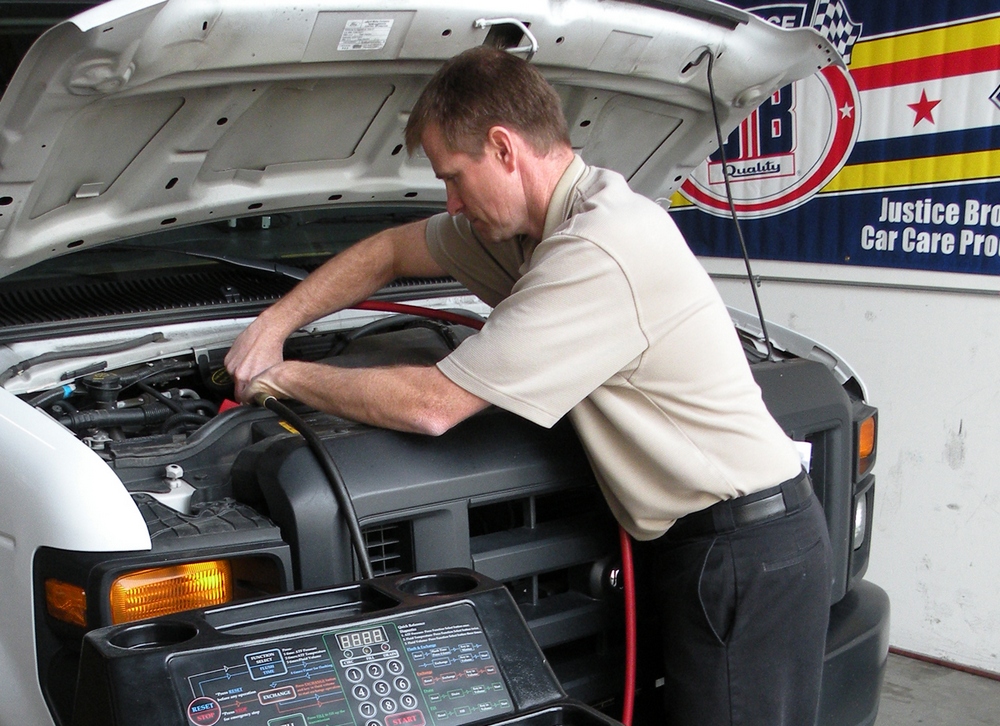 For speed shops with the space, ability and desire, offering maintenance services along with typical performance parts installs can add profits and increase customer satisfaction.
Of course, as with any new endeavor, shop owners need to understand the market and offer targeted services their customers want and need in order to be successful. And while attractive, the maintenance field can be a crowded one.
In the highly competitive service marketplace, there are two certainties: the customer is always right, and they expect new services and accommodations on a regular basis. Service centers must provide assistance to the consumer that instills confidence, provides reliability for their vehicle, and offers profitability for the shop.
It can be a dirty job. But many shops do it with a smile.
Service Areas 
Today's performance vehicles don't require new points, cap and rotor every tune-up as in years past, but they still need oil changes, transmission fluid changes and differential servicing. During a typical professional shop or dealership service, a service writer might offer an oil change and tire rotation, as well as other professional proactive maintenance services.
Chances are, oil and fluid changes will be at the top of your service list. To streamline and increase service and parts profitability, computer-controlled fluid exchange equipment has made an impressive entry into service bays and performance auto shops across the country.
Fluids, oils and lubricants are considered replaceable wear items, with a manufacturer's projected lifespan. Conversely, carburetors, alternators, fuel-injection system parts, starters, A/C compressors and internal engine/transmission/rear end parts have a varied lifespan, and more often than not are replaced or serviced only when a problem arises.
As a result, part of vehicle preventative maintenance must regularly include servicing the following: emissions system, fuel injection system, engine oil, diesel service, automatic transmission service, cooling system, brakes (not simply the pads and rotors, but the entire system), power steering system and differential/transfer cases.
While most of these systems can be drained and refilled using gravity and a drain pan, it can be a time-consuming process with lean profit margins. Force-fed exchange systems are usually designed to be application-specific, and include all of the necessary components for flushing/reverse-flushing, refilling and disposing of old fluid.
This is not merely an oil change or a transmission service-it's preventative maintenance for that specific system of the vehicle, and must be marketed and sold accordingly.
While there are several manufacturers designing equipment to perform these tasks, there are a few key features that should be kept in mind by any performance shop searching for a quality fluid-exchanging machine.
For instance, coolant servicing systems should utilize a drain and fill cone-adaptor of some sort, a powerful reverse flush mechanism, a large reservoir, the ability to eliminate air pockets, and preferably be self-contained and 12-volt friendly. Automatic transmission fluid exchangers must also possess the ability to flush, drain and refill, self-regulate and offer visual confirmation of fluid exchange.
Meanwhile, professional brake system service fluid exchangers are much simpler and more efficient than traditional auto-bleeders. Some manufacturers even offer auto-bleeding, manual pressure adjustment for vehicle versatility and leak tests for added security. Be sure the system you choose has ample fluid capacities for both waste and fresh fluids.
Some machines require proprietary fluids, while others will operate with any fluid. Remember, the quality of the fluid is just as important as the exchanger used to perform the service. For example, high-quality emissions service systems can actually clean up a rough idle, improve economy, dissolve fuel fungus and reduce exhaust odor.
Don't be afraid to educate your customers on the benefits of a system flush in addition to a fluid change. Remind consumers that these are professional services and not simple additives that can be purchased at any auto parts store.
Paying Off
It terms of profitability, many dealerships and performance shops have found a return on their investment in maintenance services in as little as six-months.
While this is greatly affected by how aggressively the services are marketed to the customer, it is also determined by whether the shop chooses to buy or lease the equipment. (Approximately 85 percent of fluid exchange system users choose the lease option.)
In addition to what can be dubbed as "professional services," specialty shops also have the ability to offer their customers pour-in additives. These are fluids, oils and conditioners that can be added to a mechanical system by the customer, and do not require any special equipment, machinery or fluid exchanging.
Emission system cleaners, diesel engine services and oil system services can all be categorized as "do-it-yourself" services, but can still be provided by you.
Here's a statement from the service manager of a large California dealership: "Customers have embraced both our pour-in additive protection plans and our professional service fluid exchanges as a value-added bonus. The customer feels that they are receiving attention far and beyond the call of duty, and the dealership is glad to provide it. Not only has our profitability increased on standard services, but our customer retention is higher than ever!"
Remember, reliability and long-term savings motivate consumers. Every time a vehicle is in for service, oil change or tire rotation, remind the owner that regular system flushing and fluid servicing will keep their car running like new for many years.
Oh, and be sure to offer them some performance upgrades while they're there.