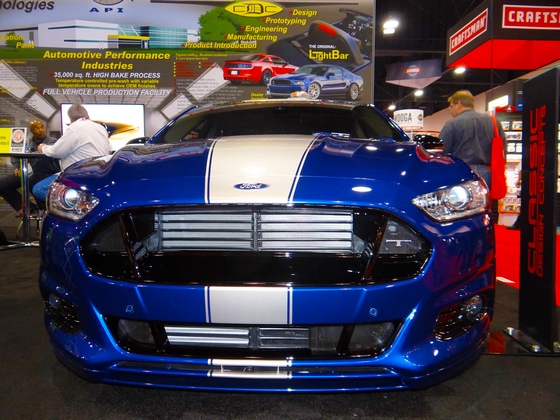 Although exhibitors at the 2012 SEMA Show make headlines with their cutting-edge products and equipment, the vehicles always tend to steal the spotlight. This collection of photos, including the above 2013 Ford Fusion "Talladega" prototype kit design by Classic Design Concepts, captured by Restyling , star some of the show's eye-catching cars and trucks.
Restyled trucks strut their stuff in the Upper South Hall concourse at the 2012 show in Las Vegas.
The Scion FR-S was named the Hottest Sport Compact at the 2012 SEMA Show. This  project vehicle was on of several featured in Scion's booth space. Note the textured wrap look.
Matte colors in paint and especially wraps have taken stage inside and outside the exhibition halls.
Classic Design Concepts showed off its 2013 Ford Fusion prototype "Talledega" body kit at its booth.  Ford Motor Co. gave recognition to this vehicle with its annual award for "Outstanding Achievement in Design."
Giovanna exhibited its latest wheels and rims on a fleet of vehicles inside and outside of the convention center. But it's the matte color schemes that were showing up everywhere.
Aftermarket accessory manufacturer Go Rhino! Products restyled this pickup from front to back.
Spectra Chrome celebrated its 30th anniversary with this larger-than-life monster truck named Grave Digger.
Suspension manufacturer Hellwig Products brought this red restyled offroading beauty into the light of day.
Textured wraps were everywhere this year.
Get 'em up, Jeep! And do some rock crawlin' after the show.
SnugTop showed off its tonneau covers inside and outside of the exhibition hall.
LEDs added glitz.
Kia revealed a series of vehicles restyled with a superheroes theme. This Rio was designed with an Aquaman appearance with the help of West Coast Customs.
Using artwork from famous DC Comic artist Jason Lee,  the vehicles are a part of a campaign by Kia and partner DC Entertainment to raise awareness about hunger issues in Africa. This Forte is styled with a Cyborg theme.
This Flash Coup also was styled by West Coast Customs with graphics from DC Comics.
As always, the show offered a look at the best of the best in aftermarket restyles, both inside and out of the Las Vegas Convention Center.