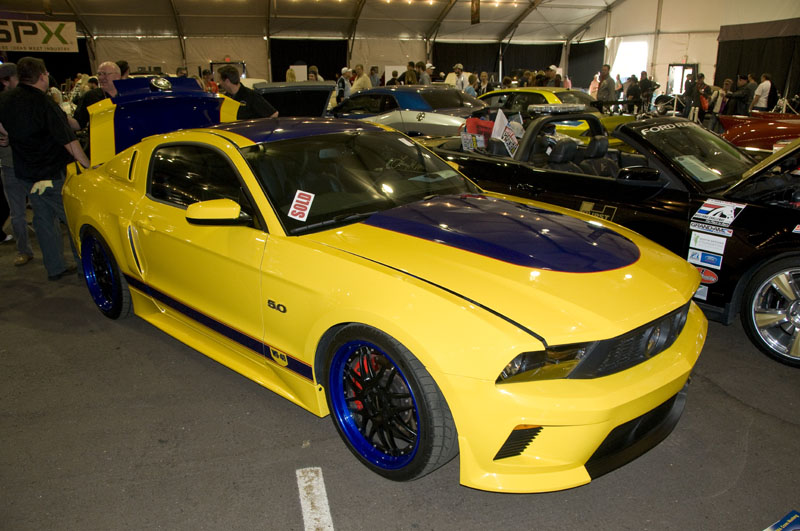 Sale of the WD-40/SEMA Cares Mustang generated the largest-ever donation for the program.
The one-of-a-kind customized vehicle, better known as the WD-40/SEMA Cares Mustang, helped raise more than $200,000 for two children's charities: Childhelp and Victory Junction Gang Camp.
Sold at the Barrett-Jackson Classic Car Show and Auction in January, the '11 Ford Mustang GT received an online bid of $100,000 and generated another $125,000 in donations from others who wanted to support the effort, according to a press release.
"We're pleased that WD-40 chose to sell the WD-40/SEMA Cares 2011 Ford Mustang custom coupe at our 40th Anniversary Scottsdale auction," noted Craig Jackson, chairman/CEO of Barrett-Jackson
SEMA Cares represents the automotive specialty equipment industry and has been raising money for Childhelp and Victory Junction Gang Camp for more than three years. The sale of the Mustang represents the single biggest contribution to SEMA Cares to date.
"We are overwhelmed and completely surprised with the results of the WD-40/SEMA Cares Mustang that was auctioned at Barrett-Jackson," said Mike Spagnola, president of Street Scene Equipment and SEMA Board member. "I am eternally grateful to Barrett-Jackson for their help with the auction, as well as the management staff at WD-40."
The car, rebuilt with high-performance aftermarket parts and a 5.0-liter V-8 engine, produces nearly 600 hp and features a custom body kit and interior, entertainment system and paint that emulates the WD-40 brand.
Build partners included Street Scene Equipment, Paxton Superchargers, Stillen/AP Racing Brakes, MagnaFlow, Forgeline, Advanced Clutch Technology, Katzkin Leather, Hotchkis, Polk Audio, California Pony Car, Nitto Tire, PPG, Grant and GTR.
Childhelp is an organization that provides services to abused and neglected children, and the Victory Junction Gang Camp provides life-changing camping experiences to special needs and chronically ill children.