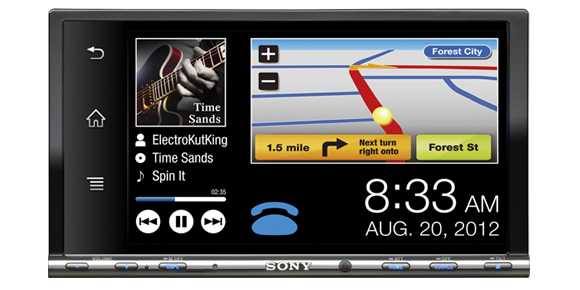 Ever-changing technology can aid restylers in consumers' quest for most modern in-car audio, video.
Technology and innovation of today is ever-changing and at times impossible to keep up with. From space-age to everyday uses, all one can do is continually evolve with the times, and hope one's newest electronic purchase does not immediately become antiquated technology. Truth is, new technology purchases are considered old news almost as soon as they are produced (due to the fast advancements in engineering products).
The good news for aftermarket wholesalers and retailers is that the ever-changing climate of technology provides opportunity to not only upgrade consumers, but to offer the latest innovations helping customers stay ahead of the game. At this year's Consumer's Electronic Show in January, many from the automotive audio-video (A/V) realms had first-hand insights as to the future of the A/V automotive aftermarket industry's future.
The future is now
Elkhart, Ind.-based Mito Corp.'s aftermarket manager, Ben Bontrager, explains how some of today's most popular technology already is giving us glimpses into what is ahead for auto aftermarket A/V.
"We are lucky to have two stand-out product lines that are changing the way customers integrate their vehicle," Bontrager says. "The first is the Gentex rear camera display (RCD) mirror, which allows seamless integration of a monitor to view a rear camera for added safety while backing up." Other innovations, such as auto-dimming technology and compass HomeLink®, alleviate the need for multiple gate, garage and miscellaneous remote controls" activated from the vehicle.
In the audio-visual market, cutting-edge technology and convenience have both been important keys to increasing business. "One of our latest products is called the Perfect Fit®," says product marketing manager Steve Brown of Alpine Electronics of America Inc., Torrance, Calif. "The kit gives an installer everything needed to put the complete product into the vehicle easier, while being faster to install. The kit is customized to the model of the car so it provides OEM quality and a nice, clean installation while offering more advanced technologies."
Those advanced technologies include, Brown adds, "upgraded telematic systems with audio, video, navigation and vehicle-specific install kits. Another bonus is including larger LCD screens that are 8″. This upgrade will be much easier for users to operate and will no longer only be offered in higher-end luxury vehicles. A/V accessories will now also include built-in HD with Bluetooth, digital receivers and free HD." [Editor's note: The initials, HD originally stood for "hybrid-digital," because the digital signals were carried with the analog wave. According to iBiquity Digital Corp., the originator of HD, that's been changed, and the letters HD now don't stand for anything. It does not mean "high definition."]
How smart that phone
Another big, growing innovation seen throughout both the tech and A/V realms will be more options for connectivity between vehicles and smartphones.
"Factory-looking navigations are gaining consumers, especially when they link with smartphones and their applications making direct connectivity more and more viable," says Steve Weimar, vice president of sales and marketing of Corona, Calif.-based Rosen Entertainment Systems. And, adds Alpines' Brown, "The smartphone market is driving innovation and has come very far while setting standards for operating systems and electronics functionalities."
"Consumers are looking for connectivity, while getting more smartphone functionality into the dashboard and making it easy to use and operate," Brown adds. "Then there is, MirrorLink®, which is gaining popularity by taking a direct phone signal and projecting it onto the dash."  Expect to see more of this technology emerging in late 2012 or early 2013.
"MirrorLink technology is one step towards the next in-car infotainment era," says Takahiro Noguchi, Sony's product marketing manager of the Personal Imaging Audio Division, San Diego. With this feature, he says, "you not only connect a smartphone for audio/video entertainment, one may also access news and information."
Rosen's Weimar adds, "Car companies are also adding HD as another form of connectivity and as a free alternative to satellite. HD provides a fair amount of FM channels that have some capabilities, but most consumers do not see a startling difference in the audio quality. With audio, another huge growth can be seen in providers who stream Pandora®, iHeartRadio® and others, which are nice options to satellite."
Another product showing an increase in demand is the "2-DIN AVC product, which enables smartphone connectivity," says Noguchi. "The unit has a large display, and allows users to listen to iPod/USB, thumb drives and smartphones as their music sources (whether it's Internet radio or downloaded contents). They are also able to use navigation applications, hands-free calling via BT (that is embedded into head unit).  2-DIN products are growing because more and more new cars are equipped with a 2-DIN outlet."
Safety all around
These types of innovations have really driven creativity and technology to flawlessly work together in more capacities. "Connectivity and safety are really driving the market as seen in products like Ford Sync" and in safety features like backup cameras, Brown says.
Additionally, "The Federal government was originally aiming to mandate backup camera technology by 2014, but the mandate has since been postponed to 2016 or later," Weimar adds.  "These mandates will open up an even bigger market for cameras, monitoring and sensors, which will be a (major) growth for our industry."
Currently about 10% of cars have a reverse safety system, and A/V aftermarket leaders agree that innovations in safety mandates will lead to enhancements in safety technology and consumerism.  The must-haves for A/V future will be seen in increased demand for "safety products, backup sensors, rearview cameras, lane-departure features and smart cams," notes Tom Malone, president of Hauppauge, N.Y.-based Audiovox.
"Backup camera needs have definitely grown, especially for larger vehicles, and consumers are getting used to them – which leads to an increase in demand. The cameras and technology are a great safety feature in helping to avoid serious accidents," Malone notes.
That's entertainment
Another increasing trend in A/V will be the expansion of "rear seat entertainment, and the next-generation (an Android-based screen) will allow a user to do many of the things they could do with a tablet," Malone says. "These backseat entertainment packages will still play DVDs, but they will also be able to access social media sites by linking and connecting to the Internet through a smartphone. That leap is what the consumer is waiting for and we are currently developing a unit with these capabilities."
And says, Sony's Noguchi, "50% of cellular phone users are using a smartphone which increases the demand of connecting with car audio, especially since in-car is the place where people listen to music most often. When there is new music-related technology, car audio improves accordingly."
The demographic quotient
Because of the increase in smartphone use, technology and safety, the demographic age range for customers is no longer the 18-year-old male who wants a thumping-car sound system. "I believe (the need for) safety and convenience (products in A/V) is being driven by the 40-plus group. Most 20- to 30-somethings out there want loud sound systems and flashy cars, while the other group is more concerned with performance, longevity and integration while not sacrificing factory appearance to their vehicle -¦ this is the group we appeal most to," Bontrager says.
This is the same demographic for families who are also the main investors for rear-seat entertainment systems.
The most diverse demographic, however, can be seen with, "front seat entertainment products, which are used every day," Rosen's Weimar says. "That demographic can range anywhere from, early 20s to 70 years old."
With such a diverse demographic A/V manufacturers not only have been increasing the technology, but they are concentrating on how to educate consumers and retailers while creating a "ready-to-install" product.
"Most products we sell are simple, three-wire hookups and are pretty standard with your basic installers," Bontrager says. "All our products come with Mito's full tech support abilities, technical drawings, how-tos and installation videos," he adds.
Alpine's Perfect Fit kit, notes Brown, "provides a big benefit because it is a plug/place system where the factory radio can be removed and the kit simply needs to be re-plugged. Most consumers won't change it out themselves, so that is why it is important for dealers to offer the units during vehicle purchases. Same goes for aftermarket specialty retailers; and although vehicles are getting more complex, we are making installs simpler."
Malone agrees that, "Healthy retailers today should have representation in every product category they represent, be familiar with the latest state-of-the-art technology and how best to upgrade based on the consumer's needs and products available." Since "a lot of new car audio products are equipped with many technologies, face-to-face training (for retail employees) is highly recommended and efficient for demonstration," Noguchi says.
And, adds Malone, "Retailers also need to ensure their salespeople are fully knowledgeable about what products are available for their vehicle model. They also need to be well trained in up-selling and connectivity," (in order to provide each customer with the most personalized and customized system to meet their A/V needs)."