Features
Rough Start for Yellowstone 1917 Oakland Trip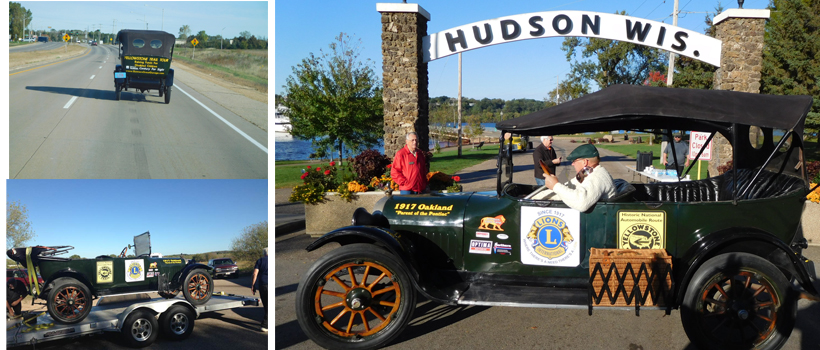 EDITOR'S NOTE: The following blog was written by John Gunnell, owner of Gunner's Great Garage Restoration Shop in Manawa, Wisconsin. Gunnell regular contributes articles and industry-driven observations for THE SHOP magazine and eNewsletter. To learn more about Gunnell's Yellowstone Trail trip, read Restoration Shop Owner Prepares 1917 Oakland for Yellowstone Trail Tour
DAY ONE: An Inauspicious Start
We left Ron Paige's auto repair shop in Manawa, Wisconsin, at around 4:15 p.m. on Monday, Oct. 9 towing the Yellowstone 1917 Oakland, which had just had a different (used) clutch installed at the last minute. The car seemed to be running hot on test, so we did a number of small things to try to rectify this, such as straightening radiator fins, removing an antique license plate that was right in front of the radiator, adding antifreeze to the coolant mix and painting the radiator fins.
We arrived in Hudson, Wisconsin at 8:15 p.m. The car did OK on the trailer. The tow straps were a bit loose when we arrived and a vinyl or leather covering on the lower half of the front seat back had blown off on one side, but was still riveted to the other side. Otherwise only the plastic cling wrap protecting the hood and windshield blew around a little bit.
After a spaghetti dinner at Pizza Hut, I hopped on the Internet to try to get advice on the cooling issues. First, I contacted Randy Rundle of Fifth Ave. Auto Parts in Clay Center, Kansas.
Randy wrote a book on cooling systems and also helps people get their cars ready for The Great American Race. I left Randy a message.
Next I contacted Andy Wise of Delaware and Wayne Koeffel of Pennsylvania, two Oakland experts, to see if they knew the part number for the proper fan belt for the Oakland Model 34. It was late and we did not get an immediate answer.
Gates Rubber Co. used to put out an antique auto fan belt catalog, so I also checked the Gates online catalog to see if they had belt listings for older cars and trucks-I learned they do list a fan belt number for the 1919 Oakland Model 34B.
Andy Wise said the two years take the same belt. He also gave us a NAPA number for a suitable fan belt. John also sent an email to Steve Rindt of Eau Claire British Cars to see if he could help us find a fan belt in Eau Clare, Wisconsin, if we get the part number.
DAY TWO: Miracle on the Hudson
We made it to the arch in Hudson, Wisconsin for the start of the Yellowstone Trail tour. Members of both the Lion's Club and the Yellowstone Trail Association showed up. There were around 20 people, plus a hot rod and a Chevy Advanced-Design pickup truck of the early '50s. Donuts, coffee and water were served. The Hudson police shooed some picture takers out of the roadway.
Our first problem arose when the zipper on Dave Sarna's dress pants refused to operate properly and "came off the tracks." Dave Changed clothes and took off on the Trail, with several traffic lights and hills greeting us before we left Hudson. Finally we got out of town and had a pleasant ride along Highway 12. The sun was shining and it was a little chilly. Dave's GPS said he was going 22-23 mph. Great weather for not overheating and we had no problems in that regard. That was the good news.
We soon had traffic back up several times. About 25 miles down the road, Dave suddenly pulled over into a farm. The engine was knocking. It had just started and he stopped almost immediately. There was nothing to do but to load the car on the trailer.
With the car on the trailer, we continued on to Menominee. Due to the breakdown, we got there late. There was a group of some 20 people including the mayor and John and Alice Ridge of the Yellowstone Trail Association waiting. Evett was also there with her husband. Nobody seemed to mind that the car was on the trailer. They still wanted to have their photo taken with it and they still wanted to see under the hood.
After lunch, we took the car to a shop owned by a friend of Johns. Steve Rindt runs Eau Claire British Classics. He let us work on the car near his shop, but had no empty bays to work on it inside. We removed the oil pan and could feel that several rods were loose. One was very loose, since the rod bearing had totally disintegrated. We worked on the car until nearly 5, then loaded it on the trailer and took it to the designated stop at the Classic Garage, an old Texaco gas station turned into a restaurant by a Cadillac collector named Rick Payton.
Dave wanted to unload the car for the local TV cameras. He then gave a good report on the trip. Afterwards, Rick Payton offered us the use of his shop to start work on the Oakland. Dave also ordered some bearings and other parts from Andy Wise, the Oakland expert from Delaware. Andy promised to quick-ship them. Little did we know Rick's shop was in Chippewa Falls, rather than Eau Claire. But it was a cool place with 18 cars under restoration, most of which were '50s Cadillacs.
By some miracle, Dave got the original room in Eau Claire cancelled and we decided to stay in Chippewa Falls so we can put in a few hours disassembling the car again (and again).
The plan is to then load it up and keep moving until we get to Waupaca and put the replacement bearings in.
We've already made some great new friends, including a friendly farmer, a man who brought us a photo of his grandfather's 1918 Oakland, and a Cadillac collector with a big passion for old cars. What more could you ask for?