Features
Restoration Shop Owner Prepares 1917 Oakland for Yellowstone Trail Tour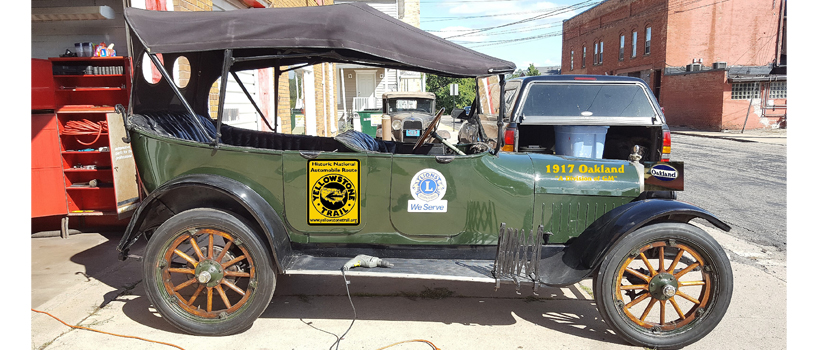 EDITOR'S NOTE: The following blog was written by John Gunnell, owner of Gunner's Great Garage Restoration Shop in Manawa, Wisconsin. Gunnell regular contributes articles and industry-driven observations for THE SHOP magazine and eNewsletter
We've been cranking to get my 1917 Oakland Touring ready for a trip across Wisconsin. It's part of a plan to celebrate the car's 100th birthday.
Dave Sarna, a Lions International member and former auto technology instructor at Fox Valley Technical College came up with the idea of driving the car over the Wisconsin portion of The Yellowstone Trail to raise money for a Lions Camp for disabled kids located in Rosholt, Wisconsin.
The car is a 1917 Oakland Model 34 Touring Car. This model was called the Sensible Six. It has an overhead valve six-cylinder engine with exposed valves and pushrods on the outside of the block. It has a leather faced cone clutch and a conventional three-speed manual transmission with floor shift, and mechanical rear wheel-only brakes. The Oakland was manufactured from 1908-1931 and the company became part of General Motors in 1909. It was the parent make of Pontiac.
In 1926, Oakland Motor Car Co. introduced the Pontiac as a smaller, six-cylinder "companion car." By 1931, the Pontiac was outselling the Oakland five-to-one and the company changed its name to Pontiac Motor Division of GM.
There's more to it. This Oakland is kept in an old building in the YT city of Waupaca, Wisconsin that became an Oakland dealership in 1917. The building was a Yellowstone Garage. A 1913 Oakland blazed The Yellowstone Trail. In addition to the Oakland reaching 100, the Lions International is also 100 this year. So, the plan is to take charity pledges for every mile the car goes over the trail without major problems.
The Yellowstone Trail tour starts on Oct. 9 in Hudson, Wisconsin. From there we will travel east to Waupaca, where the Yellowstone Trail turns south. If all goes well, we will arrive in Kenosha, the afternoon of Oct. 14. Some details are still being worked out, but here is our tentative schedule:
Day 1: Monday, Oct. 9, Hudson, Wisconsin-lunch in Menomonie, dinner in Eau Claire
Day 2: Tuesday, Oct. 10-lunch in Cadott, dinner in Abbotsford
Day 3: Wednesday Oct. 11-lunch in Marshfield, dinner in Stevens Point
Day 4 Thursday Oct. 12-lunch in Waupaca, dinner in Oshkosh
Day 5 Friday Oct. 13 Yellowstone Trail Park-lunch in North Fond du Lac, dinner in Hartford
Day 6 Saturday Oct 14-lunch in Hales Corners, dinner in Kenosha
We hope to see you along the way!
A Facebook page has been set up for Century For Sight with the latest information about the Wisconsin Yellowstone Trail Oakland Tour.