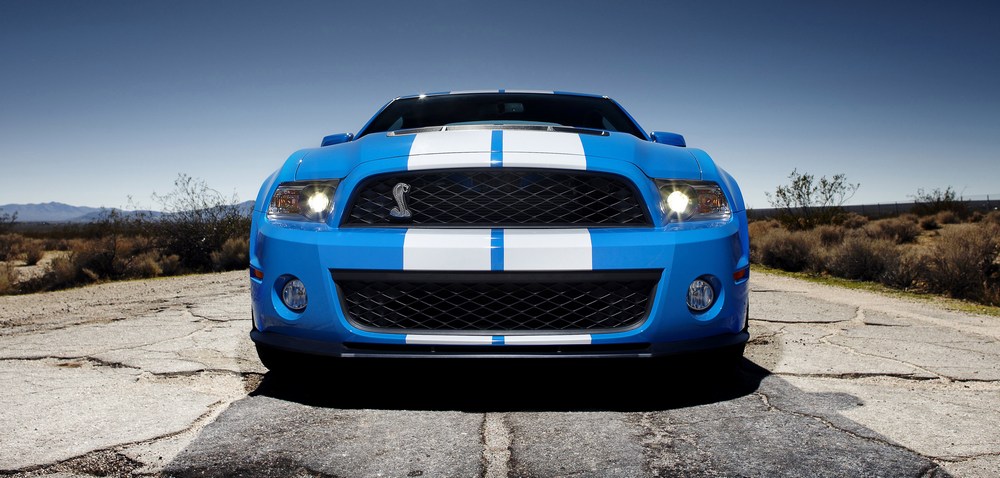 Carroll Hall Shelby was born on Jan. 11, 1923, to Warren and Eloise Shelby in the tiny town of Leesburg, Texas, about 120 miles northeast of Dallas. He had humble beginnings, as there wasn't a lot of money around and he was out in the middle of nowhere, but none of that kept him from his passion of being around automobiles.
As a youngster, Carroll spent every spare minute he had reading about cars. His father, who was a rural mail carrier, had a profound influence on what his son eventually went on to do for a living. He promoted speed to Shelby at a young age, having been quoted as saying: "Son, there's no man born with a drop of red blood in his veins that doesn't enjoy a race of some kind. If you happen to like automobiles, that's okay with me. I like 'em too."
The elder Shelby wasn't a racer, but he did drive fast on those Texas roads. Carroll was a skinny kid that had health problems (heart murmur) by the age of 7. Having moved to Dallas, when the family doctor said he had to rest for several hours every afternoon, Carroll dealt with it by sitting out front of the family home and watching cars travel by on the highway.
Eventually his health improved, and he went on to become a race car driver behind the wheel of expensive European sports cars belonging to other people he had met along the way who were impressed with the young Texan's driving talents.
He raced from 1952 to 1960, but had to quit when he began experiencing severe chest pains. It turned out to be his heart again. He was diagnosed with angina pectoris, which meant no more racing.
Before hanging up his helmet, however, he won Europe's prestigious 24-hour endurance race at Le Mans in 1959, driving an Aston Martin DBR-I with Roy Salvadori. He also won the American USAC National Road Race Championship in his final year, sometimes having to insert nitroglycerin pills under his tongue along the way, which eased the heart pain.
He broke bones and had some bad wrecks as well during those years, driving a variety of vehicles including Cadillac-powered Allards, Jaguars, Aston Martins, Maseratis and Ferraris.
His big lesson was that there was more money to be made building fast cars than there was racing them. "I found out long ago, (racing) is absolutely not the way to get rich; it's the shortcut to the poorhouse."
His goal was to create and market a race car of his own-"one that could be mass-produced on a small scale and serve as an American entry that would hold its own against the Europeans. He knew that a powerful American engine could replace the popular low-powered inline four-cylinder mills and still fit in the same engine compartment.
Cobra on the Loose
He first approached General Motors about his car, but Chevrolet already had the Corvette.
Then one day in 1961, he was at the headquarters of Hot Rod Magazine (Petersen Publishing) when an editor named Ray Brock asked Shelby if he had heard the news of a new Ford lightweight, thin-wall-casting V-8 engine.
Shelby got in touch with Dave Evans at Ford, inquiring about it. "I hit them just at the right time," Shelby recalled, and he told Ford's sales manager, Lee Iacocca, that if Ford would give him $25,000, he in turn would build them a car that would blow the Corvette out of the water.
"It was very lucky that I walked in (and) I got the $25,000. Immediately I was on an airplane to AC-"that's the way it started, the way the Cobra started."
The iconic Shelby had a real knack for getting along with people, influencing them to go along with his plans. The likable, smooth-talking Texan managed to put the deal together, with money from Ford, an AC chassis from England, plus lots of tweaking and refinement from his close group of hot rodder buddies.
Evans said this in 1965 about the initial deal: "Shelby said he would like to consider that little old engine of ours for his car. Now, we get many sensible proposals from people as smart as Shelby. Perhaps it was the way he said it or something about him, but whatever it was, I got to thinking, 'Why not?' I had two engines available, and I sent them to him and then sat back and wondered why I did it. I can't explain it, but he sells himself and his idea, and you can get mad as hell at him, but he delivers."
When Shelby had Ford on the hook for engines on credit, he expertly and carefully calculated a way to get AC involved, also on credit, and was able to pull it off, thus creating one of, if not the hottest, most publicized and wonderfully successful high-performance machines in history, the AC Shelby Cobra.
"I think we can break the monopoly of the red Ferrari on the roads and tracks of the world," he said at the time. "I want to produce the fastest son-of-a-gun I can for the least amount of money-"that's the American style, and I don't think any country in the world can stop us now."
Years later, Shelby admitted that if it weren't for Iacocca, the whole thing never would have happened, as he had "about $8 in my pocket there in Detroit, and didn't know how I was going to get home."
From there he flew first-class back to Los Angeles and started putting it together. When the name "Cobra" came in a dream, he woke up and scribbled it down on a notepad he kept next to the bed. The next morning, that was the name that went on to change the racing world.
Best Bunch of Hot Rodders
Asked why he left Dallas for LA, Shelby said, "I moved to California because I knew that was the only place that I could build my own car; because the hot rodders, the publications, were there."
He knew the hot rodders were capable people and this opportunity was something that they had never had the chance to do before. Dry-lakes racer and hot-rod pioneer Phil Remington was the chief engineer, whom Shelby considered as being the mechanic of all mechanics.
"I had the best bunch of hot rodders (and) I got Ford to finance 100 cars," he said of the early production of the Cobra.
Employee Ken Miles put thousands of miles of development on the early Cobras at nearby Riverside International Raceway, as well as Willow Springs, to make the Cobra a winner. After it was released, Shelby American customers got the chance to go out and see what they could do with it. Even those that couldn't drive very well were blowing away Corvettes with it.
When the Cobra was being planned, Shelby went to Ford for the help needed to make the project happen. Conversely, when Ford came out with the Mustang and wanted to add performance to it, the Blue Oval went to Carroll Shelby.
Iacocca called Shelby in 1964, right after the Mustang had come out, and said that they wanted to make a race car out of it. Shelby replied by saying it was a "secretary's car."
However, by September, Shelby's California shop had completed its first GT350, instantly recognizable by its Wimbledon White paint hue with Guardsman Blue side stripes on the rocker panels. Power came from a 306-hp tweaked 289 small block.
Ford then hired Shelby in early 1965 to oversee its GT40 racing program, and thanks to his input the cars started an American domination of international endurance car racing.
At Le Mans in 1966, Ford swept the podium with its cars placing 1-2-3 for a photo finish that made the Europeans cringe. The next year the Shelby team won again, this time with a completely new and redesigned entry.
Around this timeframe came the 427 Cobra, the absolute wildest thing ever to touch the street. It went 0-to-60 in 3.6 seconds, and lots of buyers were in way over their heads when they tried stabbing the throttle.
As awesome as the cars were, there was a time when Shelby had a hard time selling them. After all, $6,500 was a steep price in the day for a "fun" car that seated two and had no roll-up windows.
Of course, years later, it turned out that these were unbelievably great investments for those who dared pull the trigger and purchase one.
Horses, Chili and Vipers
After the two-seater 427 Cobra was discontinued in 1967, the focus was on keeping the Shelby Mustangs hot, even though the Ford factory had added weight to them.
Shelby's answer was the Cobra-Jet 428-ci "KR" version of the GT500, King of the Road. But things started to change in the automobile business-"emissions and safety regulations were on the horizon, and the last couple of years the Shelby Mustangs were actually manufactured by Ford itself.
Meanwhile, Shelby was doing other things including going to Africa and starting a game ranch, raising Appaloosa horses, plus venturing into the food business with his "World's Best Texas Chili." He was also still handling the distribution of Goodyear racing tires on the West Coast.
Old friend Iacocca came calling in the mid-1980s-"Lee was now running Chrysler-"and the next thing he knew, Shelby was tweaking little Dodge performance cars. These were 4-cylinder "pocket rockets" that he added turbocharged power to, making them potent cars of the time.
The work he did on the mini-muscle machines at Mopar led to bigger things, namely the Viper-"the '90s version of the '60s Cobras.
Then, after a short stint with Oldsmobile, Shelby was reunited with Ford Motor Co., involved with the second-coming of the Ford GT as well as continued attention to enhancing the performance of the Mustang to new levels. The Shelby name and legacy always drew attention (and sales) to the potent Ford pony car.
Shelby was a larger-than-life guy. An icon. He ran Ferrari into the ground on the racetrack with his cars. People have named their children after this great man, and nobody ever grew tired of hearing one of his great stories about the glory days.
But he never lived for the past, and one of his mottos was: "Yesterday's history, tomorrow's a mystery, live today."
With a new heart that came in 1990, plus a new liver that he received from his son six years later, he always had a great outlook on life. Shelby "lived today" in his own special style and it would be hard to find any other person in the automotive world who had as much fun.
"You've got to have a passion in life," he proclaimed in an interview a couple years back. He had that passion all the way until May 10, 2012, when he died at Baylor Hospital in Dallas.
Along the way he grabbed enough gusto in his 89 years for any 10 people combined. He was truly one of a kind.
More on Carroll Shelby
On Loving Cars:
A young husband who tried to make a living the "regular" way (he worked in the dump truck business, the lumber hauling truck business, chicken ranching and rough-necking in the oil fields), Shelby woke up one morning and decided he was going to do what he wanted to do to make a living-"mainly through fast cars. Right then and there, he decided to go back to his real true love: driving race cars, and never looked back.
This is how Shelby characterized what being behind the wheel was all about for him: "That urge is a thing that burns like a bright, unquenchable flame which nothing can put out. You have it or you don't. If you have it, you live in a world apart, and I guess it's the thing that's just a little bit ahead of whatever comes next. Once the car bug gets into your system you never really shake it off, no matter what."
On His Accomplishments:
Shelby said that his top accomplishments were winning the World Championship ("We're still the only American car company that ever did that!" he said in a 2006 interview), plus winning the National Championships with the Cobras and Mustangs (seven times).
Another thing that was very close to his heart (in more than one way) was the Carroll Shelby Foundation he created in 1991, a charity to provide financial support for children that are fighting life-threatening health issues, plus give seed money to organizations in the fields of coronary and organ transplant management. Learn more at www.cscf.org.