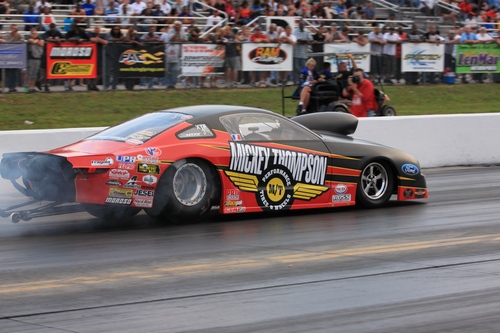 The signs are as easy to read as the green lights on a drag racing Christmas Tree. An unexpected yet sizeable late-season surge in 2010, a steadily, albeit slowly, rebuilding economy and a super-strong trade show season are all pointing towards a prosperous 2011 drag racing season.
Do you want to position your shop for success in the drag market this year? We asked some industry experts about how they see the upcoming year for straight-line racing.
For the most part, they are bullish on drag racing and the opportunities it will provide.
Back to Basics
Our first question is the biggest: How do you see the market for the coming year?
George Kook Jr, president of Kooks Custom Headers, starts us off. "I foresee the 2011 market as a 'back to basics' mentality. Good product, good service at a fair price! And that means exactly what it says. Develop products at your company's highest level, support the product that you supplied and develop it at a fair, valued price. Don't take consumers for granted and sales will just show up like a message in a bottle or a lost dog!"
Jay Verduzco, marketing manager of Procomp Electronics, is optimistic.
"Better than 2010," is what he sees of the market. "It's been tough the last couple of years, but reports from our customers have improved. We had a chance to meet with our customers at the SEMA and PRI shows. Everyone we spoke to, from warehouses, eBay sellers and engine builders alike, reported an improvement in business and prospects. Generally, they all had positive things to say. It's starting to get busy again. The work is coming in the door. (There's) light at the end of the tunnel."
Chris Madsen, sales manager at Ross Racing Pistons, also ties future success to the economy.
"I'm expecting a slow, steady growth. It all depends on the rebound of the economy."
Finally, Carl Robinson, motorsports manager for Mickey Thompson Tires and Wheels, also agrees with the economic connection.
"Having just returned from both SEMA and PRI here at the end of 2010, we believe that in a general sense, the drag racing community is cautiously optimistic going into 2011," he says. "By that, we mean most racers are planning their travel schedules and are committing to a series or group of events. Knowing that, we expect business will swing up for the first time in several years.
"Generally speaking, consumable products in the racing niche have been fairly even year over year," he continues. "That is not to say that a brand is incapable of seeing increases due to market share or other intangible circumstances. But our perspective shows that most in our industry saw almost 20 percent fewer people racing (reflected by car counts) and almost that same decline in sales of consumable products."
Face the Challenge
Our second question deals with challenges for this upcoming season.
"I think the economy will continue to be the biggest challenge. Although it is improving, it still poses the biggest obstacle," says Verduzco of Procomp.
Madsen of Ross offers what to watch out for and a possible solution.
"We will jump into 2011 with the same philosophy we do every year: 'excel,'" he says. "Take what you do well and make it excellent, make excellent exceptional, etc. In the drag racing community, I think one of the challenges will be keeping car counts up. Again, a lot of this has to do with the economy, but one thing I believe would help is if the different organizations got together and standardized their class rules so racers have the opportunity to race with more than one organization without costly modifications when going from one venue to another. If done correctly, this would also stabilize the rules, preventing costly rule changes every year."
Robinson from Mickey Thompson adds, "For everyone in motorsports, the challenge will be to make good decisions on who to support through marketing programs. This pertains to both the sanctioning body and the racer groups. We have learned a few valuable lessons during the past few years. Partnering with well-established organizations that have the proper vision is a key.
"With all this in mind, a review of the fundamentals regarding spending practices will certainly help with keeping all eyes on the ball," he adds. "The recent challenges due to the economy have left a lasting impression on most everyone."
Kook Jr. of Kooks notes, "(The) challenges that we foresee are that we are working on various new ventures and we are not 100-percent positive on which of those markets are going to come forth first. The issue with this situation is that some of the ventures are time-sensitive in order to get the products into the production schedule, allowing us to supply the demand in the proper lead times."
Opportunities Abound
Next we asked about what opportunities are to be had in 2011.
"Many opportunities are being presented and that in itself makes things interesting, as well as challenging," says Robinson. "Many of the marketing programs are coming from independent promoters with greater flexibility to focus on midlevel brands. They have a defined following and know how to reach the competitors with newer techniques such as viral marketing through the Internet."
Kook Jr. tells us, "We foresee the collaboration of racing series and spec classes coming forth into new (engine) rules in order to make the racing more affordable."
He notes that on the circle track side, Kooks Headers is working closely with tracks and NASCAR series to consider spec headers and mufflers for short track and weekly races, so the units work in conjunction with existing engine combinations or specs.
Verduzco notes, "We see more opportunities in product development. Procomp Motorsport will continue to make products that are high in quality but affordable."
Madsen from Ross believes that, if businesses can afford it, now is the time to be aggressive.
"It's a great time to update or expand your shop, if it is in the budget," he says.
Along those same monetary lines, Kook Jr. advises shop owners to go after co-op dollars from manufacturers as well.
"Products that shops should pursue are the sponsored products that are run in their line of racing series," he recommends. "This will bring brand awareness to these supporting companies and familiarize your client with a race series. (Plus) it legitimates your recommendation as well. If you contact these companies, they will send you literature or even possibly a display rack and product as well."
Verduzco adds, "It really depends on the market. I got my start in a local speed shop, and we spent a lot of time custom-tailoring our stock to our customer base and their budgets. Talk to the customers and make sure you stock what they need. That's the best thing anyone can do for their business."
One key is to make your shop indispensable to local drag racers.
"Depending on their area of expertise, shop owners should look at anything that can establish his or her operation with a 'must-have' type of consumable product to attract the broad spectrum of competitors," Robinson explains. "This will maximize the opportunity to establish consumer relationships with a direct hit, leading to a deeper understanding of what else the shop can offer customers."
Get Ready
Finally, we asked for suggestions of what shops should do to best position themselves for the upcoming drag season.
Kook Jr. gives us more solid co-op ideas. "Shops should position themselves so they have hard-to-find parts in stock and network with local shops so that if need be, parts can be swapped out among themselves. Figure out a good broker fee so everybody makes money, or even (institute) a referral charge. Also consider buying products in unison with local vendors in order to cut down on freight and merchandising costs."
Verduzco suggests, "Market your business and your products correctly. Get out to the race tracks and support the sport. Invest in the business of racing. Network and build your customer base."
Madsen tells us it's also about timing. "Diversity, I believe, is the key. Position yourself to take on the jobs that are available at the time."
And Robinson recommends, "Practice the fundamentals of business and work hard on relationship building. In our industry, many of the business owners started with a passion for some type of racing or a specific product. Very few actually took business classes or attended college. So, to be in the best position in business, you must start with a thorough understanding of year-to-year planning of a business and the elements necessary for current and future prosperity. Following that, you need something to sell and someone to sell it to. The passion for your products or their use is already in place-or you wouldn't be reading this article."
And you wouldn't be waiting for the that green light on the drag racing tree to flash "go" on the 2011 season.