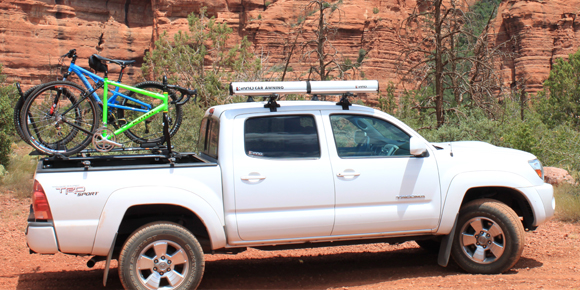 Carriers for enthusiast and commercial vehicles are handling even more of the business sales load.
The concept of modern man creating innovative ways to move items safely across town on our vehicles was first contrived in 1942 by Thule Group of Sweden when they invented a means to transport a trap for fish and other fishing related products. Later, as economies changed, new innovations were needed. By 1962, when recreation began to take a more prominent position in people's lives, Thule launched its first roof-mounted product to answer that need: the ski rack. Then, in 1977, the group released the first-ever roof box TB-11, or Accessory 11. From that point on the door was wide open for more innovations within the vehicle rack industry.
It was inevitable that more companies were created to satisfy the needs of an ever increasing market. With a rapidly changing world, more hard-working people led to a better economy and more disposable income. In 1985, eight years after Thule released its ski racks, Hauler Racks Inc. in California entered the business and, "We created the original aluminum-rack manufacturing business," Alan Kuehl, national sales manager of Hauler Racks, of Minneapolis, says.
Another current leader within the rack industry came onto the rack scene and began business in Arcata, Calif. "Yakima was started by two guys looking for ways to get their skis and gear into the mountains," Mike Zoormajian, Yakima's rear-of-car-category manager says. The two founders then came up with the crossbar system that could attach to a car or truck and was able to carry surfboards and skis.
Then in 2004, Yakima decided to make a major move by relocating from California to the Pacific Northwest, specifically, Beaverton, Ore.
"We believe we are now in the hub of the outdoor sporting industry," says Zoormajian. "Our goal  was to be around [in the middle of the outdoor] life and culture, and draw engineers, marketing representatives, staff and people who live the outdoor lifestyle and know exactly what people need most."
Truck and multi-purpose vehicle racks were first popular within the commercial industry and later for the lifestyle industry. Today, though, there is so much more to choosing racks because they now must have dual capabilities – needing to serve both commercial and recreational uses. Products also need to be more suitable for adding customized accessories for every metal and rack type.
Regarding the truck rack market, when it comes to installation and sales, there are many global economic factors as vehicle sales, housing sales (construction) and gasoline prices-which greatly affect the truck rack business, "The market has not been unstable since the economy crisis of the last few years," Kuehl says. "However, if you look at rack sales (as a whole) for the last 40 years, they have always gone up and down."
Right rack for right job
Before purchasing a rack, manufacturers suggest end users assess their lifestyle. Look at the work and play activities, and what they will have to transport to accomplish those activities.
For seller-installers, it provides a basis to use as a guide so they can assist customers as they shop for the right rack to satisfy their needs.
When it comes to types of racks available, "Every manufacturer has different types and styles to meet consumer needs," Kuehl says. "We manufacture racks for pretty much anything you can think of for both commercial and lifestyle uses. We not only produce racks for trucks, but for utility vehicles, SUVs, vans and cars.
"Hauler Racks offers a wide range of rack types for luggage, ski equipment, bikes, hunting and even camping," Kuehl adds. Hauler Racks does not offer its products directly to consumers but instead, Kuehl says, "We work with 3,000 active commercial retailers in the U.S. while selling our products wholesale to distributors and retailers. We also outfit fleets for government agencies; and there are occasions when we will customize a rack for large clients placing bulk orders."
In contrast to Hauler, is Torrance, Calif.-based Inno Racks. The supplier mainly sells lifestyle-related racks directly to multi-sports outdoor enthusiasts and travelers. "Our stuff is not for commercial use, it's for consumer use. We design and develop 100% of our own racks," Inno Racks' vice president, Alex Connelly, says.
Inno Racks specializes in multiple racks that can be used on multiple locations of any vehicle. "We offer Rack-Over-Cab, which allows use for surfboards, canoes, bikes, kayaks, camping side awnings and all accessories needed to support sports enthusiasts. Our truck-bed bike racks feature a base crossbar which goes across the bed and allows you to use multiple attachments for each different utility," Connelly says. "These bars even allow the consumer to put everything above the truck bed while still providing room for storage underneath. We also produce a special clip called the Velo Gripper." The Gripper locks rack systems onto the bed using special clips to secure the cargo.
Another consumer-based rack manufacturer is Perrycraft, Winston Salem, N.C.
"We offer products for light commercial and personal uses, and we work with different materials, custom products and vehicles," relates company owner, Dan Epting. "Perrycraft also provides custom outfits for tonneau covers, minivans, crossovers and full-sized vehicles." He says the company does not target the fleet truck market, "because we do not make commercial racks."
Yakima, too, focuses directly on the outdoor lifestyle. "Our business has never been hardcore for fleet rack sales," Zoormajian says. "Our products can be found at multiple retail outlets, specialty sporting goods stores and automotive-centric dealers [on both truck and auto sides]. We consider ourselves to be a, full-service rack and cargo management company. Our motto is 'If you want to take it with you and take it easy, Yakima can get it there.'"
Epting of Perrycraft does caution would-be customers to not just look at the outside of a rack when evaluating a possible purchase. "Looks don't get the job done," he says. "Consumers need to know what their needs are and ask a lot of questions." Epting often encourages those within the rack market to "make sure you are getting the right rack for the right job. Although our racks are easy to install," he notes, "we do not suggest a DIY [do-it-yourself] approach, especially if the install requires you to drill into the roof of your vehicle."
Multipurpose, multi-use
People also install racks on truck and car roofs, but when it comes to racks for utility, tires, moonlighters and single-sided (SSR) racks, people usually mount them in specific areas – depending upon the vehicle and the purpose the rack will serve: "racks for light-duty crossovers (that go over the bed), HD trucks (that mount over the cab), van racks and SUV racks (that can be mounted on the roof)," offers Steve Shore, owner of Pennsauken, N.J.-based Amer-Rac. Many racks also provide or offer tie-downs, cargo strap systems, rub strips, and pads that lie between the rack and the vehicle to protect the body.
Kuehl at Hauler Racks informs that his firm's products are for multi-purpose uses and most of the manufacturer's accessories are universal; they can be mounted onto a crossbar of any brand vehicle. "There are even removable racks where you can use them for different purposes, such as to hold ladders during the week and to haul bikes on the weekend," Kuehl adds.
Perrycraft believes in offering a wide range of "utility racks, which are good for canoes and kayaks. This gives outdoor enthusiasts more options to use different styles and attachments," according to Epting.
At Yakima, "Our engineers make our racks to be multifunctional. All of our products are designed to go on and off really quickly. We also produce many accessories and gear to add onto racks to meet our consumers' multipurpose needs and uses," Zoormajian relates.
Adds Shore: "In order to choose a truck rack to be mounted with a tonneau depends upon what type of tonneau is installed. We have top mounts, which are installed on top of the bed rail, and we also make a variety of feet (holds rack to the vehicle and can offer protection between rack and vehicle) depending on what type of tonneau is in place." Load stops, and padded touch points also provide additional safety to equipment and vehicle.
Hauler Racks offers rack kits that work with tonneau covers, and also carries more than five different models that will work with most covers available today. "The racks can be fitted on top of the tonneau cover or on top of the truck railing," Kuehl says. Yakima and Inno Racks also offer multiple products and ways to mount their racks to tonneaus, bedliners, rails and canopies.
About installation, materials and warranties
In some cases, especially if installed by a professional, racks can be installed in less than an hour. In most cases the tools needed are provided within a kit. If not, the installer generally will only need a set of very basic tools; and in some models no tools at all are needed. At Amer-Rac, "Everything we manufacture comes as a kit that customers can install themselves," Shore says.
Most racks are made out of aluminum and sport a special anodized or powder-coating while others can be made out of entirely different materials. "Our racks have a non-painted anodized finish that doesn't rub, rust or chip and carry a 30-day manufacturer's warranty," Hauler's Kuehl says.
Perrycraft's racks are heat-treated aluminum extrusion, and they use stainless steel fasteners. Inno Racks uses aluminum or aluminum and steel combinations with a limited lifetime warranty, while Yakima's products use multiple materials and processes depending upon the rack type. Besides aluminum, Yakima also might use steel, expanded foam and polymer. "We also have a lifetime 'love it or leave it warranty,'" Zoormajian says. "If the customer does not like it we will give them another product to replace it."