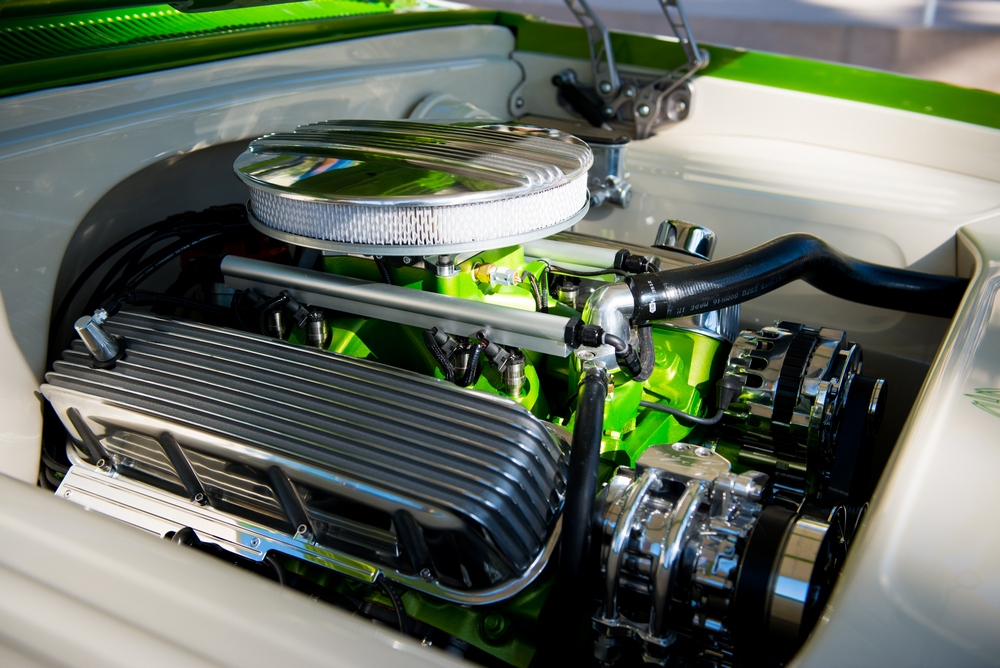 Electronics in racing started small. After all, the only items needed were an on/off switch, starter button and maybe some lights for the gauges at night.
These days, it's a far cry from making a stop at the local hardware store to get most of a racer's electrical needs. And it's not just a matter of what the car needs to race.
Racing electronics in today's race cars are a blend of needed equipment and valuable tools that are essential to better performance. Add the fact that this market is in a constant up-state of evolution and it makes it one to really pay attention to.
Unlimited Potential
We wanted to know about new products, advancements, and tips for both installation and selling these hot ticket items. So we started with the good stuff first-"what's new?
The answer? Plenty.
"We manufacture a full line of PerformAIRE Weather Stations, various data recording products from touchscreen systems to standalone EGT and air/fuel recorders, PowerLite lithium 12- and 16-volt ultra-lightweight batteries, and an electric button paddle shifter for various automatic transmissions," notes Fred Bartoli of Altronics. "The latest product is our PowerQuest touchscreen vehicle control and power distribution panel."
It appears electrical power is nearly as important as horsepower in many applications.
"Our most popular product line is our wideband air/fuel UEGO controllers, because we were the first to market with an affordable gauge/controller combo about 12 years ago," says AEM Electronics' Lawson Mollica. "Since then, we have expanded this line to include controllers that allow tuners to do individual cylinder fuel trims based on the AFR in each individual cylinder, which are popular on high-power race cars and at dyno shops that use them for tuning."
The company's Wideband Failsafe Gauge is a boost/vacuum and wideband controller in one that can activate a failsafe strategy if an engine runs lean. Other popular items include ignition coils, as well as water/methanol injection systems that work on high-compression, naturally aspirated and boosted engines at any boost level, Mollica says.
"Our newest product is our Infinity standalone ECU," he adds. "We have greatly expanded the applications on both the domestic and import side and we are offering some with plug-and-play adapter harnesses that connect to the factory wiring harness. For other applications, we have core V-8 harnesses with ancillary harnesses to match your engine configuration, and we also offer a universal-style harness or plug-and-pin kit to create a custom motorsports harness. We also have an LS harness with integrated fuse box and relays that has the connectors in place for GM sensors."
There's a lot out there that technicians are likely familiar with, notes Rick Carrier of Mallory/ACCEL.
"ACCEL Performance Group offers everything from electronic distributors and components to complete programmable engine management systems. Distributors, caps, rotors, wire sets, coils (coil on plug), ignition boxes, ignition modules, spark plugs, fuel pumps, injectors, complete programmable engine management systems and many others."
And some engine tuning opportunities that are breaking new ground, such as new calibration support for the 2014 C7 Corvette and the 2014 Silverado/Sierra 1500 trucks featuring GM's newest Gen V engine design, according to HP Tuners' Jay Payson.
"The release, which is available now, supports the new 6.2-liter LT1 and 5.3-liter L83 engine platform utilizing the E92 engine controller," he says. "Calibrators will have access to critical direct injection (SIDI), active fuel management (AFM), ignition timing, and volumetric efficiency (VE) coefficients, along with hundreds of supporting parameters."
Of course, smartphones can seemingly do anything these days, so why not tune your race car?
"Racepak is looking toward the future to develop products that harness the power of mobile devices," explains Tim Anderson. "We currently are working on a virtual dash app that allows the customer to connect to a Racepak Bluetooth-enabled data logger (currently our Pro III and V500SD data logger) and view streaming data real time, on a rendered dash."
Changing the Game
Technological advancements are continually changing the game when it comes to racing electronics. Many of the recent steps forward have come in the area of vehicle monitoring.
"Electronics, in general, have given the industry data acquisition; telling the operator what the car is doing on the track," says Carrier. "With engine speed vs. driveshaft speed, one can tell clutch/converter slip and lockup, etc. Air/fuel ratios and timing can also be monitored and adjusted according to needs."
And it's not just under the hood.
"Data acquisition tells what the chassis is doing as it goes down the track and tells if the tires are spinning," he notes. "Then, there are the new electronically adjusted shocks that adjust ride height as the car goes down the track. Cars need weight transfer, initially, to hook the car up then, after the initial launch, the car needs to level off and get down out of the air. Lots of electronic technology is available today. Believe it or not, auto racing has had a very technological influence on production automobiles."
Computer technology has also had an impact on competition.
"The latest touchscreen capabilities have allowed for creating intuitive control and data systems that can provide a modern update to an older hot rod vehicle," Bartoli says.
And Anderson adds, "The recent technological advancement that has most-impacted the racing electronics market is the advancement of mobile devices and the power contained in them."
As an example of what all technology brings to the table these days, Mollica outlines the capabilities of the Infinity ECU.
"It can process 400 MIPS, control up to four variable cams, has dual drive-by-wire profiles, dual on-board Lambda sensors, multiple boost control strategies, map switching, traction control, nitrous control, up to 64GB data logging via a removable USB, is flex fuel and multi fuel capable and uses a VE-based tuning model that makes it easy to start up and speeds up the tuning process.
"Meanwhile, our new water/methanol injection controllers have either an on-board boost sensor for low boost (up to 40 psi) or racers can use the multi-input controller on a high-compression, naturally aspirated engine or high-boost turbo engine and control flow rate via the mass airflow sensor, injector duty cycle or an external MAP sensor."
What does a lot of this mean? Well, it turns out you may owe your old math teacher an apology if you told him or her that you'd never use their class material in real life.
"It's not new, but these new processors that are utilized by Ford and GM rely heavily on math, where they used to utilize look-up tables," Payson explains. "This requires more of a commitment from the tuner to seek out and find the correct information, so that they can properly recalibrate the factory PCM."
The Truth is Out There
As with any fast-moving technology, there are always problems with knowing just what to believe when it comes to these types of products. So, we asked about any myths shops may have regarding the technical nature of electronics.
Carrier gives us two:
"First, electronics add additional horsepower. False. Electronics unleash the potential that already exists for more horsepower. And two, folks erroneously believe that low-resistance, high-energy spark plug wires will cause (noise) that will interfere with the rest of the electronics on your vehicle. Not so with the great RMI/EMI suppression wire developed by ACCEL. We have ignition wire that has as little as 25 ohms of resistance per foot (as close to solid core as you can get) and still eliminate RFI/EMI noise."
The main myth, for many, is that electronics can be complicated and non-reliable, Bartoli says.
"All of the products we manufacture for racing and street use are first tested for up to several years on our in-house racing teams' vehicles to prove their performance and durability. The intuitive nature of the touchscreen interfaces allow for simple operation and our seven-day tech supports allows for help anytime."
Along those same lines, Payson says his company deals with the perception that the tuning process is "mysterious."
"It isn't, and it can be understood by most (everyone) that already knows how fuel injection works. HP Tuners has worked with various entities to provide training at varying price points. Our forum is free and offers a great arena to discuss tuning strategies. Also available are books, DVDsand a learn-at-home course that comes with one full year of telephone tech support."
Anderson points to "the cost and complexity of data systems" as the area most misunderstood by speed shops and race tuners.
"Racepak offers a sub-$1,000 data recorder for both drag racing and closed course racing that provides the same information as our professional-grade data recorders, but with less external sensor input capabilities."
Making it Work
Regarding tips for technicians installing these products, the manufacturers explain that service and knowledge are your greatest assets.
"Our products are generally installed by the racers or directly by the customer. Our tech support and instructions provide easy and straightforward installation of our products by non-technical people, so a certified tech should have few issues," says Bartoli of Altronics.
AEM's Mollica recommends further education for shops looking to delve deeper into electronics installation and service.
"For engine management, I strongly suggest taking advantage of any manufacturer tuning classes to familiarize yourself with the software and to have the ability to speak one-on-one with the engineers who develop it," he says. "We offer Factory Trained Tuning Classes for our Infinity ECU. This allows tuners to increase their learning curve with the software capabilities, navigation and layout, and also ask questions specific to the types of vehicles they set up at their shop, which increases profitability and customer satisfaction."
ACCEL's Carrier notes that the information needed is often there in the printed instructions, if technicians will only take the time to review them beforehand.
"Completely read and totally understand the installation procedures before installation, not after," he advises. "Even the professional teams occasionally make mistakes, especially when rushed. Staying calm and being able to run troubleshooting scenarios in your head can help to quickly resolve an issue. Grounds are extremely important. You can never have too many grounds."
Doing your homework early is also the advice of Racepak's Anderson.
"Spend time investigating the differences between data recorders and once a decision is made on which brand to utilize, become the expert on that system," he says.
Immersing yourself in the product may be the best approach, says Payson of HP Tuners.
"From a tuning perspective, ideally, begin with a stock vehicle and progress from there. Learn how the OEM operating systems calculate fuel, and what modes the PCM operates under, for given conditions. Then move into a head/cam package, then a supercharger, adding to your notes and your knowledge base."
He notes that experience will open new doors.
"GM utilizes varying strategies, but generally, the code progresses and much of it is shared from one generation to the next. For instance, the LT1 has a lot in common with earlier PCMs, even though there are some major differences. If you are proficient in LS3/LS7 tuning, the jump to LT1 is much easier than starting with LT1. Additionally, LS1 and LS6 are easier to learn than LS3 and LS7," he says. "A steady progression regarding tuning, from a stock LS1 through a supercharged LS3, will give a good basis to know how to approach the LT1."
Pole Position
So, if all this sounds good to you, how can shops best position themselves to serve the growing racing electronics market?
"By becoming familiar with the newest technology that is available, so they can present these products to their customers," says Bartoli.
Carrier has similar advice.
"Educate and familiarize yourself on the systems being sold or installed. Take advantage of all training classes and seminars offered by the manufacturers. In this business, reputation is everything, so don't cut corners-"install only quality products. If ever in doubt, call the manufacturer's tech support line."
Anderson suggests shops adopt the complete product line of a data acquisition company.
"In the case of Racepak, we offer data systems, digital instrumentation and power supply management for drag racing, closed course, boats, motorcycles and industrial applications."
Of course, a sound business strategy is to go where the customers are-"in this case, the race track.
"Be at the track with your tuning software and your notes," Payson says.
"Be there," echoes Mollica. "Get involved at local motorsports events by having a competitive car or attending the events as a vendor. Bring parts that racers need that could save their weekend and provide technical assistance for the electronics that you sell."
He knows of several AEM factory-trained dealers who provide tech support at events for everything from data-logging to engine tuning adjustments, and says they are all successful, growing businesses.
"Supporting racers, not only at your shop but on the track, cements your reputation as a reliable resource in the racing arena, is great for retaining customers and invaluable for earning the business of new customers."