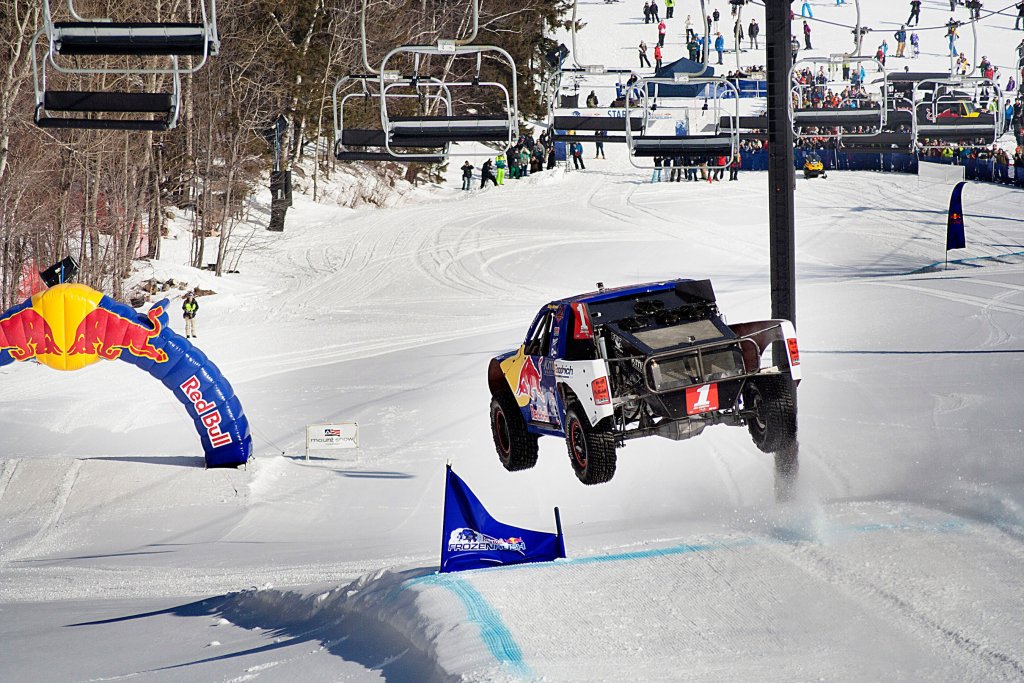 Just one week after a record-breaking snowfall in the Northeast, champion off-road racer Ricky Johnson and his Pro-4 off-road racing truck took advantage of the extra powder as part of the Red Bull Frozen Rush festivities, Feb. 15 in West Dover, Vt.
A three-time TORC Series champion and experienced terrain driver (and, of course, motocross legend), Johnson rode a figure-eight trail with jumps and berms while thousands of winter and motorsports fanatics cheered him on. While he plowed upward and hit jumps, the perception that off-road racing trucks can't succeed in snow became a distant memory, according to a press release from Red Bull.
The soft snow, steep terrain, ice and freezing temperatures were all uncharted territory for the 900-hp truck; it took three practice runs and two final bolts up the mountain to successfully complete the specially designed track.
"When I first walked through the course and saw how steep it was, I knew it was going to be a challenge. With every run I took today, I learned more. Snow is like water; it has a mind of its own, and it's continually changing. You really need to work with the mountain to keep control," Johnson said. "Today was a dream come true, free-styling on a mountain with my Pro-4 race truck."
The Pro-4 machine was equipped with specially designed 1/2-inch spiked BFGoodrich Mud Terrain KR tires, which were used to provide additional traction on the steep incline of a 30-degree black diamond trail named Yard Sale. The truck prevailed against an engine that hates the cold, less responsive shocks and a transmission that required an hour of "getting ready" time.
Looking for a challenge, Johnson requested an extra jump built below Yard Sale's crest, which sent him airborne over the top in an epic conclusion of an unforgettable challenge, the release noted.