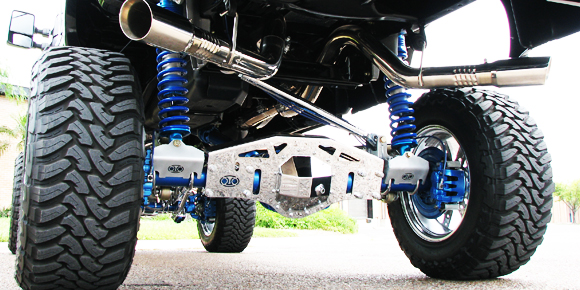 Restyling shops can – and should – be a part of the diesel truck performance improvement
These days, it's a challenge for any business – large or small – to remain profitable and relevant. The automotive restyling business is no exception. The marketplace is changing by the minute and drivers are no longer just concerned with "style." There are pragmatic concerns, and among them the need for real performance in a vehicle looms large.
One of the market segments in which this concern is especially true is the diesel truck aftermarket. While much attention is given to cars that look good, are comfortable, have great sound systems and can find their way home, diesel trucks continue to be workhorses, and their owners need them to deliver "performance" in ways that go beyond some of the common notions of the definition.
Turns out, there are a lot of aftermarket products that provide the extra performance diesel owners need. To install some of them requires training, tools and expertise that are usually only found in places that specialize in diesel truck performance.
But there are still a lot of products a restyling shop can either sell to do-it-yourself "weekend mechanics" or install in the shop without going through a years-long training program to re-invent itself – which means there is a potential profit center for restylers in the diesel trucks aftermarket.-¨
Restyling asked around and found some answers that may prove useful to restyling shops as they explore the diesel side of the market.
Restyling (RE): What bolt-on aftermarket products best suit diesel trucks today?
Marc Cloutier, MBRP Inc., Huntsville, Ont.: The automotive aftermarket has, through ingenuity and technological initiative, made remarkable advances in the development of "bolt-on" products. These products can literally transform a vehicle into a true performance machine. The core of "bolt-on" performance is what I refer to as the "triple-play of power." The combination of a cold-air intake, programmer and performance exhaust provides diesel owners with performance capacities unimagined until recent times. Just as important, these same products provide a real answer to rising fuel costs.
Jason Bruce, Advanced Flow Engineering, Corona, Calif.: When it comes to performance on the diesel side, air intake is the starting point for everything. A diesel motor can handle a huge amount of increased air, which really impacts the performance attributes of the vehicle, whether that be a performance air filter or a full cold air intake system. It's an easy installation: 30-45 minutes, tops, on the most complicated intake system. Second is the tuner/programmer, whether it's a mounted unit, like an Edge, an H&S view screen, a touch screen or a straight-up programmer like our aFe Scorcher unit. Between those two pieces – just the intake and the tuner – you can see between 80hp and 200hp increases in literally 45 minutes of work. And these are just bolt-on parts. You're not modifying any emissions or those types of things. Most of our products [for example] have CARB E.O. numbers for the diesel category, which is nice for customers in states that follow those standards.
Brock Meacham, Northern Utah Diesel, North Logan, Utah: For the basic novice, things people can do in their own driveway, we have air intake systems and exhaust systems. Before we get too heavy into any other engine modifications, we want to be sure the engine is going to be able to breathe.
Brittany Schwartz, Bully Dog American Falls, Idaho: The Triple Dog GT Diesel is actually four products combined into one design. It functions as a downloader that adds power, a tuner that allows for multiple drive train settings to be tuned and adjusted, a gauge pack that monitors four gauge functions at one time while being fully customizable to every user's preferences, and a conscientious Driving Coach – software that monitors wasted vehicle energy and then informs the driver how to change his/her driving habits to increase fuel economy.
RE: Which products work with which customers and/or lifestyles?
Cloutier: From the perspective of the performance exhaust market we have always recognized that each consumer has his or her own unique set of needs and expectations from the products that they invest in. For that reason we have pushed hard to provide as wide a choice as possible by manufacturing applications in multiple material grades (T304, T409, aluminized, black powder-coat) and in multiple configurations (singles, duals, stacks, competition, turn-downs, with or without muffler).
Bruce: Diesels tend to be more work related. We see a lot of construction trucks, landscapers pulling trailers, horse trailers. But there are also three sub-niches that we see. You have a work guy; a pleasure [enthusiast] pulling a boat or fifth-wheel; and a new secondary market starting to thrive, with younger people spending $7,000-$10,000 getting a diesel that can run literally forever. In general, almost all are looking for the same things: torque and pulling power. Diesels are about power production – a strength statement more than anything. You don't see diesel trailer queens.
Meacham: The biggest thing we see, from an aftermarket selling point, is the new diesels off the showroom floor don't do as well in the fuel mileage category, so we sell a lot of performance chips. But it's not just performance that truck owners are after. We sell these things for fuel mileage, also. Five years ago they were getting 20 mpg. Now diesel mpg is in the low teens. As far as lifestyle, we've even seen some people revert back; used-truck sales have come up substantially because people are buying new diesels and not liking them as well as the older ones, mainly because the fuel mileage is way down.
RE: What areas of performance can be increased with these products?
Cloutier: Maintaining a cooler operating environment and gaining greater control over fuel delivery generates a range of opportunities – aside from increased horsepower and torque.
Bruce: Things like intakes, tuners, exhaust systems, intake manifolds, turbos, inner coolers and those types of things are all geared around providing more air quicker to the diesel motor; and that allows somebody to have absolutely astonishing horsepower and torque numbers. You're seeing almost 1,000hp street-legal diesels around. In extreme environments when people are needing extra power there's a lot more to be given.
Meacham: The great thing about a diesel engine is that nine times out of 10, when you increase the horsepower, the mileage increases with it; it's the complete opposite of a gasoline engine. That's what's so cool about the diesel engine. By installing parts like aftermarket injectors, cold air intakes, programmers and exhaust systems, you're increasing engine efficiency enormously.
Schwartz: Bully Dog entered the intake market with a few simple objectives: keep hot air out of the intake stream by ensuring systems pull air from cold air sources; accommodate a high-flow air filter and improve the look of the engine bay with an aesthetically pleasing, high-quality product. Following these basic precepts, Bully Dog developed and produced a line of intakes capable of providing more and colder air to diesel engines. Real-world results from these efforts include improved fuel economy, more horsepower and torque, lower cost of ownership, premium-build quality and a clean, attractive install.
RE: What information do you provide that helps installers promote these products?
Cloutier: We have developed a dealer kit providing materials to assist in presenting our products to their customers. Included in the kit are informative posters, counter pads, brochures, mobiles and sell sheets. Our new-product releases provide important selling points and product detail. Aside from participating in numerous vendor shows and automotive events, we conduct training tours where we meet installers. Such outreach has been invaluable not just as opportunities to provide information but also to learn from installers the challenges that they have to face.
Bruce: We provide a lot of typical point-of-sale materials like door decals, banners, floor decals, shirts and hats. We also promote our dealers on a dealer locater, so when you have installers supporting the aFe line they can use special decals and use the locater, where we recommend business to them. We also do a ton of advertising, a lot of video work, social media, Internet ads and Google search. So we're constantly promoting to create consumer demand. In many cases our products are conducive to do-it-yourself type work, but a great portion of our sales is still done through the traditional distribution networks, like Premier Performance or Keystone Automotive, which restylers are probably currently buying from anyway.
Meacham: Most customers come [to our shop] by word of mouth, or drive by and see our sign. But dealers, as well as manufacturers, send customers in because they know we are an authorized shop and we're trusted to install the parts correctly and they know it will work as advertised.
RE: Marketing-wise, what's the best way an installation shop should promote its diesel performance products?
Cloutier: As enthusiasts we live in the aftermarket world, so it is easy to forget that a huge majority of owners will never install an aftermarket product to their vehicle. Many of these owners are not even aware of the products available to achieve what they want from their vehicles. They hear the word "performance" and visions of Vin Diesel flash before their eyes. Much of our success has come from re-educating mainstream owners so that they understand that "performance" can equate to fuel savings or longer engine life as much as it does horsepower and torque. We have seen many installation shops build their entire business through providing dealerships with the opportunity to include and finance aftermarket products at the point of sale. This creates additional profits for the dealer and a steady revenue stream for the installer. Some installers have provided project vehicles for dealer showrooms as well as held training sessions for sales and parts personnel.
Bruce: We try to tie dealers to our customer base, jobber network, when we can. A local restyler is usually doing work for dealers, so he should go after it. Before the crash in 2008, a lot of people were doing performance and also restyling work for dealers. That stalled out, but now we're seeing a resurgence. A lot more dealers are working with installers to have those parts installed.
RE: Are there any tips/tricks/cautions you can offer to help the installer?
Cloutier: Because many "bolt-on" products appear easy to install, too often professional installers figure that they can make it work. The best manufacturers have invested considerable resources to not only design their products for easy installation but also in producing clear and easy-to-follow instructions. The really good ones provide toll-free technical assistance. A manufacturer should be a ready and willing resource, a partner in achieving a satisfied customer.
Bruce: There are all sorts of trends in styling. But in the restyling area, there are a lot of products in the sweet spot: bumper covers, bumpers, tonneau covers. However, with the truck already on a lift and in the air, a restyling shop could easily add another $1,000 of products and literally have those parts put on in less than an hour. A key thing is realizing when it comes to the diesel side of things airflow management is probably the most critical thing to gaining more power. Those products tend to be very easy to install. So if restylers are looking to expand their business and have greater add-on sales and high dollar return, they can easily start with the air stream – the air flow side of diesel trucks. That's a very easy way to enter the performance side of the business and have a relatively high return on investment when you consider how much the parts cost and how quickly they can be installed. For an install shop, a lot of times that's an easy add-on that can really make a difference in profitability.