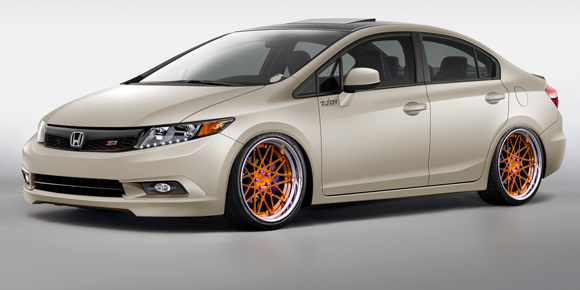 Here's how today's custom paint decorates the restyling world.
Trends and fads come and go but paint has always been a staple for cars and trucks. But in a world of vinyl wraps, partials and graphics, just where is paint today? Is it still a staple? Is it gaining or losing ground against those other methods of graphics imaging on vehicles? That's what we wanted to know, so we called on some industry experts firmly entrenched in the paint world to see just where paint is these days.
The first thing we asked about was the most important: customers. Who is today's typical customer and how has that changed from, say, even five years ago? Larry Weiner from Performance West Group Inc., Bonsall, Calif., tells us "Today, with the latest performance vinyl, the customers most likely to choose paint are those who want complex graphics or multi-color paint schemes that do not lend themselves to the application of vinyl. These customers are willing to pay more money and tie up their vehicles for a longer period to achieve the appearance they want."
Neil Tjin of Tjin Editions, La Habra, Calif., says, "I can speak from experience. We have painted about 30 Tjin Edition cars in the last six years with DuPont, but we have also wrapped two projects with Wraptivo in the last year. What we are seeing is that the more high-end owners are going with wraps because they can remove the wrap if they get bored with the color or they sell their cars. Customers that get their cars painted are the ones looking for a custom color or aren't too worried about the color change."
Rick Bottom of Rick Bottom Designs, Mendota, Ill., says, "I think wraps are great for the current trend toward matte finish or flat finish jobs. My experience has been that flat paint over time develops a shine on the edges just from washing and drying the vehicle. The only drawback to this is the door jambs not matching the rest of the car. Vinyl graphics are great for personalization and for dealerships but nothing will replace true custom paint for depth and 'Wow!' factor. Printed wraps are great for advertising and for camo-type vehicles, etc. The customers looking for custom paint have show cars or very, very nice, expensive cars that they want to be 'one of a kind.'"
Who's painting for whom?
Next, we asked about the paint schemes/designs that clients seem to be choosing today. We asked our sources to consider such demographic factors as regions, newer vehicles vs. classic vs. hot rods, age groups, etc. Tjin, of Tjin Editions tells us, "For us, it is all about clean, subtle and simple. It really doesn't matter the demographic or region. Some of our clients like metallic colors, but a good majority of our builds are done in solid colors. Mattes are popular also, but we don't do matte paint jobs due to not having clear cleat, and leaving finger prints on the design at shows. If our customer wants a matte finish, we recommend a wrap."
Bottom from Rick Bottom Designs sees variety. "Seems like anything goes!" he says. "Clean two-tones with a contrasting stripe dividing never go out of style. If you work with the body lines of the car instead of against them, the results are better. A trick I use for stripes sometimes is to mix the top color with the side color to create the color for the stripe – it makes a nice transition. You will see a lot of older-styled solid paint and colors on the new cars in 2012-2013. Olive greens and browns are coming back. Customers often want the colors they see on the new cars applied to their street rods and customized older cars.
"The crazy muti-colored 'chop-suey' designs are coming back strong on custom full-size and mini trucks," Bottom adds. "[But] tasteful, subtle graphics never go out of style. Pinstriping as an art form is also still highly regarded and it is getting harder to find guys doing it. So if you have an expert pinstriper in your area, take good care of him, make sure he is eating properly and getting enough rest! Tip him every time he does work for you!" (Author's note -" I like this guy's thinking!)
Weiner from Performance West notes, "The choice of paint schemes is as varied as the enthusiasts themselves. Certainly, some [schemes] are traditional, such as flames, but are not limited to just traditional street rods. There is no question that enthusiasts from specific geographic areas and age groups have different ideas about what they like when it comes to custom paint. Some groups like wild, metal flake, while others choose hot rod black to make their statement. Historically, the cutting-edge trends still start out West and work their way East. Older enthusiasts tend to be more traditional, while younger enthusiasts are more avant-garde."
Contract painters
Looking beyond collision repair shops and franchised economy painters, how do restylers who may have a client base for custom paint jobs, but who don't want to invest in an in-house paint operation, locate, research and choose a partner custom-paint shop?
Weiner points out that "one way for a professional restyler to locate competent painters is to attend local car shows and talk to the owners of award-winning vehicles who have had their cars or trucks custom painted by local shops."
Tjin says, "It is all about credibility and word of mouth. A paint job can make or break a car, so it is very important to find a body shop you can trust. It is almost like looking for a doctor for your kids. Do your research, talk to people (customers) and check out their work first-hand. We met our body shop, LR Auto Body, through a friend. We went to check out their work, attention to detail, fit and finish, and we were sold once we saw his work in person. It is very important to find a shop you can trust and that is experienced in body work, fit and finish and, of course, laying down some amazing paint!"
Bottom simply says, "Word of mouth is always best!"
Digitally created designs
Our next question was whether the majority of today's custom paint shops are more sophisticated in their design creations. That is, are they using computer-design software to show what the final job will look like on the actual vehicle?
Weiner says, "We have not found this to be a general trend. We recommend hiring a professional graphic designer to develop renderings to create custom paint schemes with input from the vehicle owner. The rendering can then be used to direct the custom painter to achieve the desired result. The Mr. Norm's Hemi Cuda rendering and a photo of the completed vehicle illustrate the point."
Bottom explains, "I like to always start with a digital rendering – that way your customer knows exactly what they are getting and changes can be made accordingly to their wishes."
Tjin is emphatic, "Yes, yes and yes. A good example is LR Auto Body. They work with a design company called Gurnade Design Firm [Austin, Texas]. LR will work with Gurnade to produce a rendering for the client so the client can see their creation before any paint is laid down or before any new body panels are installed.
What rides are getting painted
We wondered if cars still comprise the majority of vehicles getting custom painted these days and why that might be.
Tjin says, "Yes and no. The majority is still cars, but you also see a lot of SUVs and trucks. Nowadays, everything on wheels is getting painted.
"It is all about being unique and different from your peers. There is no better feeling than driving down the street and seeing someone in the same car as you and you know you are rocking a custom color."
Bottom points out that "the new muscle cars from the 'Big Three' are the most popular right now, with trucks a close second."
Weiner tells us, "We find that custom paint is not limited to cars, but also includes trucks and sport utility vehicles. Enthusiasts purchase the vehicle that best suits their needs or desire to project their personality. Think of a vehicle as clothing. People purchase and wear clothing they feel flatters them and makes a statement to everyone who sees them. Enthusiasts feel the same way about the vehicle they drive. This can extend to applying graphics or custom painting a vehicle with a unique color that attracts attention."
The next-gen painters
Lastly we wanted to know if our vehicle designers see younger people getting into the painting end of the business and how they should be trained. Weiner says, "Certainly! Young people will learn to custom paint. They can learn this craft by getting a job and working at a paint shop as a trainee or going to a technical school such as Wyo Tech."
Bottom agrees, "I recommend a young person go through a complete training course through a school like UTI [Scottsdale, Ariz., et al.] or Wyo Tech [Blairsville, Pa., et al.] and learn the basics. It's important that the bodywork under that custom paint is properly done – and straight! There is nothing worse than a beautiful glossy paint job over a wavy body with poor gaps. Prep is and always will be the key to a great finished product."
Tjin tells us, "Yes, I do [see a new generation of custom painters coming into the fold]. Our painter on the East Coast (Lightner Paint and Body) started when he was 17. He has been painting for almost a decade and he is one of the best painters around. Painting is a trick of the trade, and if you are good at it you can turn it into a profession. These guys go to school to train, but real, live experience also pays a huge role."
Sounds like paint is still here to stay.