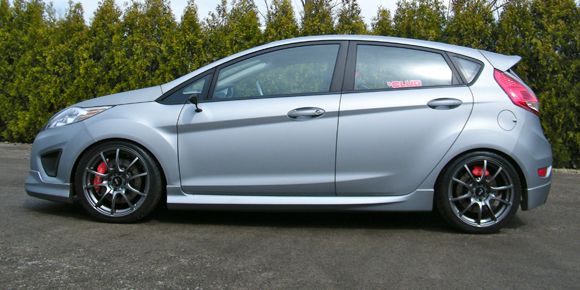 Bundle a group of products to make more than a single-item sale.
This month we decided to change a few things up and invited well-known aftermarket suppliers and designers to pick their ultimate ride and deck it out. The theme is to give restyling shop owners additional insight into creating their own "restyler's choice" packages for customers who, say, might come in for a body kit only, but once shown preselected wheels and graphics that will make their ride even more of a showpiece, will capture the eye of these customers and add to the shop's bottom line.
Each of our seven suppliers and designers offers their own takes on their own vehicles. Their responses range from mild to wild, and their creativity – mixed with encouragement and insights to body shops, jobbers and restylers – is exactly what we wanted. And though some restylers might not go to the lengths our designers go toward, their ideas certainly can inspire your own.
We asked RKSport of Murrieta, Calif.; NE Wings of Hamburg, N.Y.; 3dCarbon of Newport Beach, Calif.; Rick Bottom Designs of Mendota, Ill.; Performance West Group of Bonsall, Calif; Retro USA, Burnsville, Minn.; and ACV Motorsports of Youngstown, Ohio, to create their ultimate "restyler's choice" package.
---
RKSport
Specializing in interior and exterior modifications and styling, RKSport features many manufacturers and accessories from scoops and carbon fiber hoods to spoilers, grilles and body kits.  For their featured vehicle, RKSport's sales manager, Sean Tito, made these choices for his "restyler's choice" package.
The Car: 2011-12 Mustang GT
The Accessories:
TSW Vairano wheels/tires
Eibach Sport Lowering Springs
Limo tint
RKSport ground effects
Custom paint
Profit Margin:
49%
Why these choices:
Wheels: Replacing the wheels gives the vehicle a new look immediately. I feel by adding bigger and wider wheels it fills in the wheel well space giving the vehicle a more aggressive look and style.
Lowering Kit: After the wheels, you want to lower the vehicle, which completes the stance.   Most of the time after adding a lager-sized wheel the vehicle raises so, therefore, adding lowering springs plays a huge role in getting the vehicle to appear lowered (by closing the wheel gap).
Tinted Windows: This simple modification enhances the appearance of any vehicle. I think it's a necessity.
Ground Effects: Always good to add if one is bored with the look of their car.  If you have the extra money to do the vehicle right, this modification is a must especially with the above enhancements.
---
3D Carbon
3dCarbon is very well known for its body kits especially when it comes to sport compacts and muscle cars.  Many of the kits even include up to seven accessories in each box. Vice president of sales, Ernie Bunnell, chose a fantastic mix of 3dCarbon's accessories as well as other well-known brands to produce the ultimate "restyler's choice" ride.
The Car: 2012 Ford Focus five-door hatchback.
The Accessories:
3dCarbon body kit: front air dam, side skirts right and left, rear lower skirt, upper rear spoiler
Wheels: Forgiato Monoleggera 20″ painted red
Tires: Falken FK 452-235/30ZR/20
Painted side mirrors
Daytime LED running lights
3M window film
Profit Margin:
$1,100
Why these choices:
We chose the 2012 Focus for the application because the newly restyled Focus has the design and features of a European sports sedan.  The 3dCarbon body kit truly enhances the styling of the 2012 Focus while the wheels offer unique fitment and styling that compliment the car's styling. We picked Falken Tires because the FK452 tire truly defines the ultra-high-performance tire. It has five linear ribs and three-dimensional rounded tread blocks that offer precise handling response. The running lights offer the true European lighting look – like you see on the new Audis.
---
Rick Bottom Designs
Owner Rick Bottom has been building dream cars since 1996 and has shown more than 30 cars at SEMA since that time. His projects have been published across the globe and he, along with his work, can be seen at any given time on motorsports channels. Bottom partners with OEMs to create many customized rides, which are predominantly displayed at some of the industry's largest annual events. One of his personal mottos is to "inspire the uninspired to buy a car, and then personalize it and make it their own." His "restyler's choice" package is reflected in that creed.
The Car: Chevy Cruze
Debuted at 2011 SEMA Show; 2012 CES (Consumer
Electronics Show); and Chicago Auto Show
The Accessories:
3dCarbon/Air Design four-piece body kit
Custom two-tone paint treatment with contrasting stripe
E&G Classics mesh grille kit
Pedders lowering coilovers
Axiom premium three-piece wheels
Pirelli tires
Custom upholstery
Painted trim
Why these choices:
The Cruze is the hottest-selling car in the United States and owners want theirs to stand out. The 3dCarbon kits always fit great and their designs have broad appeal. The new, sporty look is completed with premium wheels and a paint scheme that gives the car a rich "want it in my driveway" look. The interior upgrades make the driver's seat a great place to be. All of this and 36 mpg make this car a winner.
---
Performance West Group
With more than 30 years  in the business, Performance West Group has a rich history in designing and constructing many radical vehicles that have been showcased all over the world, at major trade events such as SEMA and CES and within the pages of many automotive publications. Performance West's president, Larry Weiner, shares his magnificent automotive creation.
The Car: Racer Edition Cuda Package for all 2008-12 Dodge Challengers
The Accessories:
Racer Edition Cuda Saw Tooth Grille and Blackout Tail Light Panel
Racer Edition Cuda Hood with black satin accents
Racer Edition Cuda "Strobe Stripe" Vinyl Graphics
Black-out tail light panel
Satin black accents on roof
Profit Margin:
(Dealer profit at the suggested retail price) 25%
Why these choices:  
The Racer Edition Cuda package for all 2008 through 2012 Dodge Challengers features a carefully chosen ensemble of parts and accessories that infuses this vehicle with the appearance of the highly collectible 1970 AAR Cuda. This restyling package utilizes modern interpretations of the original AAR Cuda parts, including the unique hood, body side strobe stripe, sawtooth grille and black-out tail light panel. Following the appearance of the original, satin black accents on the hood and roof are also applied. A lowered suspension and more aggressive wheel and tire package are available options. The result is a quick, easy to install package for the Challenger that enables it to stand out from its stock siblings, is affordable and can be rolled into conventional vehicle financing.
The advantage of a professionally designed package such as the Racer Edition Cuda as opposed to just bolting on random parts and accessories is the fact that the completed vehicle has an integrated appearance that looks as though it was developed in an OEM styling studio rather than just a jumble of mismatched parts and graphics.
To illustrate the point (no pun intended) we worked with noted designer Ben Hermance to create the artist's rendering for the Racer Edition Cuda. Each of the restyling elements outlined in the Package Overview and Rationale can be seen in the artist's rendering. We contract a professional artist's rendering for every vehicle program we develop, and have found them to be an essential element in the design and build process.
---
ACV Motorsports
Aaron Vaccar Signature Series
ACV's owner/designer and namesake Aaron Vaccar chose a model which he debuted at the 2011 SEMA Show in Las Vegas. The vehicle was displayed at the Ford Motor Co. booth and took personalization and customization to a new and exciting platform. While this concept featured many one-off parts and prototypes, it also featured products that car owners and enthusiasts could easily purchase and install. Vaccar's goals include utilizing exterior products that are a direct fit, affordable, ready to buy and are perfect for giving ACV Motorsport's chosen vehicle a one-of-a kind look.
The Car: Aaron Vaccar Signature Series: Ford Fiesta (2011+)
The Accessories:
3dCarbon four-piece kit (fits 2011-13 Fiesta Models)
(Includes: front air dam, R/L side skirts and rear lower skirt)
Flowmaster dBX Cat-Back Exhaust Kit, Part No. 819115
Advanti (Konig Vago V3 Wheels), Part #: V377D08406
Megan Racing coilover damper kit MR-CDK-FFS10
Why these choices:
3dCarbon's four-piece Styling Kit quickly appealed to us due its high quality and fit, as well as its ability to dramatically change the look and feel of the vehicle. We also like that the designs are original and compliment the vehicle's body lines. As a major bonus, these simple-to-install body parts are available "unfinished" or pre-painted in all OEM factory colors.
Advanti Racing / Konig: Vago V3 Wheels brands are known for standing behind their goods, having a nice variety of products and being priced at an excellent level. There are a lot of wheel brands out on the market, so make sure to stick with a reputable company. Finding the right look for the car, the correct bolt pattern and in-stock was not an issue with these guys.
Megan Racing's Street Series coilover damper kit reflects how Megan Racing is always a good choice to turn to when looking for performance lowering springs or adjustable coilover kits. The variety of options, features and customer service you get for the money is hard for other brands to compete with. Our personal taste is to always jump for the fully adjustable damper kit, but the springs are a very nice way to go, depending on your needs and budget.
Flowmaster's dBX Cat-Back exhaust kit is a choice we believe that (fully) classifies as a great exterior "style" modification, as well as "performance" upgrade. When we first heard how the kits sounded, we knew that Flowmaster would be the only choice to help give our own car a more "beefed-up" tone. The kit included a nicely polished tip, designed perfectly for our rear bumper, and the sound was very "street-able" – just loud enough when you want it to be, and quiet enough for when you don't.
---
North East Wings
North East Wings specializes in a variety of aftermarket products for cars and trucks such as rear deck wings (spoilers), body side moldings and fender flares. Their products come in matte black finish or can be custom painted to match any OEM color.  President/sales Ed Walker made some very dynamic choices when it came to representing North East Wings' "restyler's choice" package.
The Car: 2012 Chevy Cruze
The Accessories:
NE Wings spoiler model #NEW 23 manufactured by PUTech Spoiler (#ABS261A-L4)
NE Wings body side molding model, manufactured by Wingz Express (#BMCRUZE 4DR-0A); Rims manufactured by Original Wheels (#5476).
Profit Margin:
Averages 35%
Why these choices:
"Times are tough so I wanted to choose inexpensive additions, something someone can add and almost double their money with a low install time.  From what my clients tell me, customers like to get in and out (of the shop) so we can be quick by installing moldings, rims and completing with a spoiler."
Spoiler: This custom ABS plastic spoiler's design compliments the back of the vehicle and gives the Cruze a sportier, racier look more so than the flush-mounted OE style does.
Body side moldings: These moldings give the doors a silkier and more stylish look. I also chose these moldings for the fact that they are manufactured out of impact resistant polyurethane and painted with a urethane-based paint and also include OEM-grade 3M tape pre-installed for optimal quality and strength.
---
Retro USA
The comeback of the American pony cars has generated many new aftermarket possibilities and consequently given birth to companies passionate about taking the retro look to the nines. Companies such as Retrokits, Retro USA and Rocket Wheels fall into that category. "The big three automakers gave us a great place to start", says Gary Green of Retro USA. "The 2005-09 Mustangs, the new Challengers and the Camaros were just begging for the crowning touch that would really take them back to the day." It's no wonder that these three companies found each other and have put together a winning Camaro the past two years at SEMA.
The Car: 2012 Camaro SS convertible
The Accessories:
Rocket Wheels' Modern Muscle Booster: chrome finish – front: 20×9; rear:  20×10
Four Flat Angle Retro Spinners
RetroKit 5/1 System RS Version
Cockpit cover
Retro USA back Chrome-Tech bumper; rocker molding; quarter molding ("shark gills"); hood vents ("ice cube trays")
Profit Margin:
These prices are retail; wholesale discounts average 25% plus installation profit.
Why These Choices:
Starting at the front fascia, Retrokits re-defines the new with the old by installing a front clip with a truly '69 look. Retrokits 5/1 Systems are available in two classic '69 designs: SS version and an RS version. Both versions feature a combination of an actual '69 Bumper, grille and lower fascia with a custom-designed fiberglass fascia. Photo features the RS version with hideaway headlights that operate with a factory light switch. Either version installs on any 2010 and up Camaro using factory mounting points and subassemblies that simplify installation.
This 2012 Camaro convertible also features a cockpit cover that blends with the top boot for a sporty two-seater look. The cover can be installed whether the convertible top is up or down. The back seat is accessible to use as storage.
Retro USA also combines the look of old with the technology of today and offers iconic-style trim with rear bumper and rocker moldings of chrome film laminated to TPO; they incorporate internal mounting brackets to raise the bumpers off the fascia for a real muscle-car look. Hood vents and quarter moldings (or, as they were called, "ice cube trays" and "shark gills" are exact '69 replicas for today's Camaro.
Building on the retro styling elements continues with the Rocket Booster Modern Muscle wheels specifically designed for fitment of modern muscle vehicles. Wheels are crafted from A356 aluminum. Customers can choose from Hyper Shot, gloss black and chrome finishes. The Modern Muscle Rocket Booster is compatible with tire pressure monitoring systems and is hub centric and use vehicle-specific hub rings.
---