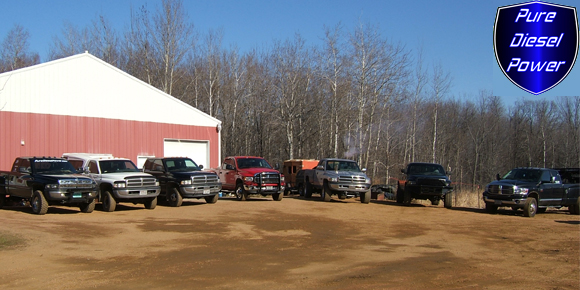 The fact that he came into his own during the dot-com revolution pretty much ensured that the Internet also would play a role in his career. Little did he know back then, however, just how much of an impact both of his passions would make and how they would align to create new opportunities for him.
"Growing up, I had a lot of interest in building vehicles and worked for another shop that specialized in that part of the business," says Shields, who groomed his sales management skills for a Wisconsin-based shop in the early and mid-2000s.
"I pretty much had done everything from in-store sales and online sales to physical installs," he adds. "The owner of that shop really wanted to start his own online business and I helped him with that for a year or two."
During that time, Shields learned a lot about establishing and maintaining a presence online, both through supporting the online sales of his employers and also by contributing to online tech forums and assisting with customer tech requests.
"By that time, I had definitely established a reputation among certain communities online and had a loyal following from my previous job," he recalls. "That was definitely a big factor in allowing me to get the ball rolling quickly on my own projects."
And did it ever get the ball rolling. Shields quickly launched Marshfield, Wis.-based Pure Diesel Power LLC. Seven years after starting the company, the firm has become a significant national player as an online distributor of diesel performance parts and accessories for the industry's biggest and most recognizable brands.
At any given time, Pure Diesel Power's crew of eight employees fields orders through its online portal-www.puredieselpower.com-and ships items nationwide from brands like S&B Air Intakes, DiabloSport, Superchips, MagnaFlow, MBRP, Edge Products, aFe Power, Auto Meter and H&S Performance.
Growth and Brand Development
While Shields declines to share specific Pure Diesel Power sales volume data, he says that the company has grown consistently since opening.
"We started during a recession year and have grown at least 15 percent each year we've been in business," he says. "We haven't seen much slowdown, even through the tightest times in the economy."
Today the company occupies a 5,000-square-foot building in Marshfield, a mostly rural town populated by about 20,000 people near Wausau, Wis. The facility features seven bays, two main offices for phone support and web development employees, and shipping and stocking space.
"The shop, which is always full, really only accounts for about 2 percent of our overall sales," he says. "That is how we always intended it to be."
In order to keep the flow of orders coming in, Pure Diesel Power utilizes some fairly uncommon methods to keep its brand top-of-mind with customers. Chief among the company's past marketing initiatives: A company sled-pulling team that logged as many as 26,000 miles travelling across the country for events prior to the economic decline.
"Truck pulling helped a ton to get the word out, especially in the early years of the company," says Shields. "We started pulling (early on) and really peaked around 2009. We did 53 shows that year.
"That was a rough year, but that helped a ton and just gave us a great opportunity to get out and talk to people," he adds. "People would always ask us about what we had done to our own truck, and without fail they would be calling the next week and becoming customers."
Shields is quick to note that the sled-pulling exercise isn't without its challenges,  "It's a very expensive endeavor," he says, noting that Pure Diesel Power invests between $50,000-$100,000 each year in the pulling team, depending on fuel prices. "But it is well worth it, in our opinion. It provides a great return.
"We've continued to grow every year and we're on track for another record year this year, which tells us it's paying off," Shields adds. "And now, even as we start to scale back our team, we know that we've had enough exposure over the years that the customers there know us and know where to find us."
Cummins Performance
Since its inception in 2006, Pure Diesel Power has been a performance specialist for the highly popular Dodge 5.9- and 6.7-liter Cummins engines. The company supplies diesel intakes, performance exhaust systems, gauges and OEM-replacement performance injectors, chips and tuners, and nearly any other performance part.
In recent years, however, the company has branched out to offer the same parts for other major diesel truck engines, including the 7.3-, 6- and 6.4-liter Ford Power Stroke and the 6.6-liter Chevy and GMC Duramax engines.
"We focus on and specialize in work for the Cummins (engine), but we do work on all of (the) Big Three," Shields says. "We do a lot of custom and competition parts, full engine builds for competition use, custom turbos for dragging and racing, and a lot of the bling accessories."
And that's not to mention "lots of exhaust stacks and a ton of maintenance items," he notes, "like oil filters, fuel filters and injection lines, and tools, among many other products."
Service-Oriented
While the focus at Pure Diesel Power has shifted and broadened in recent years, one constant for the company has been its dedication to providing top-notch customer service, Shields says.
"We started with the Dodge and then pretty quickly spread our reach to include all the other major models," he says. "We also started out doing almost strictly performance work and similarly have spread out into doing more maintenance work than ever before.
"That is just our service-oriented nature as a company," Shields adds. "When people call or come looking for a particular part or service, we're going to respond and provide them what they're looking for.
"At the end of the day, what we pride ourselves on is customer service."
That focus, Shields says, allows Pure Diesel Power to stay relevant in a highly price-competitive business.
"The way the market is today, there are so many minimum advertised price (MAP) policies out there. We know the customer can go just about anywhere else with their business and find the same or similar pricing," he says. "Even with that reality, we have a lot of repeat customers and we believe the level of service we provide is a big reason for that. Anybody can sell parts, but if you treat customers well, your business will do well."
A good rule of thumb for retailers or distributors to follow, Shields says, is to focus on increasing product knowledge and to stick with products proven to be durable and that deliver on stated promises.
"We use the stuff that we sell," he says. "We've installed these parts already and we won't install anything we won't use ourselves."
Pure Diesel Power's commitment to high-quality service and products helps the company in another key area: maintaining staff.
"We have great retention of staff here," Shields says, noting that the company offers benefits, which is considered a rarity in the industry. "Honestly, a lot of our employees were customers before they ever worked with us. And being as small as we are, we're together on the pulling team for thousands of miles each year. We really have become like family.
"At the end of the day, we do it for the love," he says. "It's really not work. We'd all be doing this stuff as a hobby anyway, so we feel very fortunate to make a living from it. And it's really rewarding to be able to help get people back on the road. We've been in their shoes before, so we understand."