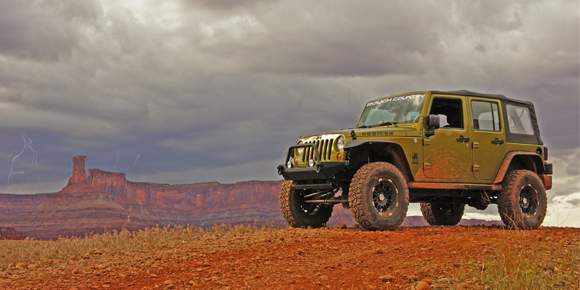 The offroad aftermarket is positioned to benefit from recent growth seen in the general auto aftermarket and from increased new-vehicle sales. While do-it-yourselfers represent a significant portion of the offroad consumer demographic, opportunity exists for shops to service others who lack the inclination or aptitude to outfit their own vehicles.
Restyling's panel of experts have volunteered to offer their insights on this segment by taking a specific look at suspensions systems, and related products like tires and wheels. They also discuss how to best service customers of these products and what to expect from suppliers.
Suspensions 101
From the starting block, we asked our panel how many different types of suspension systems are available and how exactly they all differ?
Chris Gauss, the national sales manager of performance for Monroe, Mich.-based Rancho Suspension, says there are two common suspension designs: independent front suspension (IFS), and solid axel design.
"IFS vehicles require the use of a sub-frame, and solid axle designs require springs and control arms," he says. "The Rancho performance suspension and shock product line includes solutions for both designs. Rancho suspension kits include leveling systems that feature loaded struts to level the vehicle, and full suspension systems that often include Rancho's one-piece sub-frames and other highly engineered components to improve handling and control on-road and offroad."
Bret Lovett, the founder of West Monroe, La.-headquartered Superlift, elaborates even further, saying, "I preface that on all of these different vehicle suspensions, I am referencing front suspension types. Most newer light truck (1/2-ton) platforms are IFS with struts and coil springs. Most older IFS suspensions are torsion bar-equipped, as opposed to struts. For lift heights of 6 inches-plus, generally, the lift system will consist of replacement steering knuckles and bracketry.
"For shorter leveling kits (2-inch lift range) strut spacers or new torsion bar keys are the fix," he says. "On newer-model heavier truck platforms (3/4- and 1-ton), General Motors uses IFS with torsion bars, while Ford and Ram run solid axles (one-piece axle housings) with coil springs. For people that truly use their lifted vehicles, the solid axle route is preferred. All pre-IFS vehicles utilized either coil or leaf springs with solid axles. Jeep Wrangler has kept with solid axles from day one."
Tyler Grooms, of Dyersburg, Tenn.-located Rough Country tells us, "The three most common suspension types on offroad vehicles are leaf springs, coil springs, and coil-over struts. Leaf springs are flexible sheets of metal that simply suspend the axle in the middle; coil springs are spiral shaped and sit on top of the axle or control arm, and coil-over struts are smaller coil springs wrapped around a shock absorber. Leaf springs are the easiest to lift and their sturdiness allows them to handle higher loads; however, with too much lift or 'stacking blocks,' leaf springs can bind, resulting in 'axle wrap.'
"Coil springs offer considerably more range of motion, allowing greater flexing and articulation while sacrificing weight capacity, and may droop with heavy front or rear bumper additions, requiring a spacer to level out the vehicle," Grooms adds. "Coil-over struts look like shocks with coil springs around them but connect to a vehicle quite differently, eliminating the need for conventional control arms."
Accessories and Upgrades
When it's time to upsell, what are the most common accessories or upgrades suspension system consumers look for?
"Coil spring spacers, lift blocks or 'add-a-leafs,' and torsion bar keys are the most popular lift additions to vehicles," says Grooms. "These simple and easy-to-install lift methods offer 1 inch to 3 inches of clearance at an incredibly low cost. These products allow drivers to achieve just enough height to purchase aftermarket wheels and tires or may be used in leveling kit systems, which level the front of the vehicle with the rear. Though blocks, spacers, and keys do not offer much in the way of performance, their low cost and ease of install make them a popular option."
Lee McGuire, from West Monroe, La.-based Skyjacker Suspensions says, "We offer leveling kits (torsion keys, adjustable struts, metal spacers and poly spacers), as well as lift kits. The lift kits range from 2.5- to 8.5-inch lifts and are achieved through a number of different methods based on the vehicle application.
"Shock upgrades are the most common suspension upgrade because people want better-performing, faster-responding shocks," she adds. "They also wear out and need changing every 30,000 miles. The next popular addition is a leveling kit, as it is an entry-level item that can be done yourself and allows for larger tires and wheels."
Gauss notes, "We see damper upgrades most frequently, as this allows enthusiasts to add larger tires/wheels."
"In addition to base lift kits, most suspension suppliers offer various shock absorbers or struts at different performance and price-point levels," Lovett says. "Shock technology has reached a point where multiple shock kits are no longer as popular. Another big seller is single-or dual-steering stabilizers, again offered with different grade cylinders."
Installing Quality Control
Shop installers have a crucial role in earning customer satisfaction. Our panel discusses the top pieces of information installers must tell customers who purchase a suspension unit.
"You must have an alignment done after a suspension install," McGuire says.
Gauss refers to the old adage "you get what you pay for."
"There are a lot of budget kits on the market today that aren't as highly engineered and limit the vehicle's performance in the long run," he says. "You'll find that Rancho kits include meticulously designed components that improve the vehicle's performance and increase its capabilities. Enthusiasts who are upgrading their shocks or suspension kits should expect different handling, and we definitely recommend familiarizing yourself with the vehicle's new handling characteristics before doing any serious offroad driving."
Lovett advises that "having a lifted vehicle does not allow you to leap tall buildings, or boulders, in a single bound. One must still use one's brain. The vehicle will handle and respond differently and very likely exhibit improved characteristics. But take time to learn the vehicle.
"The installing dealer must re-torque all fasteners after the first few hundred miles, plus all components should be inspected," he notes. "Inspection frequency should increase with use and severity of use."
Grooms agrees, "Check your bolts. As listed on all of our instruction sheets, always check your bolts for tightness and inspect the components of your lift after 500 miles of driving on them. Most install processes leave bolts hand-tightened until the very end. Even if you triple checked before your first venture out, it's always a good practice to check the bolts and components to make sure everything is tight and in order.
"A close second is to rotate your tires," he says. "If the shop has not done this for you, or you have elected to do it on your own, be sure to align them immediately. Then be sure to check alignment or have them routinely aligned. Tires are expensive and a lifted vehicle with poor components can chew through your tire's lifespan."
Choosing Tires and Wheels
How might the tire/wheel combination affect a suspension's performance?
Lovett of Superlift says, "Up to some point, braking performance and traction will be improved due to an increased tire-to-road contact patch. Conversely, at some point a heavier tire/wheel will decrease braking performance.
"There are literally thousands of possible tire/wheel combinations, and it is impossible for manufacturers to research the impact of all," he adds. "Superlift, along with other leading manufacturers, in conjunction with SEMA and others, is involved with a relatively new testing program called Hardware-in-Loop (HIL). HIL is a testing protocol that I believe will become the norm. It's a way for manufacturers to self-certify that their lift system, when used with a specified tire size/type, will not negatively impact the vehicle's safety systems, like electronic stability control."
Rough Country's Grooms notes, "You want to make sure you pick the right tire size for your lift-"one that fully takes advantage of the new, greater tire clearance, while still allowing for a full range of suspension flex. Selecting too large of a tire results in 'stuffing' the wheel well, which will cause the tire to rub, and potentially cause damage to your inner-fender liner or even the fenders themselves.
"Also, selecting too wide a tire will cause the tire to rub against control arms, coil springs, sway bar end links, or the inner fender when you turn the wheel," Grooms says. "This can be mitigated, though, by using an aftermarket wheel with less backspacing, thus 'pushing' the tire farther away from the
suspension components."
McGuire of Skyjacker Suspensions says, "We recommend a max tire size as well as wheel specs with backspacing requirements to ensure proper fitment with our lift kits."
Gauss of Rancho points out, "Generally, changing to a larger tire/wheel adds weight to the vehicle as compared to the OE tire/wheel combination, adding un-sprung weight and often changing the vehicle's suspension dynamics. Rancho suspension kits are designed to maximize performance of larger tire/wheel combinations."
Selling Room Floor
Concerning the role of counter and salespeople, what should those employees know about the suspension products they offer and what questions should they ask a customer needing suspension upgrades?
Gauss highly recommends that dealers become "very familiar with the features and benefits of each kit so that they can educate their customers, as well as determine which kit would best suit the customer's intended style of driving. Start with easy questions like, 'What size tires and wheels do you want to run?' and 'How do you plan on using the vehicle?' Find out which other modifications the consumer has completed. All of these answers can help you determine which suspension products are best suited for the vehicle's intended purpose and lead to a happier customer in the long run.
"It's also imperative to know what warranty and support is available for the system after the sale," he says. "Rancho offers a 90-day risk-free ride offer-"an exclusive offer that allows enthusiasts to try the product for 90 days and return it for a full refund of the purchase price if the consumer is unhappy for any reason. Qualifying Rancho products also are backed by a limited lifetime warranty. We definitely recommend that the salesperson be familiar with these benefits as they could help close the sale."
According to Lovett, "It boils down to having confidence in the supplier-their designs, service and warranty. Superlift offers the consumer a 100-percent satisfaction guarantee. This, combined with our warranty, makes a statement. Also, as I referenced earlier, vehicle active and passive safety systems are becoming more complex. Knowing how a given product impacts these systems is key."
Grooms says that "it is extremely important to verify the specifics of the customer's vehicle and make sure the manufacturer's product is intended for that vehicle. In addition to asking for the year, make, and model, it's important to determine whether a vehicle is two-wheel drive or four-wheel drive, and whether it has a gas engine or diesel engine. With Jeeps and other brands, it may even be necessary to determine two or four doors, and Dana axle sizes to select a fitting product."
Supplying Excellence
Plainly shining the spotlight on our expert panel, we wondered how these suppliers assist shops when it comes to providing the most updated information about suspension systems and the vehicles they are suited for?
Gauss says Rancho Suspension "is in constant communication with our trade customers, as well as the end consumer through the GoRancho.com website and social media. We use email blasts, as well as direct mail campaigns to stay in contact with the jobber/installer base, and trade publications like yours. We're constantly launching new products and highly recommend checking back soon if you don't see the coverage you need. Our product offering is always growing."
Superlift follows similar procedures, Lovett says.
"Like everyone, we primarily rely on our website (superlift.com). We do have the 'Superletter' email that is published every quarter or so that yields additional insight and info-"just call our tech staff or go to the web to sign up," he says.
Grooms tells us that Rough Country "has in-house research and development, and marketing teams who regularly update and advise our distributors to changes, new fitments, and new products. In addition, we issue install films, demonstration videos, distributor-only newsletters, fitment guides, color catalogs and endless amounts of other marketing materials to make sure our distributors know the latest relevant information. We are also available by phone or web chat for technical inquiries from customers and distributors."