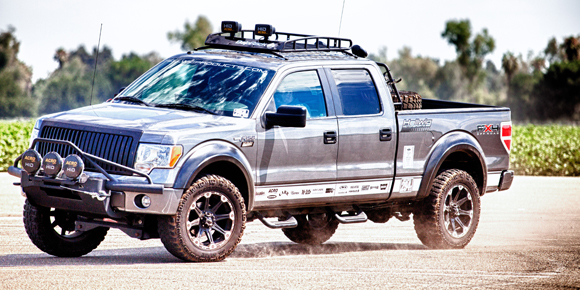 What's the 4×4 market doing these days?
Summer is well into overdrive and the 4×4 crowd is out doing its offroad thing. So what does that mean for business and, particularly, this market? That's what we wanted to know; so we asked a number of shops around the country to give us a report on the 4×4 market in their areas, and the first thing we asked was about business and how it compares to last year or even two years ago.
Trish Hendrickson of Heartland Four Wheel Drive & Transmission Inc., in St. Cloud, Minn., tells us, "Business is up 12% from last year – the previous years we had approximately a 2% decline for each year from 2008-2011.
"The four-wheel drive industry is better, and we are seeing customers spend more money on aftermarket products, upgrades and 'unnecessary' items (repairs would be considered necessary).
"We are selling more lift kits and leveling kits. Performance chips also have been steady the past few years – mainly people looking for better mpg."
In Edmonton Alb., Fred Fishbourne of The Truck Outfitters Inc., says, "Overall, business is strong; some cities [though] are a challenge. So far this year we are up significantly over the first four months of 2011. Both 2011 and 2010 were close in numbers, but this year is definitely starting out strong. From a wholesale standpoint, business is OK – when compared to 2010, we are up in sales."
Agreeing with his colleagues, Dan Nusz, of D's 4 Wheel Drive in Cheyenne, Wyo., also shows the upside of the economy. "Our sales are up from last year," he says and Bob Smeigh of RV 4 Wheel Drive & Performance Automotive, in Mechanicsburg, Pa., notes, "2010 was off a bit, and 2011 was a break-even year with just a slight increase in sales. First quarter 2012 is off and running: Our business is up 15% over the past two years."
Still, for some, like Chuck Rush of J&L 4 Wheel Drive Center LLC, in Madison, Wis., business, although up, could be stronger. "Business is better than that of last year, but still significantly down from 2008. This trend is area-wide; all mechanical repair shops in this area are feeling the same crunch as we are," he says.
What's selling
All right. So, then, which aftermarket products have been selling best so far and which items will do well this summer and fall?  Fishbourne from The Truck Outfitters says, "All tonneau covers in general are selling extremely well. People like to keep their cargo area clean, dry and protected, and with a wide variety of covers available we can easily match the customer's needs to the right cover. Canopies have always been a big part of our business because they instantly transform a vehicle into a more versatile and attractive vehicle. Diesel fuel/toolbox combos are moving out of the store quickly, mainly to the oilfield/construction crowd, but also increasingly to the RVer. With fuel prices what they are, customers want to be able to have the ability to take advantage of a good price and also not have to stop as often for fuel.
"Fender flares continue to be very popular with the 4×4 crowd, especially [Bushwacker] Pocket Style, along with grille guards and full bumpers for the more serious ones. Our best sellers by far are [tonneau] covers; anything under $1,000 retail seems to sell. -¦ BakFlip and Truxedo are flying out of here. We are really excited about the June release of Bak's Roll-X [hard, roll-up tonneau]; that will be another game changer in our industry. Stick-on chrome and smoke plastic will continue to be a big mover this summer and fall. We think the 5th-wheel market will be better this year than last year in our area."
Nusz, of D's 4 Wheel Drive notes that, "Curt receiver and 5th -wheel hitches, B&W goose-neck hitches, 3″ round and oval tube steps, custom exhaust systems and tuners for better mileage, grille guards and front replacement bumpers, and BDS Suspension systems," do well at his shop.
Smeigh, of RV 4 Wheel Drive Performance tells us, "What's hot right now is BDS Suspension systems, Mickey Thompson Tires & Wheels, Westin, Rhino spray-in bedliners, Leer truck caps and Bully Dog Power Programmers. As for this summer, it is my hope that regular accessories pick back up like Putco chrome, and PIAA and Hella lights. And this fall is anybody's guess. We need for gas prices to come back down and this election to be over with."
Rush, of J&L 4 Wheel Drive Center says, "Aftermarket products doing well at this time would be ReadyLift and Truxxx leveling kits. Wheel and tire combo sales are high at the moment, as well. In the next few months, aftermarket sales should remain steady up until the latter part of the season. The reason for the projection is due to prior-year's sales during the season."
Hendrickson of Heartland Four Wheel Drive & Transmission lists ReadyLift leveling kits, Rancho suspension items, Warn accessories/recovery. Plus, she says, "Tires and wheels have been doing well, but not the really large tires – mainly tires for everyday use (road use). We have requests every day for used offroad tires (we have a very limited selection). We expect the above items to continue to do well throughout the year; the economy seems to be moving."
Where sales are slowing
While the above-mentioned sales categories certainly demonstrate great activity and growth, we also asked about whether any 4×4, Jeep and/or truck product categories seem to be slowing down sales-wise. In Wyoming, Nusz names three: "Flat-style running boards, diesel exhaust systems and cold-air intakes."
Rush, in Wisconsin, tells us this: "Sales that are slowing seem to be the power programmers [whereas they do well for Fishbourne], as well as [for us] lift kit sales. This includes 3″ to 4″ lifts as well as tonneau cover and nerf bars. Aftermarket bumper and grille guard sales also have been on a steady decline."
Hendrickson notes that "higher lifts that need larger tires – and larger tire sizes -affect lift sales. "We are gearing up for the offroad season, but more people are spending money on their everyday trucks, not exclusive offroad vehicles."
Fishbourne lists these slower movers for his Alberta shop: "Fiberglass running boards, sun visors, racerbacks, headlight/tail-light covers are some products we seldom get asked about, now. Any [tonneau] cover over $1,000 retail has slowed for us over the last two years; and 3″ step bars are slow, as well. The market, we believe, has moved to 4″, 5″ and 6″ step bars."
Jeeps, Fords at top of 4×4 hill
We also want to know which vehicles our sources work on the most. Are these new ones or repeat business, and are there any changes expected?
Smeigh says, "We work on anything that comes in the door. Right now, Ford trucks and Jeeps seem to be on top, but that can change instantly, and Chevrolet or Ram or even Toyota may take over. Our business is directly related to what the new-car dealers are selling at any given moment. Fleet work is good, but they are very price sensitive, so you have to do your homework in order to get them to purchase."
Says Rush, "We don't see any specific repairs being done on any specific year, make or model. Repair work has been on most everything and anything."
Hendrickson, though, tells us, "We see mainly American-made 4×4 vehicles [in the 4×4 category]. We work on everything – all makes and models of cars and trucks. We have been seeing both new and repeat customers. We have a very high retention rate for our customers, and our best advertising remains word of mouth. A lot of our offroad customers work on their own trucks and use us as a parts and information source. The thrust of our 4×4 business is everyday-use trucks. Last year, we worked on more classics and restorations than we have this year."
For Fishbourne, "Ford, Chrysler and General Motors are the three main lines we deal with on a consistent basis," he says. "A large percentage of our customers are repeat customers who have bought a new vehicle. I see fleet/commercial as being an area with significant growth in our future."
Nusz keeps it simple: "All of the above."
Demographically speaking
Let's talk demographics and find who the typical customer is nowadays. Does our sampling of shops here see tradespeople, enthusiasts, municipal/commercial/utility fleets or those who just want their Jeeps or 4x4s to look "offroadish"?
"Most of our clientele comes from people who would like to improve the appearance of the vehicle more than the functionality," Rush notes. And Hendrickson, by-and-large, agrees. "Our customers," he says, "are mainly street-legal people using their vehicles every day, and that want them to look 'offroadish.' Enthusiasts would be second, fleets third."
Fishbourne says, "Our most prominent customer is the private individual who has just purchased a new vehicle and wants to make it his/her own. There is such a wide variety of accessories to choose from that it is often a work in progress – adding different items as time, need and resources permits. -¦ We only sell to resellers that have accounts."
Smeigh says that he sees "all enthusiasts, mostly in our Jeep customers and, I would say, 4×4 truck owners who want the offroad look."
Keeping with demographics, we also wondered whether buyers have changed in the past few years in the areas of younger/older, male/female, enthusiast/trades. "As far as age, because the accessories we sell are expensive, I would say the age of our average customer is 28-45 years old. We service quite a few retired customers, as well, who want 'the look' while pulling the 5th-wheels around -" and they also have the money to spend. The younger customers still shop at our store, but not as much as before -" not sure whether it's the price or the Internet."
Hendrickson says, "Our customers are 'older' than they used to be. Guessing, we would say the average age is 40. We continue to serve more men than women in the 4×4 industry, but we have a steady rise of women customers. A third of our staff are women and probably one-third of our customers are, as well."
Fishbourne agrees that women are becoming a larger client group in the Jeep and 4×4 markets. "We are seeing a lot more females in our store," he says. "Women are joining the trades much more than in the past and want their vehicles to look and perform to their standards for work and transportation as well as recreation. Also, it's not just the older clientele that have the large discretionary income as in the past. It's also the young, now, with big wages being paid in the oil/gas industry that have just as much. We are seeing new accounts in various regions in our market."
Nusz, too, sees women customers as a growing force, saying, "We are adding a lot of female customers, and seeing more ranchers and farmers."
Rush says, "We used to get much of our business from the local offroad clubs and hobbyists, where as now, due to lack of offroad terrain in the area, those numbers have gone down."
What looks to be a trend?
Lastly, we figured nobody would see trends better than those out on the front lines. What does the 4×4 world look like these days? Rush tells us, "Trends on the rise in our area seem to be those that make the ride look flashy and shiny."
Hendrickson says he sees that "leveling kits, chips and performance aids are trending" upward.
Fishbourne brings in another element: "The factory presentation of larger, higher trucks has changed the market over the last 10 years. Definitely, the enthusiasts are adding lift kits, tires and rims, fender flares, and front and rear bumpers, and 'blacking out' your lifted truck."
Nusz sees it from the inside: "The companies that have survived through these economic times are more receptive of their customers' needs and wants."
Smeigh notes, "The biggest trend I am seeing is there seems to be a focus on buying locally – customers want to see the parts before they buy, and they want to ask questions from someone who understands if this part will work with this other part and what are the benefits from buying this part over another part. You can't get that over the phone or from the Internet.
"The vehicles have changed over the years, so you better be right when you're installing aftermarket parts – and customers will pay for that correct information. My biggest disappointment has to be the small SUV and crossover market. These customers just don't seem to know that the entire aftermarket world is out there and waiting for them to show up."
That 4×4 aftermarket is doing quite well, thank you very much. And from what our sources say, it's a pretty darn good one to be part of, too.