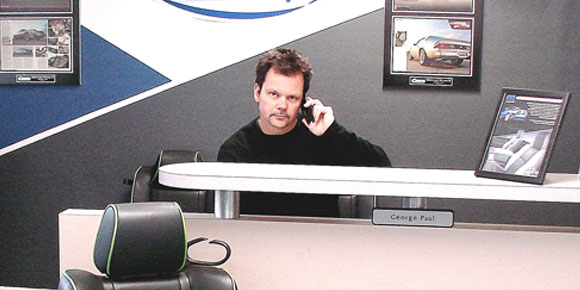 In restyling, manufacturers and shops have found or heard that young people aren't willing to learn the craft. The dilemma: a workforce that is supposedly neither motivated nor educated to fill these skilled positions.
Age, gender or background isn't an issue, but motivation to learn and to do the job well is. According to the U.S. Bureau of Labor Statistics, unemployment was 9.8% in December 2010; 24.6% of teens 16-19 faced unemployment, and when added to ages 20-24 that figure jumped to 52.2%, the highest since the end of WWII.
With this bleak employment outlook for Gen Y (those born between 1982-1995), why aren't more young people involved in restyling, especially when there seems to be a need?
Asked about hiring and training young adults, here's what some restyling leaders had to say.
Mixed feelings
We first spoke with Leigh Guarnieri of BRS Autodesign in Fullerton, Calif. Seventeen years ago BRS originated as a custom body shop, then evolved into producing custom body kits, consulting on design changes with OEMs and working with other vendors to produce show cars. After designing numerous custom kits, Guarnieri restructured the company to produce bolt-on dress-up kits at competitive prices.
Asked if there were interns at BRS, Guarnieri responds, "No, I wish. I could use the help. We don't employ young people in-house, but we look to them for design ideas, as well as renderings from online tuners and Photoshop guys. We don't have an intern or apprentice program set up."
Queried about hiring from a technical school such as UTI, Wyotech or locally, Guarnieri says, "I'd consider it; but to me practical knowledge is of greater value. Unlike a dealership, which has set ways, we're a different breed. There are days we work 72 hours straight -" and nothing they've (students) learned can prepare them for that.
"In a technical school, there's maybe one person that can survive in the industry. Conversely, when my Honda needs work, I'm glad guys at the dealership have a solid background."
Guarnieri continues: "Body work is an art; you have it or you don't. I believe in a program that allows the body guy to do what comes naturally. They can see how to turn a 2D image into a 3D car -" to see an issue, work through it, and give me a reason why. I've been at this long enough to know when it's a design change or just laziness.
"As for previous training, someone that's worked in a shop knows how to save time. They can lay the basics down and then we can make it cool."
For George A. Paul, owner of Fraser, Mich.-based Softtrim Concepts, he says "I have one guy in his 20s; the others are in their mid-30s. I get Wyotech graduate updates; however, I haven't needed to hire anyone as of yet. The economic downturn a few years ago made it hard to find people with talent and experience; since many were unemployed for so long, it forced them to find new careers. We've been around since 1992, and mainly I train employees as needed."
At Original Parts Group Inc., Seal Beach, Calif., Gus Stewart, marketing manager, states that his company "does employ young people, and we do have internships and an apprentice program. To us, their enthusiasm and work ethic is contagious -" it gets everyone pumped up and excited to be here."
Rob Dommes, is account manager for Lake Forest, Calif.-based MOMO USA, which is the U.S. arm of MOMO Italy. The California operation has been around since 1980, while the parent company started in 1966. The company supplies wheels, shift knobs, steering wheels, pedals and racewear. Dommes says, "MOMO employs designers under 30 to keep product design fresh and in tune with current trends. Since the majority of our design and manufacturing is done in Italy, hiring is done there. We don't normally train, as MOMO U.S. employees have previous manufacturing, sales and installation experience."
For Larry Ashley, marketing manager at TMI Products Inc., Corona, Calif., young workers are courted. "We hire young adults, and have many young people in R&D, customer service and in manufacturing," he says. "We prefer to find enthusiasts with an automotive background, but we also train. We would hire from technical or trade schools if the need arises".
TMI was founded in 1982, building VW door panels in a garage. "We've expanded into '64-1/2 – current Mustang, and now '67-81 Camaro upholstery," he adds.
School spirit
Mike Buca, merchandising manager for Stylin' Trucks, Independence, Ohio, a division of Chicago's J.C. Whitney, states that younger workers are sought after.
"Yes, we have many people that work for us that are under 30," he notes. "We try to keep a good relationship with high schools and trade schools locally as we find this a good source for potential employees. UTI and Wyotech would also be a good fit for us.
"Stylin' has been around for over 20 years and JCW for 95 years. Both companies will train employees, but we also look to see what experience they have. An automotive background is helpful, but not necessary."
Scott Weiss, marketing manager for Plainview, N.Y.'s Konig Wheels, says his company, indeed, "employs young people and have many under 30 years old."
"We have a blend of veteran wheel and tire people and young executives in our organization," he says. "We look for educated, responsible and resourceful people. Anyone that fits and has experience, or a great knowledge base would be considered. We would consider graduates from any institution, whether it's a technical or local trade school, that turns out well-rounded people. We also train in-house, so prior experience isn't needed."
Randy Borcherding, the owner of Cypress, Texas-based PaintHouse, started his company in May, 1989. The company specializes in restorations, customs and street rods.
"Our apprenticeship is informal because we hire people at different levels of experience depending on our needs, and training is different for each of them," says Borcherding. "With inexperienced employees, apprenticeship consists of teaching them how to do things the PaintHouse way. Since we construct high-quality vehicles and produce show-quality paint jobs, entry level employees work on small projects building skills and attitudes that stress perfection. To this end, we keep old parts around for skill development. This approach has been very effective because they learn how we want things done without unfairly charging customers for added work because they don't meet our quality standards.
"We recently hired a Marine and had stellar results. Conversely, on more than one occasion, we have hired from well-known schools, and it was a disaster.
"Intuition and willingness to give someone a chance is a necessity in our business. I'd rather teach someone who lacks specific skills but has common sense and a passion to work and learn versus 'trained' techs with bad habits who can't think for themselves and have a poor work ethic or an arrogant attitude. This is a long-term relationship and as a result, we don't have a large employee turnover. Good workers are hard to find so when we do, we do all we can to keep them."
"One intern became a full-time employee while getting a teaching degree, and is now the instructor for a high school automotive technology class (soon to include a paint and body program). Another joined the Army and is currently serving overseas. Either way, we hope that dedication and teamwork learned here continues with those who leave."
"We admit we don't know everything. We learn from everyone in our shop and in the industry. When people stop learning, they become burned-out or close-minded. We firmly believe in the principle, 'Give a man a fish, feed him for a day; teach him to fish, feed him for a lifetime.' We want our employees to be successful and self-supporting. If they leave and go out into the industry, they carry our reputation with them. Like ripples that emanate from tossing a stone in a smooth pond, the after-effect of teaching someone can have a far-reaching impact.
"It has to be a two-way street. We give to them and they give back to us, and the industry as a whole. Young people are our future; accordingly, we operate our shop and train our young people with that concept clearly in mind."
Companies that instill the right work ethic, supervise and train young adults properly will be successful in molding the restyling leaders of the future. Don't be afraid to hire someone with little or no experience as long as they have the desire to learn and a passion for automobiles. While it's been a constant from the beginning, it's even more critical to your success today.