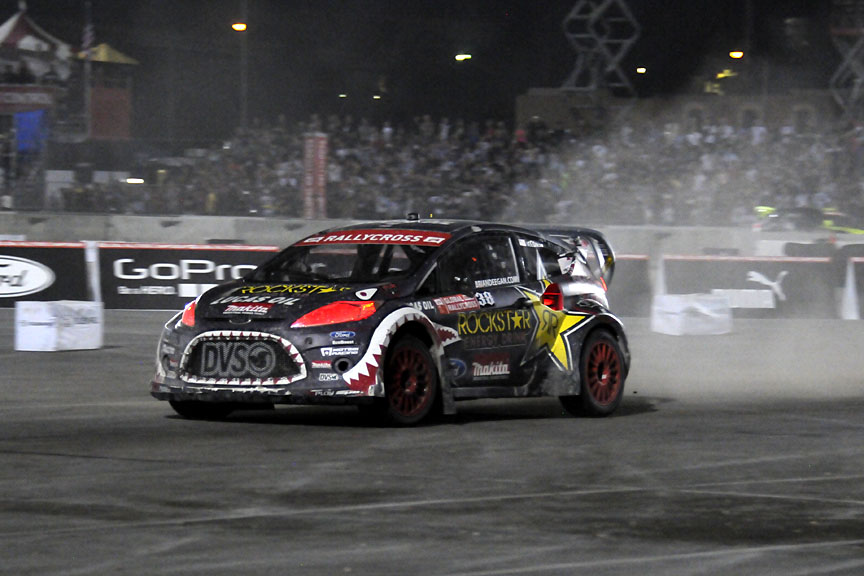 Could the future of the SEMA Show, and maybe the entire performance aftermarket, hinge on something as simple as an RC car?
"You're looking at it," says Luke Johnson, 20-something son of motocross legend and TORC off-road racing champion Ricky Johnson, when asked what it will take to get the next generation hooked on performance.
In his hands was a blue TRAXXAS remote-control truck.
For a group that's being raised on videogames and the Internet-and is far less likely to get their driver's license by age 17 than kids 35 years ago-virtual experiences such as changing out the motor and tires on a powerful toy truck can be the first link to the magic of racing and performance for today's youth.
Now, granted, TRAXXAS just happens to be Luke Johnson's main sponsor in the TORC series, where he's busy building a reputation as a top-flight driver in his own right.
But that's part of the equation as well.
At a time when advertising information can be woven into all kinds of messages, to go far in today's racing world, drivers need to not only perform well on the track, but win over sponsors and marketing departments in the boardroom as well.
It may drive old-school hot-rodders crazy, but it's an example of the multitasking the entire industry must embrace to attract young enthusiasts in an age Ricky Johnson calls "today's short attention span theater."
Meet the Millennials
Connecting with young enthusiasts, integrating the next generation of smaller, more efficient performance vehicles, and capitalizing on advanced technologies were the topics of the Vehicle Technology: Racing and Performance Forum held at SEMA 2012.
Moderated by John Waraniak, SEMA's vice president of vehicle technology, and featuring a panel of industry insiders from the world of racing and OEM performance, the discussion centered on ways the aftermarket can build a lasting relationship with Gen Y and Millennials.
(The topic isn't new. Waraniak opened by pointing to a report asking whether SEMA has even five years of relevance left. It was authored in 1971.)
Today, the work begins with competing for the attention-even momentarily-of a potential lifelong enthusiast who's growing up with the ability to watch television, surf the Internet and text with friends simultaneously.
Luckily, Waraniak says, the industry is up to the challenge. Calling motorsports "the original action sport," he believes the inherent thrills and chills racing provides are timeless-if only the younger generation will look up from their video screens for a moment to notice.
It's not a simple task. Jamie Allison, director of Ford Racing North America, references a study showing that in 1978, 79 percent of eligible 17-year-olds had their driver's license. Today, the number is less than 50 percent.
"That's crazy," says Tanner Foust, Global Rallycross driver and Top Gear USA television host. "It freaks me out. When I got my driver's license, it was the greatest day of my teenage years."
At age 39, Foust has forged a relationship and successfully promoted his brand with the next generation of racing enthusiasts. Later that day he won the season-ending Global Rallycross event and series points championship held across the street from the convention center in a Ford Fiesta he believes represents the next big performance trend.
"You see cool, fast, small cars all over Europe," he says. "The U.S. is the last holdout. They're coming."
Track Changes
Brian Gale believes so as well. As president of Global Rallycross, he started the series as a way to build on the popularity of rally racers featured in videogames and the X Games, with small cars racing short heats and jumping.
"We're trying to establish a global platform for youth," he explains. "There was no (motorsports) platform for youth, like snowboards stand for youth (in the snow sport market). Motorsports needs something like that."
His secret formula, he says, is to combine relevant race cars, quality partners that provide credibility (including several top energy drink brands), and top personalities (including Foust, Ken Block, Brian Deegan and Rhys Millen) to create dynamic competition and major exposure.
"Action sports drivers have a huge media base and awareness," he says, noting the final WRC race was broadcast live on ESPN2.
"What we're trying to capture is a different form of motorsports for youth."
Steve O'Donnell doesn't have the same luxury. As NASCAR's senior vice president of racing operations, his mission is to bring traditional stock car racing to the next generation.
Already blessed with abundant mainstream media exposure, NASCAR's efforts to connect with youth have been spread over many areas, from promotion of its NASCAR Home Tracks program (O'Donnell calls it the "soul of the sport") and Next 9 up-and-coming racers to watch; to expansion into Canada, Mexico and Europe; to becoming the top recycler in all of pro sports.
"Our footprint is much deeper than just the Sprint Cup," he says, noting that an industry action plan for race teams and tracks is to "get younger."
One way to do that is through technology, starting with the sixth-generation Sprint Cup car coming next year.
"It looks cool, is relevant to what's on the street and will provide the best NASCAR racing ever," he predicts. "It's really going to put the stock back in stock car racing."
Many other best-in-class technologies are being considered as well, he notes, from digital dashboards to racing in the rain.
"We want the experience at the racetrack to be appealing to all our fans," he says.
Michigan International Speedway is taking that to heart. Realizing that a down economy offers the opportunity to experiment, MIS has looked at a variety of programs to appeal to young fans, from admitting children under 12 for free on Sunday race days, to creating a kid's club, to adding soccer fields to its campus.
"It's the Disney model," says Roger Curtis, track president. "We want to get families and kids out of the house and to the park."
He calls a potential decline in interest in performance and motorsports from the next generation "very scary."
"Everyone (at SEMA) is at a crossroads. It is very hard to find an engine builder under 50 years old," he says. "Getting kids to play this sport is a big deal. You can't play it in the backyard every day, but we need them participating in the sport as drivers and mechanics."
OEM Excitement
Carmakers have long used motorsports and performance models as sales tools, and are currently molding their latest product lines into a shape they hope appeals to the next generation. A main goal is blending power and efficiency.
"The good ol' V-8 has served us well," says Ford's Allison. "But increasingly as the aftermarket continues to grow, there are opportunities to balance performance and fuel economy."
Noting that "all is not well" with the lack of interest the younger generation has shown in vehicle performance, Allison wonders if kids just "don't have the same passion for cars. SEMA is the intersection of cars and car culture, and it's all of our responsibility to get them re-engaged."
Racing it a great way to do that, he suggests, pointing to the immense popularity Block's signature gymkhana videos have enjoyed on the Internet as an example.
"We race for the spirit and to reach fans," he says, "But it's also good business."
Ralph Gilles, head of Chrysler Design and the SRT Group, agrees-"even as Dodge is stepping back from the NASCAR Sprint Cup series following the recent championship run of next-generation driver Brad Keselowski and his Penske team.
Gilles' group uses competition to distinguish its racing-specific brands. "It's also a very good recruiting tool," he adds.
Much as it's been for General Motors.
"We're trying to crack the code with the next generation," explains Jim Campbell, vice president of performance vehicles and motorsports for GM. "We invest in many racing series, as they are a great platform to interact with young customers. When you win on the track, good things happen."
He also points to the technology transfer racing provides, as innovations on the track often find their way into future street car designs. One example is GM's E-ROD program, which offers emissions-compliant performance that combines power, durability and fuel economy.
But will the OEM trend toward smaller vehicles and power plants, coupled with updated styling and an eye toward efficiency and responsible performance, be enough to catch the eye of the next generation?
Young Luke Johnson says it's a good start.
"Connecting the old school and new school-my generation is enamored with both," he says. "With the Mustang, Camaro and Challenger, there's something about the old school that reflects history that many guys my age really like."
Add that with the younger demographic NASCAR's O'Donnell saw roaming the SEMA halls throughout the week and it's "a testament to what a passion for motorsports can be."
So, while the challenge of connecting with the next generation of performance enthusiasts is a big one, it's also one the industry knows is vital to its long-term success. If that means rally races with a jump in the middle, or RC vehicles being used as a steppingstone to wanting a driver's license, then so be it.
Says Curtis: "We will change, because the kids will change."