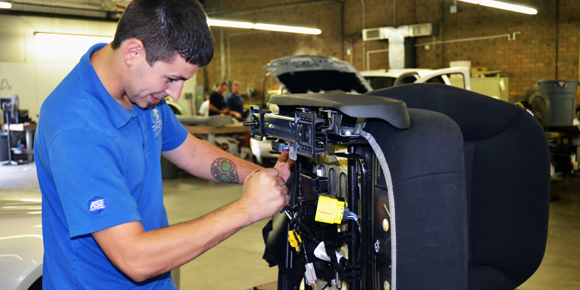 Whether it's staff or clients, managing and communicating well with people are keys to success for this family-run restyling business.
Joey Johnston's earliest memories of working in the restyling industry involved installing pop-up sunroofs with his father, Joe Johnston, on the weekends when he was 11 or 12 years old. His father, an engineer, decided to take on the pop-up sunroof installation business in 1977 part-time. By 1980, Joey
Johnston's mother, Betsy, was involved in sales and it was a full-time business providing not only sunroofs, but truck accessories and specialty car conversions as well.
Johnston got into the family restyling business full time in 1994. By that time, his parents' company, Tops and Trends, was starting to restyle both vehicle interiors and exteriors.
"After graduating from college and working for a big company for a couple years, I decided that working for a family business wasn't so bad after all," says Johnston, who holds a degree in finance.
Now, Tops and Trends has three locations in North Carolina and one in Virginia. The company has a nearly 15,000-sq.-ft. corporate facility in Kernersville, N.C., and occupies approximately 36,000 sq. ft. among all four of its locations.
Whether customers seek a two-toned leather interior, custom grille or GPS navigation system, Tops and Trends has been dedicated to offering aftermarket products and services for 35 years.
A family affair
Although Johnston has one business partner, Nathan Ward, in the Roanoke, Va., location, Tops and Trends operates as a family-owned and operated business.
According to Johnston, many family-owned restyling businesses fail without a real succession plan.
"Having that succession plan was something we definitely planned for early on when we saw the business reaching a viable state," Johnston says. "We wanted to be able to continue to support our family, as well as the families of those that worked for us."
Johnston's father watches his business continue to thrive from retirement, but his mother, his wife, Cindy, and sister-in-law, Kristy Jones, all play large parts in the company's operation.
Keeping employees happy
A key to Tops and Trends' success is also the company's extended family – its employees.
"At the end of the day, a company is only going to be as good as the employees that work for it," Johnston says. "If you have a good employee and you're not taking care of them, somebody else will."
Among its four stores, Tops and Trends employs approximately 30 full-time and 30 part-time employees with an average employee tenure of five-and-a-half to six years. The staff includes installation technicians, production coordinators, shop supervisors, administrative-level individuals, a sales team and upper-level management.
Johnston says the company struggles like everyone else to identify good employees. He's found success hiring through local technical schools and community colleges and traditional advertising, but the highest percentage of Tops and Trends employees is discovered through word of mouth.
Tops and Trends uses a detailed, internal training process for new employees. The company has built a system with training managers, mentors and a two-week orientation time where potential employees are evaluated for their skill level and ability before being officially hired.
Employees also regularly undergo a self-review process and technicians are compensated through a pay grade system. Whether technicians work in the electronics, leather or sunroof sector, they have opportunities to advance within their product category or receive training in another.
"There are five levels of pay grades within each of our core competencies," Johnston says. "Sixty percent or more of our employees are cross-trained in two product categories and a  number are trained in all three."
Keeping training consistent helps standardize production procedures at all of Tops and Trends' locations. In turn, the standardization of production procedures helps manage issues and contributes to the consistency of quality work, Johnston says.
Client education and communication
When Tops and Trends works directly with clients, Johnston says customer satisfaction tends to be much higher than when a dealership is the facilitator, due in part to a lack of clear communication between all parties. But because 90% of the business is wholesale, Tops and Trends' primary customers are new- and used-car dealers. The expediter's staff often doesn't get to meet the end users of the products they install.
"One of the real deficiencies in our business is not having the opportunity to speak with our customers directly and let them know their options as well as the specific features and benefits of the products we provide. Educated consumers make the best customers," Johnston says.
Although Tops and Trends has developed successful internal systems for training and continuously educating its employees, the restyling expediter still works on ways to keep sales teams at dealerships educated on the products and services the company offers.
"Dealerships often look at restylers as a necessary evil and a means to an end," Johnston notes. "They want to sell a vehicle and move it across the curb, but, unfortunately, too often they lose sight of the opportunity to build unique and diverse inventory with increased profitability and overall higher customer satisfaction."
One of the unique characteristics of Tops and Trends is that the staff makes the education of its customers and dealership sales teams a huge priority, Johnston says. The shop offers breakfast or lunch training meetings, where Tops and Trends representatives educate sales individuals on how to sell its products better, and how to increase customer satisfaction by offering them options and how to make additional sales.
"What we have to remember," Johnston says, "is consumers have little awareness that many of the products we provide are even an option once a vehicle reaches the dealer's lot."
"I think the most important part of how we conduct our business is how we differentiate ourselves. We don't want our customers to think leather is leather, or a sunroof is a sunroof."
To Johnston, the most important aspect of making a sale is educating the customer.    "Customers depend on us to provide them solid facts, therefore allowing them the opportunity to weigh their options and make educated decisions," says Johnston. Tops and Trends encourages dealership sales teams to listen to their customers and give them options instead of the just offering the lowest-price product.
"I think you have to understand that in our business, perception is reality. If you have a strong will and conviction about principle, it can be very difficult in our business," Johnston says. "If a customer's perception is that they didn't get what they paid for, then we're wrong. The customer is always right in their mind."
To maximize customer satisfaction, Johnston says he and others on his team are always available for direct inquiries from customers and dealerships.
"Direct interaction with consumers is what we look for because we have the power to minimize issues," he says. "When in doubt, call us."
Seeking out suppliers and meeting demands
Tops and Trends tends to favor suppliers that put in an effort to educate consumers on their products.
"We tend to choose suppliers that can provide us with a high-quality product and stand behind what they sell. We specifically work with a limited number of suppliers because of these reasons," Johnston says.
Tops and Trends offers brands such as Katzkin Leather, Webasto Sunroofs, Rosen Entertainment, E&G, Pioneer, Rostra, BrandMotion, Audiovox, Echomaster and others.
The company has seen an equal percentage of overall business in its installation of electronics, sunroofs and leather, but the electronics sector has seen the most growth and diversification in the past four to six years. Navigation systems and Bluetooth tend to see the highest demand in the electronic sector, Johnston notes.
"We focus on diversification" he says. "We don't have one type of customer or one type of specific product that produces an extraordinarily high part of our business."
Tops and Trends is seeing less seasonality in its market than in previous years; its workload seems to be more consistent year round. However, the company still carries less inventory during the fall and winter months than in the spring and summer months when business usually spikes.
Yet Johnston says he misses the hectically busy months.
Johnston quotes his father: "At the end of the day I like that running a business takes hard work, because if it were easy everyone would be doing it."
The importance of trade organizations
Tops and Trends has been actively involved in SEMA since the early 1990s, and either Johnston or his father has attended the yearly SEMA Show since the mid '80s and oftentimes takes as many as eight to 12 employees to the show in search of new products and opportunities. Johnston has also served on SEMA's Professional Restylers Organization (PRO) Select Council for the past six years.
He sees SEMA as one of the many voices in the automobile aftermarket trying to institute change and bring increased awareness of the industry to the mainstream. As a result, Johnston wants to see more involvement from other trade individuals.
He would like to see more members in PRO who are engaged, opinionated and energized with ideas to help move the industry in the right direction.
"You just need people that are willing to participate," Johnston says. "Our industry is going to go in the direction of the people that are in it."