Features
Mothers Shine Award Goes to Custom Hot Rod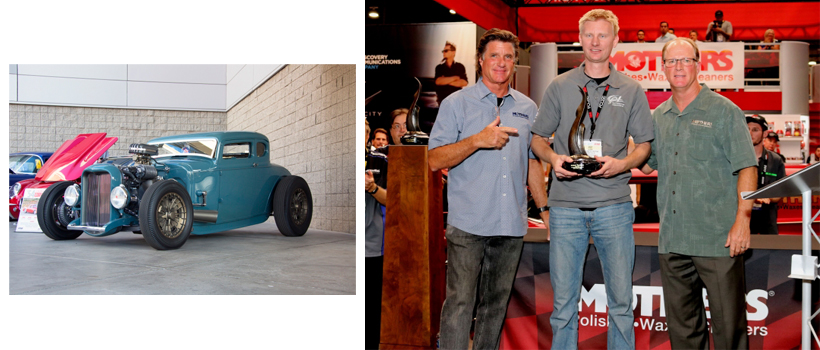 Mothers Shine Award judges reviewed the field of vehicles at the 2017 SEMA Show and awarded the 2017 Shine Award to a 1930 Ford Model A built by CAL Automotive Creations of Bennington, Nebraska. The car-nicknamed Afterthought-is owned by Ted and Colleen Hubbard of South Bend, Nebraska.
The Mothers Shine Award celebrates the finest examples of vehicles at the SEMA Show in what has become one of the most coveted and prestigious achievements within the car builder community, according to the company. Aftermarket industry veteran and Shine Award judge, John Naderi, returned to host the ceremony this year, which was held at the Mothers booth.
The Hubbards originally brought the coupe to Andy Leach and his CAL Automotive Creations team for a set of headers, and the project took off from there. Leach intensively reworked the coupe starting with a hand-built frame, reverse wedge sectioned body, reshaped rear quarter, hand-hammered cowl, machined bolt-on drip rails and a 1932 five-window roof. The paint is PPG Paleo-Historic Blue sprayed by Charlie Hutton.
The original headers are still on the car, now hidden by hand-fabricated covers made to look like cast headers, affixed to a supercharged Ardun Flathead Ford V-8 with a C4 gearbox. The one-off Halibrand-inspired wheels are from EVOD Industries with custom rear tires from Coker.
"There are only two off-the-shelf parts on this car-the front tires," Leach said.
The interior features machined floor pans with one-off stamped rubber mats with custom upholstery work by the Recovery Room.
The Shine Award-winning Ford was on display at the main entrance by the Gold Lot.