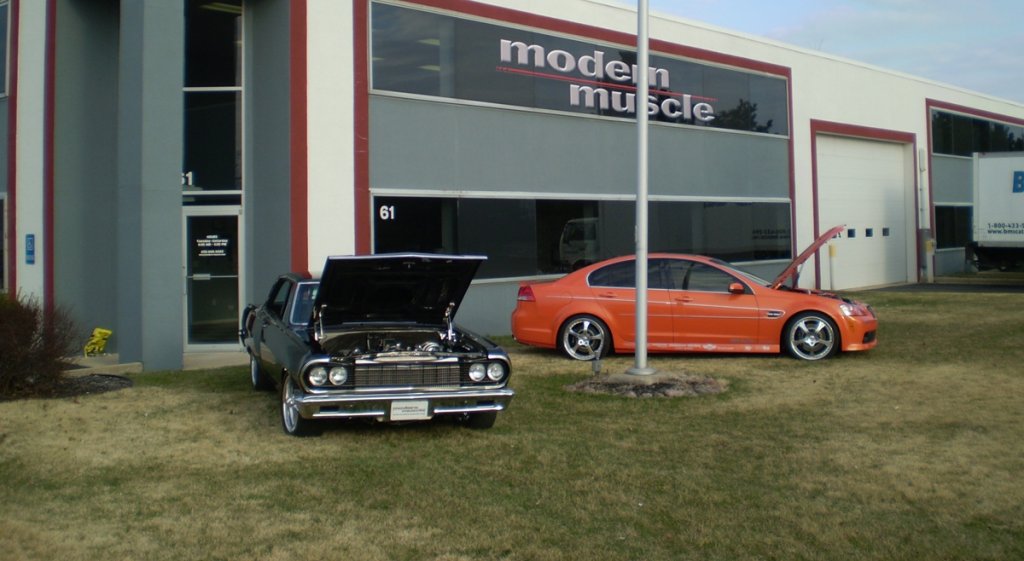 What happens when an NFL player and a mechanical engineer share an automotive performance business vision? Modern Muscle, an Oswego, Ill., automotive performance shop, that's what.
Since 2007, Ryan Diem, who plays for the Indianapolis Colts, and Justin Meyers, a mechanical engineer by trade, have been in business together, creating the dreams of automotive modification for a whole host of auto enthusiasts.
"We do performance modifications on all sorts of automobiles," says Meyers, "but our strongest focus is on late-model, domestic V-8 performance work.
"However, we're known for our full restorations on everything, including race cars," he adds. "The truth is that we can pretty much build anything, and we do everything in-house: machine shop, engine work, transmission work, you name it. We have a Dynojet chassis (dyno), and we do all car tuning in-house. We do installs, fabrication, complete engine builds, and the list goes on, making us pretty much a turnkey shop."
A Successful Triumvirate
Meyers and Diem aren't the only brains behind the Modern Muscle mission, though the two initially launched the shop.
"I am one of the founder-owners," says Meyers. "Ryan Diem and I put our heads together in 2007, and now I'm the day-to-day guy. But Brad Fleck is our third partner, and together we've been doing the work in this facility for three-and-a-half years."
Prior to Modern Muscle and muscle car building, Meyers' background had him employing his talents in power plants.
"My career path took me other places before Modern Muscle," he says. "I am a mechanical engineer by trade. I have a BSME (Bachelor of Science in Mechanical Engineering) from Northern Illinois University and I became an engineer to do power plant development. I spent most of my days designing refineries, and I did product development for a while."
Luckily for northern Illinois and other car lovers, Meyers' passion morphed into a profession.
"I'd done hot rodding as a hobby," he says, "and that turned into my profession. We really wanted to bring a higher element to market. With my level of engineering background, we bring an engineer's mindset to our work. We take every step and make it very technical and bring a methodical approach to everything we do."
The customers that come to the Modern Muscle facility, in addition to enjoying the attention-to-detail approach to the vehicle upgrades, tend to be male, yet diverse.
"Our customers are mostly men," says Meyers, "but we've seen almost everyone come through our doors. We see the 18-year-olds with their budget racers, on up to the guy wanting a faster motor, paint, interior and all the fixings. The bulk of our business is the 30- to 60-year-old guy, but we touch upon every demographic."
That customer base ends up coming through the Modern Muscle doors via the good word -" that is, excellent work talked about by previous customers.
"Word-of-mouth is our greatest advertising strategy," says Meyers. "We began establishing excellent work practices and fantastic customer support as soon as we opened the doors, and it's worked.
"In addition to a superior reputation," he adds, "we also focus on Internet forums and do local shows and car events. We're also just beginning to do retail publications, but that's a relatively new marketing avenue for us."
Space Crunch
The Modern Muscle shop, though spacious and well-equipped, will likely move in 2012 due to a thriving and growing business.
"We currently have 10,000 square feet," says Meyers, "but we're busting at the seams because our business keeps growing and growing. We've got a nice front area, a conference room, a dedicated clean room for engine building, and a fabrication area that houses a machine shop. We have four two-post lifts and one four-post lift/chassis dyno.
"We'll likely move into a bigger space this winter," he adds. "We're looking at some existing facilities and one we're looking at is 15,000 square feet of unfinished commercial space, which we would build out to suit us."
And when he says the company is growing, it's not an exaggeration.
"We started with just two people when we first opened the doors," he notes, "and now we have nine full-time employees. We're in the middle of Oswego on the main drag off Route 34, about 40 minutes west of Chicago, in a Chicago suburb."
In just four years, Meyers has seen some changes to the industry, as well as a change to his business.
"The industry is based on the lifecycles of current late-model vehicles," he says. "The GM market is a good example. Four years ago the Pontiac GTO was a new car and the demographic of owner was a little older. Not everyone wanted to modify a lot, but some did. As used values dropped, you saw it going through a younger clientele wanting to turn them into race cars.
"Much like a fourth-generation Camaro," he adds. "The Camaros' lifecycle is starting to modify. When they were first purchased, (new owners) don't want to do anything with them, but then there's a generation that does. It's a market that rises and falls, but we have diversity to meet that demand. And though we began being heavily a GM shop, we've become extremely diverse."
It's interesting to see how automotive manufacturing has, as an industry, drastically altered how Modern Muscle does business.
"The automotive manufacturing industry is dramatic all by itself," says Meyers. "We founded this business just prior to the economic meltdown. We moved in at a good time, but the market has changed a lot in these past four years.
"We've seen major manufacturers go out of business," he says of industry suppliers, "and you're not seeing much inventory on manufacturers' shelves any more. The quality is also getting lean in some companies."
Still, he's not worried about the overall health of the performance aftermarket.
"It seems to have worked itself out about now, but over the last two years it's been very interesting," he explains. "A few manufacturers are stabilizing and staying in business, which is predictable because it's always up and down. And some new manufacturers come to market and a lot of people jump in on new products and platforms. For example, the late-model Mopar, three years ago had a lot of companies operating with products for that market. Today we see about half of them still around."
Wants, Not Needs
Meyers realizes much of the industry's volatility stems from whether his clients have extra pocket money.
"It's a difficult economic condition (currently) to be in the business we're in," he says. "Everything we do is based upon disposable income, and not a lot of people have that right now. So our business is a balancing act. We have to watch things like this.
"It's a bit scary growing the business in these conditions, because you could outgrow the market," he explains. "You take baby steps toward expanding in conditions like that, yet have a lot of demand and we have to balance demand. The thing is that not everything goes as planned. You don't want to turn people away because you can't get the work done in a reasonable period of time. It's the question of how much backlog the market will take."
Juggling the market and its fluctuations is only half the battle. Competition is always close and ready to pounce.
"We have plenty of competition," says Meyers, "but everything's privately held here. We employ more than any other shop like this two-fold. There are a couple of shops that compare square-footage-wise, but they don't do the volume. (Plus) our quality is the best.
"But we are also competing with some national shops," he adds. "People from all over ship cars to us, including from both coasts. We are getting decent notice around the country. We provide product to people willing to travel the distance."
For those who might entertain getting into the business, Meyers has a few words of wisdom.
"Hang on," he says with a chuckle. "In reality, it's hard to develop a business model for something like this. Every one of these shops is different and based around their talent and what they're able to do.
"But it's a good idea to assess the talent you have," he says, "and stick with what you know. Expanding to other markets can be a difficult process, so you need to educate yourself and establish relationships in those markets. It takes a while but it eventually pays off.
"We've invested a small fortune educating our staff and putting in the capability to compete on a national level. It can pay off, but it's work and it takes a certain level of vision and management."