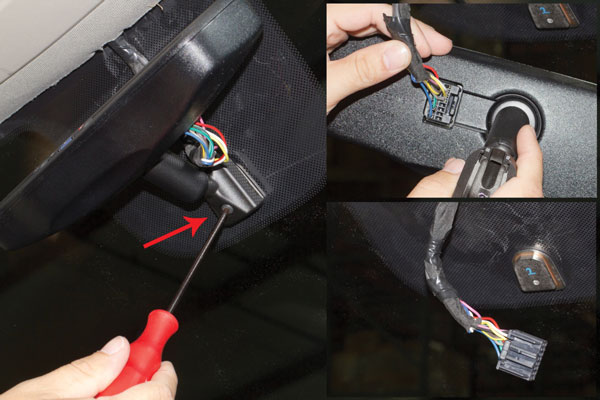 By The Mito Corp. Team
Used to be that a rear-view mirror was just that – a way to see what was behind. Nowadays, with back-up cameras, navigation, even communication, a rear-view mirror helps drivers look forward, as well.
Embedded digital screens with information pop up in a section of the mirror when the driver needs it. And these mirrors automatically dim when other vehicles' lights try to blind the driver.
Because modern technology can incorporate more into smaller hardware spaces, rear-view mirrors have the ability to give more and more vehicles the modern necessities drivers can mostly get from the aftermarket.
Mito Corp., Elkhart, Ind., provides this Gentex OE auto-dimming mirror with 3.5″ RCD display, OnStar retention and Directus Prodigy One navigation as a step-by-step How-To for installers to be able to provide their customers with the latest driver-assist technologies. Here, the mirror system is installed on a 2011 Chevy Silverado. As always, because similar products in the marketplace might be available to installers, it's advisable to contact the supplier or manufacturer with any technical or product questions you might have before installing.
 >>Step 1:
Remove factory mirror using a T-20 Torx bit, and slide off windshield mount. Unplug 16-Pin connector from back.
>>Step 2:
Locate wires on 16-Pin connector in Pins 6, 7, 9 and 13. Remove the wires from these locations and tape off pins to ensure contact with others is not made.
>>Step 3:
Find the gray harness included with the kit and begin with inserting the below combinations to the corresponding pins removed from the last step.
>>Step 4:
Once pins have been inserted into their new locations, plug the 16-Pin connector into the 3.5″ RCD OnStar mirror supplied with the kit and install mirror onto windshield mount. Tighten Torx set-screw with same T-20 Torx bit.
>>Step 5:
Run gray cable harness up to headliner and proceed to the drive's side A-Pillar, tucking gray harness under headliner on the way. Continue to run gray cable harness from A-Pillar area, down under dash area on driver's side. Then, remove any panels needed for dash access.
>>Step 6:
Find a good location for the GPS antenna. Run the GPS cable inside the vehicle on the driver's side and to dash area under steering wheel to meet up with gray cable.
>>Step 7:
Find the location to mount the external speaker and run cable to same area as GPS cable and gray cable.
>>Step 8:
Make following corresponding connections to the gold Prodigy One brain box.
>>Step 9:
Secure Prodigy brain in safe location from damage.
>>Step 10:
Locate power connections from main harness and attach accordingly:
Yellow – Constant Power
Red – Ignition Power
Black – Ground
Purple – Reverse Trigger (for use with reverse camera)
White – Mute Output (for use with Bluetooth adaptor)
>>Step 11:
Test connections. For questions on operation of navigation system, please refer to user manual included with the Prodigy One brain.