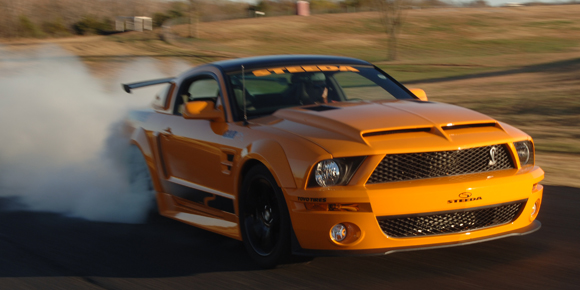 Oklahoma-based Tulsa Car FX is quickly becoming the Midwest's late-model muscle car headquarters.
Going back to 1994 Will and Wendy Williams have had a passion for custom vehicles, running one of Tulsa, Okla.'s leading paint wholesaling businesses, Auto Colors. Though they work in the field, the Williamses were able to work with local painters, service area shops and meticulously trouble-shoot tricky paint jobs.
While business was brisk, if challenging and not particularly profitable, it allowed the husband-and-wife team to exist at the cutting edge of vehicle modification at the time and build a great network of area painters, new-car dealerships and restyling shops.
Like so many businesses in the automotive aftermarket, though, it wasn't until a serendipitous trip nearly eight years ago to the SEMA Show that the couple and their company found their true inspiration.
"At the SEMA show in 2004, we very clearly saw what was coming: a rebirth of late-model American muscle cars, especially the 2005 Mustang," says Will Williams. "We had the good fortune of having a great amount of square footage to expand into – we didn't have a mechanical or install shop at that time – and we could see that there was tremendous opportunity in customizing this new segment of vehicles.
"With the help of our son, Russell, we became a dominant player in that business in short order," he adds. "What we've found is a great business with better profit margins, an even more passionate customer base and a higher profile within the industry."
Did they ever. What started out with some minor conversions – a spoiler here, some louvers there – quickly exploded into a 15,000-sq.-ft. concern. The family-operated company today, Tulsa Car FX, which employs Will, Wendy and Russell, along with daughter Lindsay, handles jobs ranging from small one- or two-part mods to full-on, $13,000-and-up vehicle conversions based on famous muscle cars of the past and present.
The company's roots in the paint wholesaling market, Auto Colors, still thrives, as well, with about 10% of total shop space dedicated to that part of the business. According to Williams, there couldn't effectively be one without the other: "We absolutely love the work with our partners in the painting business, and those connections help our business in many ways."
The company does an equally brisk business in the resale of take-off parts, which allows Tulsa Car FX to "see the products through the completion of their life cycle," says Williams.
A SEMA story
Today, only about eight years into their brief but mighty existence, Tulsa Car FX has become a staple on The SEMA Show scene, partnering with some of the top names in the aftermarket body kit community to continually push the envelope for customizing late-model muscle cars.
"We feel fortunate to have built a great network of people through the SEMA Show over the years," says Williams. "Today, we'll generally co-op with some of our partners on vehicles, placing vehicles into manufacturers' booths; and it's an excellent way to showcase the work we do throughout the year.
"While it's not a selling opportunity for us or a huge chance to show off, it is the ideal place for us to learn about new trends and to network with the best minds in the business," he adds. "It's a lot of dinners with great friends and introductions to new ones, but I don't ever come back without incorporating something we saw out there for the first time. We take a lot of pictures and get a ton of inspiration from what other folks are doing.
"It seems industrywide that what is seen at SEMA in the fall is quickly seen around the nation by spring. There's no idea like a stolen idea," he adds, jokingly.
One of the primary themes the company has adopted over the years has more to do with process than product, though, says Williams.
"What we've learned as much as anything since we've been attending SEMA regularly is that without a great attention to detail, you're nothing," he says. "In those years, we've now built somewhere in the range of 3,500 new Mustangs, as well as any number of Camaros, Chargers and Challengers. When you're doing that kind of volume, you have to be absolutely meticulous about the quality of work you do. That is especially true if you value your reputation, which has always been the most important selling tool we have."
With that oversized focus on quality control, it's no small statement when Williams attributes Tulsa Car FX's sterling reputation almost completely to his son, Russell, a veteran of the Iraq War who served as Military Police in the 101st Airborne during the initial push to Baghdad.
"It isn't possible to say too much about what he's contributed to our success as Tulsa Car FX," says Williams, noting that the military's focus on doing things right shows daily in Russell's work with the shop. "He is really the backbone of the company. He helped us build this company from the ground up since he came back, and he's just so detail oriented."
"Russell's philosophy, and ours, is that the backside should be just as shiny as the front side," adds Williams. "Through that approach and meticulousness, we have so few issues from customers. That dedication to quality is what helps to make it that much easier to justify our prices, which can be substantial in this business."
With Russell's help, Tulsa Car FX maintains a grueling pace of output and still manages to keep both customers and employees happy. That's even while doing dyno testing and demanding installs like superchargers, of which the company performs up to four a month, more than anyone north of the Dallas/Fort Worth metroplex area, by Williams' estimation. Looking toward the future, Williams says adding a number of apprentices working directly with Russell is a likely option.
Exciting time for custom builds
All of Tulsa Car FX's impressive growth and advanced performance work is thrilling for Williams and the family team, which helps to keep the grind exciting.
"One of the best parts about this business is that we're not selling things people need, it is things that people want," he says. "That's a lot more fun and exciting industry to be in. To put it into perspective, writing a check to the dentist just isn't fun. Writing a check for a 3dCarbon body kit, that's a lot more fun."
That sense of fun is magnified even more with the impressive performance results that come from the today's thrilling performance products and styling kits, says Williams.
"In the late '70s, we'd customize those great American cars, but it was expensive and then your car just generally wouldn't run well," he says. "Today, you spend half the money but you add 50 or 60 horsepower and you've still got all the great amenities of today's vehicles on top of that: the great interiors, air conditioning and power steering. You can add 100-plus horsepower on a Shelby for about $2,000 today. How cool is that?"
On the appearance side, Williams notes that the abundance of great body kits and individual appearance parts from brands like 3dCarbon, Classic Design Concepts, Roush, Cervini and Street Scene make it easier than ever to give a vehicle a killer custom look at a reasonable price.
When it made the leap into late model muscle car customization, Tulsa Car FX started working with individual parts like spoilers and louvers, but pretty quickly jumped up to full body kits, mixing and matching parts and brands to offer customer a truly custom look.
Getting the word out
Today the company focuses on a handful of vehicle models, allowing them to keep many parts in stock for quick-turn work, while also building up a stable of custom vehicles for use as show vehicles and promotional attractions. At any given time, the company might have a handful of vehicles lining the parking lot of the shop, which happens to have prime viewing lines from local roads and a main highway.
"Our lot has almost become a landmark in Tulsa," says Williams. "We keep anywhere from five to 15 vehicles on the corner, and those are seen by thousands of cars a day. We have people stop in and say they drive out of their way going to work just to see what we're up to."
In that way, Tulsa Car FX can engage local car clubs dedicated to the core vehicle models the shop focuses on, while avoiding the effort and expense of maintaining a large advertising or marketing budget. Additionally, the company zeroes in on going to shows specifically tailored to the vehicles they work with most and supporting their local new car dealers, which accounts for about 25% of the company's revenue.
"We did try doing some local advertising for a time, but we ended up spending our days turning people in trucks and SUVs away from the parking lot," he says. "That was great for strengthening our referral relations – which are great and helpful – but overall wasn't a very useful way to get the word out."
More effective, he notes, has been hosting events for local car clubs and charities.
"We did a Toys For Tots Mustang drive here through the local Mustang clubs, and we had 108 cars parked on our lot," he says. "That gave us an opportunity to help our community and build our own relationships at the same time, which was both rewarding and great for business."
That exposure, combined with their show-stopping custom builds, has earned Tulsa Car FX a great deal of attention – and free earned media – from magazines around the country. In all, the company's vehicles have landed 13 magazine covers and more than 30 feature articles in recent years, which is an impressive accomplishment.
Williams estimates that one of his highest profile builds, a 700-hp Shelby Mustang, has itself generated at least $80,000 in direct business for Tulsa Car FX.
"We will get a prospective customer who's just purchased their new Shelby and they will come in talking about how it is scary fast," says Williams. "We'll take them for a spin in our version and they're hooked on what we can do with those vehicles. We're able to attack the senses – the touch, the sound, the smells. Nine out of 10 of those people are going to become customers."
Looking forward
With the impressive trajectory of Tulsa Car FX in recent years, the Williamses would be forgiven for keeping their attention focused firmly on the day-to-day operations. Even so, the family is actively planning its strategy for future success.
Williams says he plans to move into new vehicle models in the future, as well as add a line of custom parts to distribute around the country. The first of those parts was an innovative engine bay accessory for the latest Chevy Corvette, as well as a custom appearance modification for factory wheels.
"In the Corvette market, drivers are incredibly particular," says Williams. "So you have to operate with caution. If you shoot yourself in the foot in that market, you couldn't live long enough to live it down. Knowing that, we asked the question: What can we do that would be truly new or special?"
The answer to that question has created two new product applications, both of which are generating a great deal of attention from Corvette owners. The first is a wheel painting application that gives stock wheels the appearance of carbon fiber with color accents. The second is a machined steel inner fender, visible inside the engine bay, giving the appearance of unibody construction.
"We will always focus on the painted, bolt-on parts and body kits, but this is an example of how we can bring something new to a market and do it very well," says Williams. "We will always do that with a focus on adding value and creating innovative products. As we can do that, we'll be selling them nationally."
That dedication to creating unique value for customers has parallels in its longstanding commitment to working with just a few vehicle models.
"If this was just about the money, we'd be working with every model of truck or SUV out there, in addition to the late-model muscle car work," he says. "But there are five restyling shops within a mile of us who do just that. Tulsa is a big pickup market, for sure. But in that scenario all we could really do is drive down the cost, and no one really wins in that situation. We'd rather dedicate ourselves to doing a narrower thing very well, and build our network of referrals with the customers that fall outside of that."
A focus on quality, only bringing new products to market, exclusivity and a sense of partnership over competition? Sounds like a recipe for success in Tulsa, or anywhere else in the world.