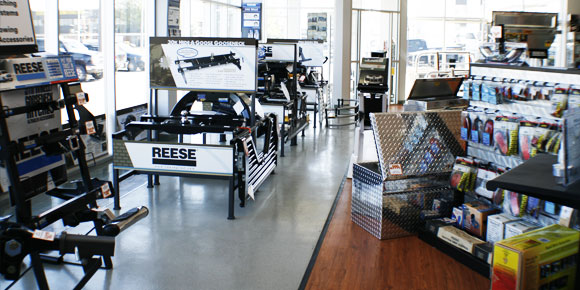 Throughout my career in the automotive aftermarket, I've had the opportunity to watch the partnership grow between manufacturers and retailers. Years back, there wasn't much in the way of good market assistance in getting finished goods from the sales floor into the hands of the end user. That was primarily the domain of the store operator. A lot has changed since then, and mostly for the better: From co-op advertising to live displays, restylers now have a wide assortment of excellent sales and marketing tools available to them.
On the not so good side, all too frequently retailers can be awash with free displays from manufacturers. These displays range from being well-thought-out, informative "silent salespeople" to ineffective clutter offering little more than competition for eye contact and shelf space. While it's great to get free stuff, it's up to you as the shop operator to decide which displays will benefit your business the most.
Making the most of the square footage of your showroom shouldn't be something you have to worry about every day. But, during those times when you are evaluating the overall efficiency of your business, make a special effort to review all displays and point-of-purchase (POP) items that reside on your sales floor.
Space, effectiveness
Before deciding what your requirements are for good POP, it's important to establish how much space the displays take up, vs. the value of that space. Divide the total square footage of the showroom by your monthly overhead to establish the cost per square foot. This lets you know how much it costs you to have that display on your shelf or sales floor. Then you'll realize the importance of placing the most beneficial message possible for your business on your valuable sales area.
Effective POPs should address specific criteria for different types of businesses. Since the restyling business is one of providing style, comfort, dependability and, most importantly, individualization and customization, colorful eye-catching graphics and headlines promoting product features and lifestyle are the first order of business. It's important to visually judge the message from a consumer's standpoint. What is the message? Is it clear as well as compelling? Remember: A POP display is an ad competing with lots of other visual messages. It only has a brief window of opportunity to attract and capture that customer who is generally not paying much attention.
Live samples of product are best, but some miniatures work well, particularly when your space is limited and the product is large. Tonneau covers, for a quick example, are one of those items either in full-size or abbreviated display working models that customers get to see, touch, even operate, which makes them good POPs. They do, though, require a little more floor space than, say, slat-wall-mountable POP items. Low-quality renditions of full-sized product in miniature form are not acceptable. If you think a display looks unprofessional or cheesy, don't expect your customer to react any differently.
Information is king
Our business is also application driven, requiring guides to provide respective part numbers. In many cases, if the customer has access to application or add-on sale information while you are busy, he or she may use this information for current or future reference. An application guide at point-of-purchase also can be handy for store operators, so for the most part, it's a good requirement.
Many POP devices offer a literature or brochure pouch allowing the customer to take additional info home. This is a great feature allowing the consumer the opportunity to revisit the add-on sales potential many times again after the initial contact. It's important to read the brochure just as you would a catalog displayed in your sales area. Know what products are featured and how to source them. Be ready to respond to inquiries about products you wouldn't normally offer. Stamp or label the brochures with your company name, phone number and website prior to placing them in the POP display. After that, check the pouch at least once a week to ensure that it has brochures and anticipate your supply needs.
After the fundamentals have been considered, and you've decided what you want out of a POP display, now you need to decide how to best use these valuable sales builders. POP is most effective when combined with live products and displays. Too many POP displays in one area can give your showroom an out-of-stock appearance sending the wrong message to your customer. If possible, tie them in with corresponding or like items in live samples. In other words, place your trailer hitch POP, for example, next to the on-floor inventory of hitches and towing accessories. Or if you are using a seasonal POP display that features seat heaters and remote starts, place the display next to stacks of that product, and watch it sell.
Put the 'show' in showroom
Use POP that drives your business. Don't put a bug deflector display in prime real estate if it is only 3% of your accessory sales. Return on investment is the goal here.
Before deciding where to put what, create a sketch of your showroom. Bear in mind what your specialties are and how your customer traffic flows. Use the display material to guide your customers to messages you want them to receive and retain.
If you have a waiting room, this is a great place to use additional POP to entertain your customers via a television while they are waiting. But think about having them watching something that benefits your business. Product information videos can be used as a great form of POP. Many manufacturers offer DVDs that are informative and fun to watch; don't, however, use boring installation videos or outdated productions or you may achieve the opposite effect that you are seeking: Zzzzzzz. You might think, too, about creating your own in-house videos; you can put them up on You Tube, too.
Sometimes it's impossible to obtain POP that meets the criteria we've established as worthy of your investment in floor space. That's when you need to decide whether to use what you can get, or to make your own. Making a custom POP is easier than it sounds, but may require more space than one designed by a factory. The focal point of your own display would be a live sample, accompanied by a copy of the catalog and any available brochures. Live samples are always best -" nothing tells the style, finish and craftsmanship story as well as the real thing.
Ask your suppliers for POP
Finding out what's available and new in POP is easy, but requires some effort on your part. Contact your suppliers and manufacturers for a list of what they stock in POP. Most suppliers have something on hand, but some don't, or what they have is outdated. So when in doubt, contact the manufacturer directly. Most factories have worked hard on developing good POP and are more than happy to provide you with it free of charge or may offer it to you via purchase incentives through your supplier. Don't be afraid to invest some dollars into POP. Some of the very best displays available today are not free. By contrast, there are those with little or no value that are priced accordingly.
So before you tear open that box like it's your birthday and toss that free POP display onto your shelf or floor, ask yourself this question: "What's this little space-taking contraption really going to do for my business?" Getting the best return on your POP investment is easy when you know what your space is worth, and how to best use it.