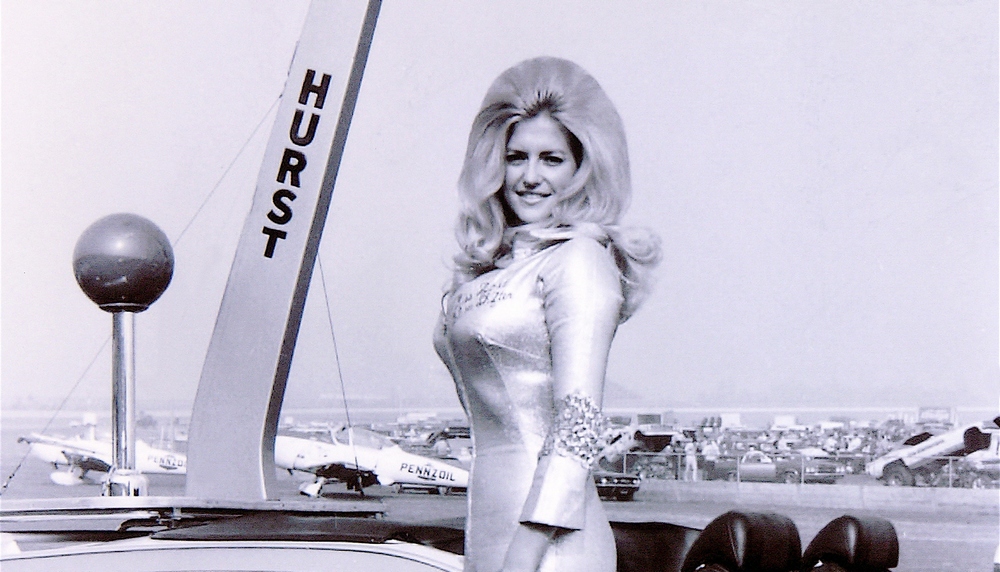 Linda Faye Vaughn was born in a little Georgia town called Dalton, but big dreams and a big personality helped her become a legendary figure in the wide world of motorsports.
Nearly every resident in and around her hometown worked at one of the area's carpet mills. However, she was destined to do things in life that reached far beyond laboring inside a factory.
She grew up interested in cars, and was introduced to auto racing as a 14-year-old girl when she rode her bicycle to Grady Pickens' garage. There sat a young racer named Don Garlits and his dragster.
Garlits and his buddy Greg Pickel had come to Dalton from Chattanooga, and after meeting Linda and her sister that day, invited them to a drive-in movie in a 1938 Ford Club Coupe.
Legend has it that Garlits had forgotten this encounter, but not Vaughn. According to an article written by Michael Dobrin in Street Rodder magazine in 2009, she reminded him-"and the entire crowd at a racing banquet-"of that double-date many years later.
Of course, neither of them knew at that first encounter the prominent roles they would go on to play in the world of motorsports-"Garlits, of course, as "Big Daddy" drag racing champion and icon, and Vaughn as a superstar in her own right, thanks to her beauty, outgoingness and personality, plus good business sense.
A Star Rises
As a teenager Vaughn entered the Miss Georgia contest, where she met the people that were organizing a competition for "Miss Atlanta International Raceway," something that appealed to her very much.
In a 1972 interview in Stock Car Racing magazine, Vaughn told the story of her early years as a fan of auto racing: "I was very young, just out of high school. In fact, not really out of high school when I became interested in racing, and the heart of it all has been Southern stock car racing. Of course, I cover everything from stock car races to drag races to IndyCar races. But I did get my start in the South and that is where my heart lies.
"And it was Atlanta that got me started in the professional business, in 1961, and I graduated that year and entered the contest. There were 200 girls in it and I mean they had a beautiful contest. And I went at it wholeheartedly, not to win a beauty contest, but to represent racing because I liked it that much. And I won."
Linda had won beauty contests before, including becoming "Miss Georgia Poultry." But she loved her new role. As a "beauty queen," her basic job was to hand out trophies, kiss the winning driver and look good doing it.
"The money wasn't good and I wasn't well known and I had to work for it," she later said of that early stage of her career.
She garnered plenty of attention during her reign as Miss Atlanta Speedway, including doing The Twist while wearing a skin-tight red sequined body suit with stock car racing great Glenn "Fireball" Roberts. This publicity stunt made the news wires and catapulted Vaughn into the national spotlight.
Later she explained her relationship with Fireball (who was married) in an interview: "Fireball was one of the greatest friends I ever had in stock car racing. He and Joe Weatherly, and of course Curtis Turner. I met them all, kind of at the same time. But I loved Fireball like a brother. A lot of people, I'm sure, thought that he and I had something going, but he was just my pal, my friend."
Soon afterwards she won a title of "Queen of Speed," then became Miss Pontiac. Her professional career in racing had become so busy that she quit her "regular" job as a registered dental hygienist.
Then came the title of Miss Pure Firebird (Pure Oil's racing gasoline division), allowing her to tour the stock car racing circuit for three-and-a-half years. It was said that when Vaughn showed up as Miss Firebird, her appearance on the float was more of a pre-race spectacle than the National Anthem.
Blazing a Trail
Back then, women were not usually allowed inside the garages or pit areas in NASCAR.
"When I first started in the business, I never took advantage of the fact that I could go into the pit and garage area by being Miss Firebird. So I'd only go in there when I had to," Vaughn said in an interview years back. "When I had to go in there, I'd say, 'I'm here to do a job' and would get a pass, go in, take my pictures, then I'd come out and stay down in the scoring area where the ladies were allowed."
Meanwhile, George Hurst-"who had used women to help draw attention to his shifter manufacturing company during this time period (both Pat Flannery and Jenene Walsh had served as "Miss Hurst Golden Shifter")-"was on the lookout for a new model for the 1966 racing season. A full-page advertisement announcing a competition for the position was placed in Hot Rod magazine, and it described what the company was looking for: an attractive, warm and friendly, outgoing and knowledgeable spokesmodel with good teeth.
(Years later in an interview, Vaughn shed some light on the specific teeth reference-"it seems one of the prior Hurst queens had false teeth that kept falling out.)
Vaughn called Hurst (whom she had gotten to know from the races) and he suggested she enter the contest, so it was off to California. (Linda's mother, "Moma Mae" Vaughn Jeffcoat, came along to help run interference.)
Of course there were several other beautiful women vying for the job, so Vaughn did something unusual-"she made a formal business presentation to the Hurst Performance board of directors the night of the final judging, telling them how she was going to not only perform as the race queen, but also how she was going to make the Hurst name more famous than ever.
It worked, and the contract to represent the product with Hurst came with a salary of $8,000 per year plus expenses and a car, which was a Pontiac GTO. She immediately let everybody know that she wasn't George's girlfriend and that she didn't "mess around with anybody that works for the company" and that basically business was always business.
A Love of Racing
Vaughn is a true fan of high performance, and has long loved racing cars of all types, from NASCAR stock cars to NHRA top fuelers and on to Pro Stocks and IndyCars, Trans-Am, Can-Am, Baja race vehicles and everything in between.
"The greatest sound in the world is a racing engine, from a rough idle to full power… any kind from a boat to a fuel dragster… and the greatest sight is a background of 10,000 people, like at Daytona, and a flock of cars tight at 180 mph or a pair of fuelers smokin' to the Nationals finish line," she said to Mike Doherty in the Here's Linda special magazine from 1970.
As Miss Hurst, Vaughn hit the racing circuit with passion and dedication-"and a little trepidation starting out. She told Petersen Publishing's Dave Wallace that when she began attending the events working for Hurst Performance that "it was a little hard on me at first, I had to show 'em that I was genuine, and that I loved racing. The ones that were the best to me were the racers."
Of course, the most visible duty for her was during the pre-race "shows" where she would ride around on the deck of a Hurst parade car fitted with a special platform to stand on (featuring a super-sized Hurst Shifter starting out with a standard white ball handle and later fitted with a T-handle) all the while waving to the crowds and performing her famous dramatic, exaggerated bows followed by blowing kisses.
It was all done in a fashion that was, as she described it, "sexy but not sexual." She was a Georgia Peach in the eyes of everyone who saw her.
Her dedication to racing and the people involved in the sport is what it was all about for Vaughn. One example happened on March 9, 1970, when she found herself at 3:40 a.m. at the passenger lounge at Los Angeles International Airport, sitting and waiting. But she wasn't preparing to board a plane.
Vaughn had rushed to LAX from Bakersfield, a 150-mile jaunt, to be there (along with mechanic Tommy Lemmons) when Don Garlits' wife Pat Garlits walked off a plane. Pat was rushing in the middle of the night to be by the side of her husband in intensive care at a nearby hospital-"he had lost part of his foot and suffered a broken leg as a result of a terrible starting line explosion in his front-engine dragster at Lions Drag Strip, and Vaughn was there to offer Pat love and support.
A Queen's Court
As part of Hurst's popular Armed Forces Club, Vaughn did two tours in Vietnam and took a number of trips to military hospitals including in Okinawa, Puerto Rico and Hawaii, doing her duty entertaining and spending time to boost the morale of American soldiers. The response was overwhelming, as she would receive as many as 1,000 fan letters per week.
In 1979, Vaughn was awarded the Specialty Equipment Market Association (SEMA) "Person of the Year" title, and was inducted into the SEMA hall of fame eight year later. Other awards included winning the "Ollie" in the coveted Car Craft magazine All-Star Drag Racing Team Awards plus being elected into the Motorsports Hall of Fame.
In 1984, Vaughn had become so popular in the world of motor racing that Sports Illustrated devoted a full-length article to her, prompting good friend A.J. Foyt to say, "You got a 10-page story in Sports Illustrated! I won Indy four times, and I didn't get a 10-page story in Sports Illustrated! I don't know what you've got, but you've got it!"
She did a European Tour in the early 1980s and was again well-received. Harlan Thompson, a Funny Car driver that started out in the States but raced most of his career in Europe, noted: "Some places we raced, none of the fans could speak English, but they all could say 'Leeeenda Vaughn.'"
At the races, she always has had a warm smile for the legions of photographers that suddenly appeared and time to visit with the fans, posing for photos with them and telling stories from her near photographic memory.
She also did TV commercial spots for Gratiot Auto Supply, a cable TV show The Exciting World of Speed and Beauty, plus ventured into the movie industry a couple of times (Gumball Rally, 1976, and Stroker Ace, 1983). She's said, however, that she's turned down 90 percent of those types of offers over the years.
Vaughn was married to dragster pilot/performance sales rep Billy Tidwell for 13 years. After it ended, she remained single and loves to say to this day: "I'm married to racing, honey!"
Still Going Strong
In the publication Thunder & Lightning, December 1985, Vaughn is quoted as saying, "the most precious part of being Miss Hurst has been making millions of friends and I love every one of you." Anyone who has met her at a convention or at any type of automotive event over the years would believe it.
The late 1990s saw her take on a street rod project (White Lightning, a fabulous one-off Lincoln hot rod) that also was a display vehicle for the company Prolong that she did some promotional and PR work with at the time. While her race and event schedule began to slow down some over the years, she still remains extremely popular with fans, especially baby boomers that were in and around the hot rodding and racing circles during the 1960s and '70s.
Since then she has worked with the NHRA doing Pro Stock color commentary from the tower during selected major events, and in typical Vaughn style did her homework in order to bring insider-type information from drivers and crew chiefs.
Fast-forward to 2009 and another award came when SEMA's Businesswomen's Network (SBN) presented her its Lifetime Achievement Award. In 2011 she had a health scare and underwent surgery to clear out blocked arteries, recovered, and then returned to the hospital for three stents in her kidneys.
Through it all she kept her spirits high. "I'm Linda Vaughn and I'm still shiftin' gears!"
And it was no lie. In January 2013, she was spotted on television at the Barrett-Jackson Auto Auction, still drawing crowds. As Bill Simpson, racing safety equipment pioneer, once quipped, "You know you're at the most important event around when you see Linda Vaughn there."
Linda's Special Night
During the 2012 running of the NHRA U.S. Nationals in Indianapolis, a special "Linda Vaughn Tribute Roast" was held. It was filled to capacity with more than 300 enthusiastic attendees, there to pay tribute to Vaughn-"the "Queen of Speed."
The overall tone of the roasters was one of respect, admiration and love for one of motorsports' most beloved icons.
Mixed in among the funny stories were more serious tributes to Vaughn's unwavering love of the motorsports and performance aftermarket communities. It was presented by the Quarter Mile Foundation and emceed by Bob Frey as a fun and exciting fundraiser for the Foundation as well as to assist Vaughn.
Figures from many motorsports disciplines-"drag racing, open wheel, stock car and road racing-"were there, along with fans who hold the famous Miss Hurst Golden Shifter in high regard.
The evening opened with a surprise, as Darrell Gwynn came into the room dressed in drag as Linda's long-lost look-a-like sister. The list of roasters who followed were true legends in the sport, starting with Jack ("Doc") Watson, and including Paul Candies, Jeg Coughlin Sr., Bob Glidden, Lyn St. James, Corky Coker, John Force, Chip Ganassi and Tony Stewart.
The personal stories told of Linda Vaughn, and how her connections helped influence their lives or those of friends, were touching and filled with true emotion.
The tribute roast is available on a DVD through the foundation's website atwww.quartermilefoundation.org. In the meantime, here are some Linda Vaughn quotes through the years:
On product knowledge: "Seriously, I know that men are impressed by women who are interested in their hobbies and activities; that's why I try to keep current on all the latest cars and equipment they are racing. I get a real kick out of answering a guy's question concerning what type of shifter he would need for such-and-such a car." (As told to Dan Roulston, 1967)
On choosing to make racing her career: "I was just a little ol' country gal from Dalton, Ga., and I'd never seen anything or been anywhere really, other than a few little local beauty contests. I could see an opportunity to travel and I turned down college really to see what I could do in the sport. I became addicted to racing." (As told to Bob Myers, 1972)
On George Hurst: "I owe all this to the man that believed in my talent, not my body, and that was the late George Hurst. He gave me the opportunity to make the word 'Hurst' a household name. I was voted into the SEMA Hall of Fame in 1987. That was the high point of my career." (As told to Dusty Brandel, 1990)
On winning some of her earliest beauty pageants: "I was kind of 'developed' for a 16-year-old and could pass for 18." (As told to David Fetherston, 1992)
On becoming Miss Hurst Golden Shifter: "My first appearance was at the Winternationals in 1966. I was scared to death! I'd always heard all these things about crazy Californians and, well, it was true. They were wonderful! They were a lot different than Southerners. But racers are the same everywhere, so I just worked real hard and made a lot of friends among the racers. I got real popular, and it got so I needed help, so I formed the Hurstettes because I couldn't be at 10 races or store openings or whatever on the same weekend." (As told to Jim McCraw, 1994)
On her greatest story in racing: "McEwen beat Prudhomme in the finals at the '78 U.S. Nationals just after his son passed away from cancer. We lost his son and he won the race. McEwen was sitting in his car after the race, and I get in the golf cart with my Hurstettes and we're flying down to the end of the drag strip and when we get there, I reached in and grabbed him and hugged him and kissed him. He was crying, I was crying, they were all cryin'. McEwen drove the race of his life. He couldn't get out of the car." (As told to Rob Kinnan, 2011)