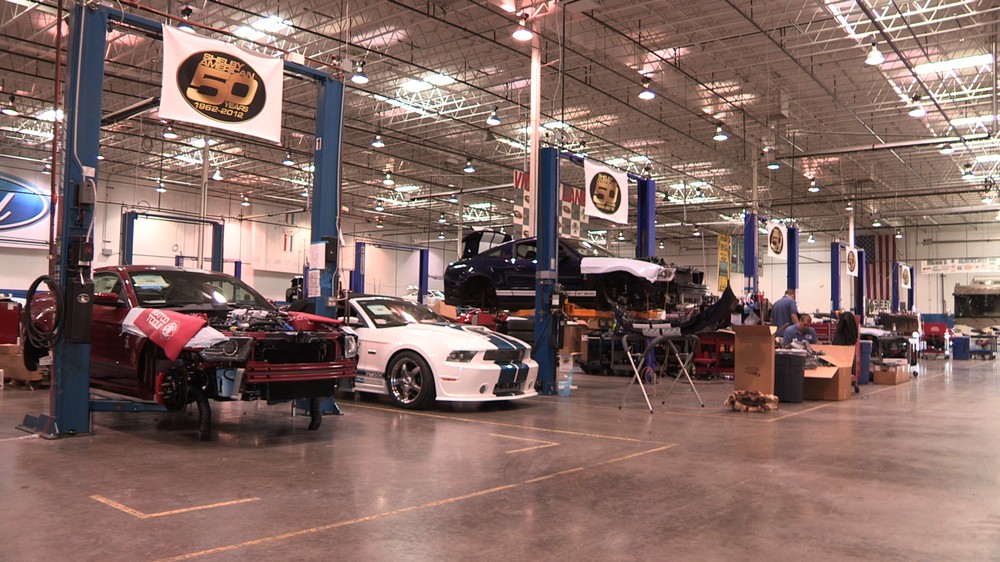 Fifty years ago, one of America's greatest race car drivers, Carroll Shelby, opened his shop doors to automakers requiring special projects, and helped spark the beginnings of the hot rod industry.
The team at Shelby American has been taking production cars to a high-performance level since 1962, with a legacy that includes partnerships with major car manufacturers and the development of the iconic Dodge Viper.
After opening a manufacturing facility at the Las Vegas Motor Speedway in 1996, Shelby began producing continuation Cobra 427 S/C, Cobra 289 FIA and street Cobra component vehicles and also had a fiberglass and aluminum fabrication shop.
Today, Shelby American continues its history of innovation through a partnership with the Ford Motor Co., producing high-powered cars like the Shelby GT500 Mustang. The company has built more than 7,000 Shelby GTs, as well as 1,000 Hertz rental cars, 500 convertibles and 500 coupes in the past year.
The Power of Partners
Growing international partnerships are partly responsible for the massive amount of cars Shelby American produces.
"We have customers from across the United States, as well as Australia, Saudi Arabia, New Zealand, Canada and Mexico," says Gary Davis, vice president of product and research development for Shelby American. "There's a lot of demand for our vehicles, so we have to build every day to keep our international relationships growing."
Shelby American cars are tailored to meet anyone's needs, whether the customer is a professional racer or a hot rod enthusiast. As Phillip Brown, supervisor of Shelby American puts it, "What we do here is take dreams and make them into reality. We take ideas all the way from paper to pavement."
Sometimes, those dreams originated with Carroll Shelby himself.
"One of the last things Carroll wished for before he died was to see a 1,000-hp vehicle from our shop," says Davis. "And I'm proud to say that we were able to convert a 2012 GT500 into a 1,000-hp machine, and that he was able to ride in it before he passed away in May."
Shelby's legacy lives on through his thriving shop and his high-powered cars that are on the track and on display at notable trade events including the SEMA Show. The 2012 SEMA Show featured several of Shelby's creations, including the GT350 and the Cobra.
Although in recent years the shop has shifted its focus away from the Cobra and toward the Mustang, Davis explains that the Cobra still remains a popular vehicle.
"We still produce a few Cobras a year and sell a lot of them, but another company is helping us build them now," Davis says. "We still build our own control arms and some of the differential parts; we have a TIG welding shop here and a machine shop that gets the job done."
Whether its talented crew is building a Cobra or Mustang, Shelby American (www.shelbyamerican.com) performs a wide range of fabrication on its vehicles. The shop relies on its welders to fabricate or install camshafts, cooling systems, brakes and frame stiffeners. Shelby primarily uses TIG welding for the 1,000-hp GT500.
"We first started to use welding for the round tube and steel chassis of our '65 Cobras," explains Davis. "Our main focus now is upgrading the K-members and support beams of the Mustang, as well as upgrading vehicles from 500 to 1,000 horsepower."
The six welders on staff provide Shelby American with well-rounded fabrication abilities.
"Our staff is half TIG, half MIG. We also have two plasma cutters," Davis says. "Fabrication is key to the production of our vehicles, so it's critical that we have well-trained welders and high-grade equipment in the shop."
Shelby has relied on equipment from Lincoln Electric for at least the past two decades to help the shop run smoothly.
"It's so important to have dependable, rugged equipment that won't let you down at 4 a.m. when you're trying to meet a deadline, and that's why we've stuck with Lincoln Electric products for so many years," Brown says. "Plus, Lincoln is always moving forward, just like us. With the help of their technology, there are things that we can do on these cars that you couldn't do with the old welders."
More to Come
As for the future of the shop, Davis foresees the company focusing on some of the newer Ford models, in addition to continuing to add upgrades to the Mustang.
"We'll probably be working a lot with the EcoBoost engine, the Focus, the Fusion and the Raptor," he says. "Ford also is changing the body of the Mustang, so we have to be prepared to change with it."
Shelby American also offers a la carte parts, including control arms, suspension parts, exhaust and exterior elements, including a new white body for 2005-'13 GTs or GT500s.
"We understand that there are a lot of enthusiasts who can't afford a full Shelby vehicle," Davis says. "We want everyone who is a Shelby fan to be able to incorporate our work into their car."
Changing its focus to vehicles intended for a wider audience, such as the Focus and Fusion, is part of Shelby's efforts to appeal to the professional racer as well as the at-home hot rod enthusiast.
"A 1,000-hp GT500 is impressive, but we know it's not for everyone," Davis says. "But a turbocharger integrated with the EcoBoost will interest the average consumer. Our mission right now is to appeal to the everyday driver and provide them with the same innovation and quality we would to a professional racer. Here at Shelby, we start trends that challenge the norm and always aim to impress. We never stop pushing the envelope of technology."