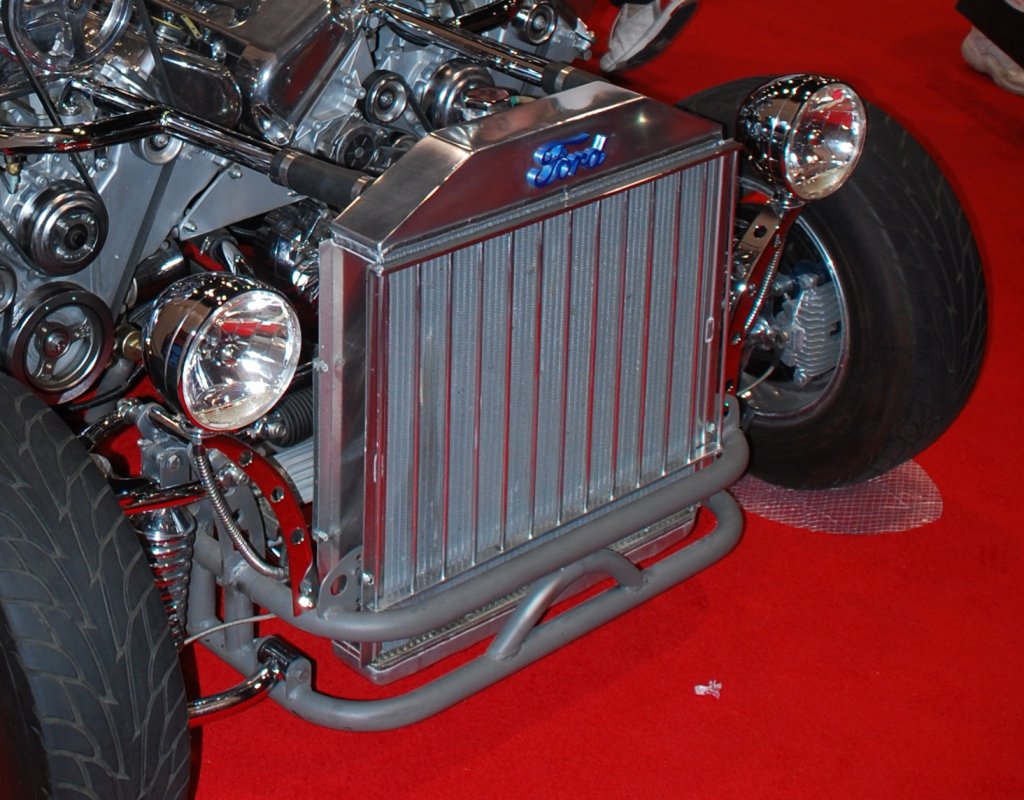 It may be difficult to believe that with all of the scrutiny racers and performance enthusiasts give to finding power in their engines that there's an area where builders haven't turned over every stone on a quest to find more horsepower.
Yet, product manufacturers say that when it comes to getting every drop out of a performance power plant, there's a simple place to start:
The cooling system.
"We have ignored those 12 inches in front of the motor and never made a nickel off of that space," says Paul Freed, vice president of Northern Factory Sales, Willmar, Minn., of the industry's history of failing to consistently push radiator and fan upgrades.
"For 60 years the performance industry has been advising customers about every engine option there is for creating greater performance. But cooling? Well, the OEM radiator is all there is, fan shrouds are non-existent and engine plumbing is just universal radiator hoses."
But cooling professionals are looking to change all that.
"It's not 1950 anymore," Freed says. "Today, there are high-performance cooling products that are available and necessary for our project vehicles to operate successfully."
Cool Under Pressure
Yes, products are now available for nearly any application imaginable. But, when it comes to performing under pressure, do aftermarket cooling components truly make a difference?
"Some people do not realize the dramatic effect the cooling system has on the overall performance of a vehicle," says Thom Balistrieri, director of consumer sales for SPAL USA, Ankeny, Iowa. "Having the correct cooling system in place is critical to ensuring you get optimal performance from your vehicle."
And protect it as well.
"Cooling system (upgrades) are an absolute must. No excuses," says Fred Militello of the marketing department at Be Cool Inc., Essexville, Mich. "Heat is the greatest danger to today's powertrains. If you understand the basic design of cooling systems, you can be a savior for your customers."
Most shops probably like the sound of that.
"(Cooling) will always be a necessary part of performance upgrades," says Cole Quinnell, social media specialist for Flex-a-lite, Fife, Wash. "(For instance,) there are opportunities for more power by converting from a belt-driven fan to an electric fan. And the composite radiators that the OEMs have used for the past 30 years are not repairable and eventually need replacing."
Power-adders are another stepping stone toward cooling system upgrades, notes Gary Johnson, owner of FLUIDYNE High Performance, Mooresville, N.C.
"Customers who purchase performance-enhancing products such as turbochargers, blowers, camshafts, suspension and exhaust systems generally need to consider upgrading their water and/or oil cooling components to handle the increased heat-load generated by the added performance," he explains.
So, with a need established, what types of products are currently popular with performance cooling customers?
Johnson points to his Cooling Module that includes a radiator, oil cooler and fan assembly all in one unit. Three models are available for stock car racing, late-model and touring series applications along with FLUIDYNE's FlowMaxx module, and all offer easy installation and assurance that the individual products will complement each other.
Freed singles out Northern's Hurricane cooling shroud kits that work on either engine-driven or electric fan-type cooling setups.
A hot seller for SPAL is its expanded line of curved-blade fans.
"The quietness of the curved blade design is something our drivers appreciate," Balistrieri says. "As space becomes tighter and tighter under the hood, we continue to develop low- and medium-profile fans that optimize the performance of more vehicles."
And GM vehicles are the current targets for complete kits from Be Cool and Flex-a-lite.
"Our hottest new performance cooling product is our GM LS conversion system module introduced at the 2011 SEMA Show," says Be Cool's Don Johnson. "This unique system is designed to deliver optimum cooling for LS engine conversions in most GM applications and includes fans, wiring harness and all hardware. The systems are complete and include all proper inlets and outlets."
Meanwhile, an all-aluminum Flex-a-fit radiator and Flex-a-lite dual-electric fan combination is available for 2010-'11 Chevrolet Camaros, Quinnell says.
"This is a direct-fit radiator that does not require any modifications to the customer's car. We've made the installation as easy as possible for quick turnaround in your shop."
Tell the World
Offering intelligent designs and efficient performance, it's not difficult to locate potential customers for today's line of cooling products.
"The number of automotive enthusiasts in general has skyrocketed in the last decade, thanks, in large part, to the media attention now focused on automotive innovation and performance," says Gary Johnson. "Racing in North America has become a national pastime, with an estimated 100 million fans that will attend, view or participate in some kind of automotive high-performance activity during their weekend. In our view, the number of potential customers for our cooling products has never been greater."
Quinnell agrees.
"Anything with an engine is fair game," he says. "Many people are looking for a boost in performance or fuel economy, and they can find both by replacing a belt-driven fan with a Flex-a-lite electric fan, for example. This is just as true for a fleet of delivery trucks or a tow vehicle as it is for a street rod or off-road vehicle."
Militello notes that, "Be Cool products are available at most restoration, hot rod/speed shop locations, and popular automotive aftermarket installation and retail outlets."
Chances are, that's you.
"As the market continues to improve, it is reflected in a shop's bottom line," says Balistrieri. "There are also those diehard enthusiasts that take great pride in their vehicles and demand the highest-quality products. They have, and always will, invest their hard-earned money to ensure optimal performance from their vehicle."
Working beyond any apathy the industry has had in the past regarding cooling products is the key to moving ahead in this market, Freed explains.
"These are some of the few required products that a customer must purchase before the project vehicle can run," he notes. "But which parts? Have you ever gone into a performance retailer that had a section (dedicated) to cooling system solutions? The truth is that we've never marketed these products to our customers. Heck, 10 years ago, most of today's cooling system products didn't exist. And truth is, we still don't have many of these products in stock-I mean stock that the customer can walk out the door with."
Add Gary Johnson to the list of manufacturers in favor of shops dedicating space in their showrooms to the latest cooling products.
"Show and tell," he says. "Create a point-of-sale display showing the cooling components you carry and highlight various customer testimonials. This can be done in your store or on your Web page-just show the products and the customers' cars along with the testimonials."
Balistrieri notes that there's a lot to learn when it comes to performance cooling components, using as an example the differences cfm numbers mean for fans depending on whether they are rated at various static pressures or simply with nothing in front or behind them.
That means opportunities for shops to become a reliable expert.
"Educate your customers," he says. "As stated before, some customers do not realize the impact a cooling system-especially a bad one-has on the overall performance of a vehicle."
Don Johnson adds that shops can back up their knowledge with participation in local enthusiast events, advertising and building a close relationship with manufacturers and the media to further enhance their reputations.
"This can be a very pleasurable experience for both the seller and the buyer," he says of cooling system transactions. "The seller, in most cases, can depend on very quick order-to-delivery times for radiators and cooling modules, and the buyer can rest easy while cruising or racing with no reason to constantly stare at the temp gauge."
Quinnell agrees.
"An unexpected benefit of installing (cooling upgrades) is the reduced stress that comes from constantly watching the temperature gauge when you're sitting in traffic. Customers can simply enjoy driving their hot rod or 4×4," he says. "Think of performance cooling as part of the solution for delivering more performance. When people are looking for a gain in power and fuel economy, remember that a cooling system can deliver that. Cooling system upgrades are also compatible with other performance upgrades, and often are required when you add a lot of power to a customer's car."
It's what the cooling professionals have been saying all along.