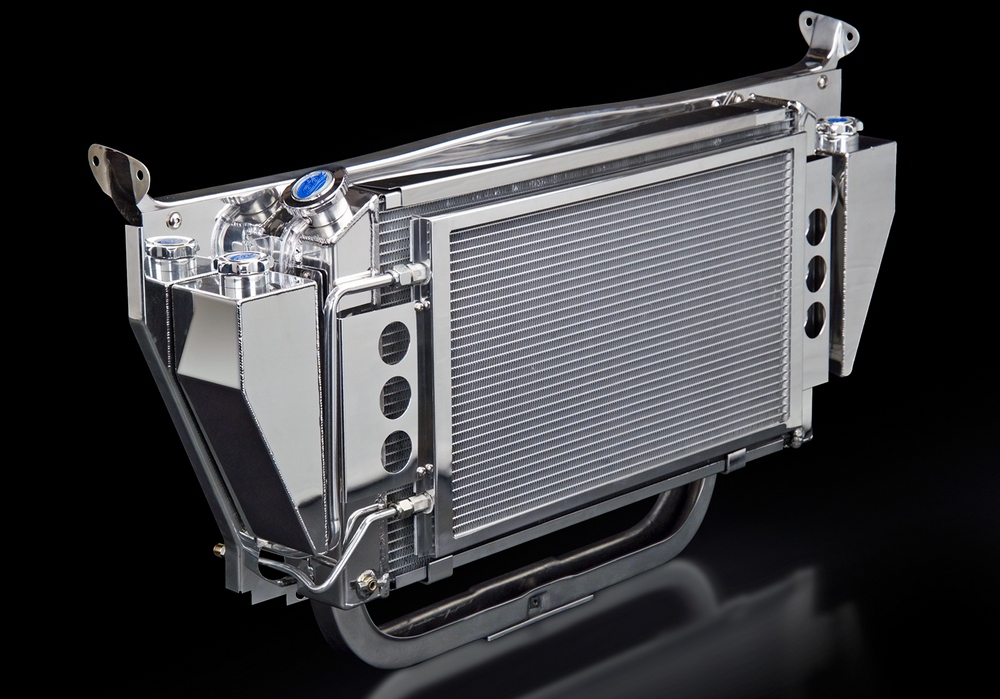 With one of the hottest summers on record for many parts of the country fresh in our minds, it was only a matter of time before the subject of cooling high-performance vehicles came up. And it's a perfect time to address it, as car owners and builders are looking for the latest products to keep hot rods and race cars cool.
We asked our industry sources about the current status of the cooling market-what's new, what's hot and how shops can make more money by being cool.
Cool is Hot
When it comes to staying cool, it can be best to start at the core.
"The newest product available in the cooling market is actually a component, not an entire cooler. Aluminum radiators have been around for 30-plus years and there hasn't been a great deal of innovation up until now," notes Steve Beebe of Griffin Thermal Products. "Griffin now offers thicker, more effective aluminum cores. With 1.25-inch tubing, we're able to add a half-inch to the core thickness, which results in superior cooling power. To top that, we've also released 1.5-inch tube, which adds an entire inch of core thickness for intense cooling power."
From there, plenty of additional products and accessories can make cooling a lucrative moneymaker for shops.
"Hot rod radiators, Hurricane electric fan shrouds, Hurricane engine-driven fan shrouds and coolant plumbing made from steel, aluminum, stainless steel and silicone" are among the top sellers from Northern Factory, according to Paul Freed.
Looking for more? Fred Militello lists Be Cool's "Be Coolant super-duty antifreeze, complete cooling system modules-not just a radiator-plus electric fan packages and OE series restoration aluminum radiators."
Some aren't even here just yet.
"Although not available for aftermarket sales yet, SPAL is a leader in new brushless technology," notes Thom Balistrieri, director of aftermarket sales for SPAL. "Brushless motors offer extended life, less power draw, and are much quieter. We are expecting to release these for the aftermarket sector next year.
"(Meanwhile) our programmable fan controller allows you to vary the speed of a single SPAL cooling fan based on engine temperature. This results in increased fan life and reduced operational noise. When the low temperature setting is reached, the fan begins spinning at 50-percent speed. As the engine temperature increases, the speed of the fan slowly increases until it reaches the high setting, where it is then running at 100 percent."
And Mike Murphy from Derale Performance adds, "The most (popular cooling products) we see are fan-mounted engine oil/transmission coolers."
Down to Business
So, how can shops best take advantage of the opportunities presented by offering cooling products?
Freed believes they need to be ready when a customer comes in asking for a specific application.
"A 'do you have a…' question means the customer is prepared to buy and walk out with the components necessary to complete his project vehicle. This means shops need the radiator, fan shroud and plumbing in stock, so the sale can be made," he explains. "Nothing drives your customer to the catalogs faster than the words, 'I'll have to special-order that for you.'"
For those customers who need to be educated a little bit more prior to the sale, shops need to have answers and examples, he adds.
"When you hear 'how do I cool my…' you can answer your customer's question and walk him over to the inventory section so he can see and imagine how your answer fits his need. The real message here is engine cooling isn't an option-it's required to complete every project vehicle. But up until now, high-performance retailers ignored this market opportunity and created cooling confusion instead of cooling solutions."
And when people do walk in, what types of projects are they most commonly working on these days?
"GM LS engines, late-model 6.1- and 5.7-liter Hemis, and Ford Cammer and Coyote modular engine conversions are very popular," says Militello.
Balistrieri adds that when it comes to today's cooling projects, many customers are "moving more air in limited amounts of space. Cooling (is often) an afterthought when building, and not enough importance is placed on it."
And when it comes to those projects, don't limit your scope to only cars.
"Most of what we see currently is towing application cooling projects," says Murphy. "A lot of end-users are having issues with OE cooling systems in long-haul towing applications. This is the reason why we are seeing the need for fan-mounted engine oil/transmission coolers."
On- or off-road, trucks can be a major source of income in the cooling department.
"While many racing venues have begun to decline with the downturn of the economy, the off-road industry is excelling," says Beebe. "Currently, we have more off-road oriented shops building and growing than ever before. Not only are these shops building race cars for events like Griffin King of the Hammers, but they are also building V-8 conversion Jeeps for recreational users. The evolution of these vehicles over the past few decades has sparked the need for a new breed of cooling system."
High-Tech
In fact, technology has had a definite impact on the cooling components market in recent years.
For example, Jeff Stacy of Fragola Performance Systems says, "We are seeing more and more lightweight hoses on the market. This seems to be the new rage in the racing market. Not being fooled by cheap import imitations is critical for knowing you are getting the best product out there. Ask your supplier where their hose comes from and make sure you are getting a quality product."
Militello says the street performance market has also seen an impact.
"Modern technology has had a positive impact on saving American muscle cars and hot rods in general by making them safer, more fuel-efficient and by increasing the horsepower, which has also had a tremendous impact on the cooling market," he says. "Also, by adding aftermarket air conditioning units and being able to use them, too!"
Manufacturers are constantly looking for innovative upgrades.
"Cooling component technology is constantly evolving," notes Balistrieri. "It is becoming smaller, lighter, smarter and moving more air.  With the upcoming introduction of brushless technology, SPAL will be offering fans with more cfm and less power draw."
As technology evolves, overall cooling will remain a vital part of any engine build, notes Murphy.
"Even electric vehicles need cooling, though it is a little different, which we have just learned. Derale is pioneering the push forward to help the cooling needs of (electric vehicles)," he says.
A positive is that while technology has evolved, suppliers have been able to keep prices in check.
"The most high-tech radiators ever made are now available to every project vehicle customer at a very righteous price," says Freed.
Beebe agrees.
"Recent technology has enabled Griffin to offer thicker, better-performing radiator cores without increasing the pressure drop through the core. When combined with the correct fin spacing, the combination results in a cooling revolution."
Cool Tips
For shops interested in making more money selling cooling-related items, here are some suggestions.
"Educate customers on all the needs of a proper cooling system to protect their engine investment, like an insurance policy protects a car," says Be Cool's Militello. "(There are) many add-on sales-not just a radiator but also electric fans, fan wiring, fan brackets, thermostats, water pumps, hoses, clamps, and all necessary hardware. Keep a good stock of ready-to-ship popular inventory, and shops will definitely make more money."
SPAL's Balistrieri seconds that point.
"Educate the end-user on the importance the cooling components play in the overall performance of their vehicle," he recommends. "The cooling system is often an afterthought for many-they tend to focus on looks, engine horsepower and all the bells and whistles, but without proper cooling, they will be left standing on the side of the road with an overheated vehicle or something that only looks nice in their garage. Cooling directly or indirectly affects many important components of the vehicle, and cheaper is not better."
It also pays to know your products.
"Education is key for shops to better-sell cooling products," says Derale's Murphy. "Unfortunately, sometimes cooling is an afterthought. There are many old wives tales in relation to cooling. The end-user has to end up happy for return sales. If the shop installs or sells the end-user the wrong cooler for the application, it just causes more doubts and fewer return sales. The best thing for shops to do is call the cooling manufacturer's tech line and better educate themselves by picking their brains. The manufacturers are the experts-learn from them."
Remember, a cooling system is a vital part of any high-performance vehicle.
"Shops need to take ownership of every product that will be sold in that 12-inch or so space from engine front to the radiator core support," Northern's Freed says. "This space holds the key to several hundred dollars that a customer must buy to complete his vehicle."
If you keep customers happy, then they'll be back for their next cooling project.
"The key to any successful business model always includes repeat business," notes Griffin's Beebe. "Griffin supplies cooling solutions for all forms of racing, muscle cars, street rods, hot rods, rat rods, off-road and late-model vehicles. Our offerings allow any shop to make multiple sales to every customer."
And again, having items available and ready to go is always a plus in the eyes of anxious customers.
"Having the products in stock is the easiest way to add sales onto the order," says Fragola's Stacy. "Having fittings and hoses to finish the installations is critical. When a customer can't get all the parts in one stop, it usually leaves a bad taste in his mouth."
What It Takes
Lastly, we asked about the greatest challenges these types of sales present.
Stacy says it's a familiar problem: "Convincing customers that you are selling them something that they need and not just selling them stuff so you make more money. With today's economy, the customer is a little gun-shy of add-on sales. Selling the customer a quality, made in America product based on quality and not letting them settle for a part because it's cheaper is another challenge we face."
Murphy reminds shops that happy customers are always a key.
"Customer service is the biggest challenge today. We need to keep the enthusiasts happy with their purchase. The hardest part is when we run into a customer where the shop they purchased cooling products from sold them incorrect parts for their application."
Militello keeps a positive note and says, "I would call them opportunities to increase sales and profits. In these changing times, we see that customers are willing to spend the money on quality components once they have the knowledge. They can find this information that is readily available through aftermarket manufacturers' websites, social media, along with going to industry trade shows and talking to manufacturers directly."
Freed suggests that getting your sales team up to speed on the latest cooling product innovations is an ongoing challenge that can't be overlooked.
"Shops need to get over the fact that cooling components are new to them and understand that they need to stock these products, because as a customer, I must buy them to complete my vehicle and if you don't have it in stock, it's a pretty good bet that I can find it in stock somewhere in Ohio," he says.
So, get to know your cooling components and then share that knowledge with your clients.
"Educating the customer is the highest hurdle for repeat sales," says Beebe. "To aid this challenge, Griffin has launched a new search feature on our website that provides fast access to all of our 120,000 applications. In addition to the new search feature, there is also a comprehensive FAQ section available on the site."
It's time customers-and shops-recognize the important role cooling plays in the performance aftermarket.
"As previously stated, cooling isn't usually a top priority with many builders," says Balistrieri. "Often, the build is done and then the cooling aspect is addressed.  This frequently results in cramming the cooling components in-typically at the expense of proper performance and not having enough cfm to cool the engine properly.  Many fans on the market are drastically overrated and don't produce the cfm they are rated. To ensure the rating is correct, look for ISO9001 certified products, which all SPAL fans are."
So it becomes a question-is it cool to keep a performance car or truck cool? We already know it is to sell to them.