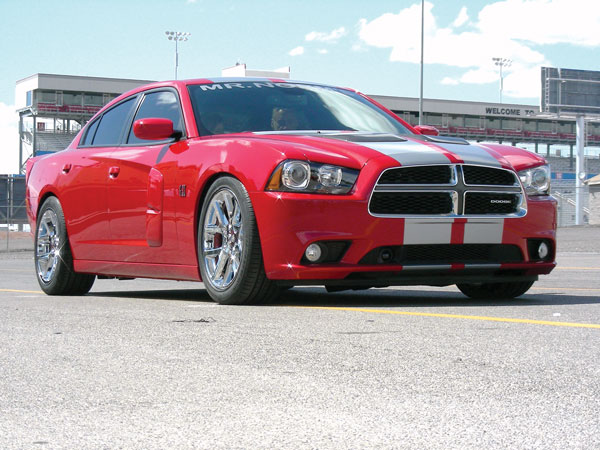 Our good friend Larry Weiner at Performance West Group Inc., Bonsall, Calif., sent us one of the new Mr. Norm's cars that's being paraded around. This one is a 2011 Super Charger, and "super" is a nice adjective to begin describing this fiery-red extra-muscle muscle car based on the 2011 Dodge Charger.
Weiner tells us the aftermarket additions are affordable and easily installed; with chaotic gas and rising car prices, "affordable" is another good word to put out in front of muscle car enthusiasts.
"The Mr. Norm's GSS Super Charger is an authentic modern muscle car that features dramatic styling inspired by the wicked Viper GTS/R. The Mr. Norm's GSS Super Charger matches heart-stopping good looks with heart-pounding performance" is what Performance West's overview promotes.
Well, see for yourself Mr., Mrs. or Ms. Restyler.
The new body parts include a three-piece rear spoiler, simulated hood scoops and side extractors, a filler panel for the rear license plate pocket and grille trim. Each of the Mr. Norm's parts is available in paintable composite or carbon fiber. Finishing touches include GSS fender badges and a Mr. Norm's windshield banner.
Inside, a Katzkin Leathers gray "Barracuda" leather interior with contrast stitching and perforated seat and back that match the car's red theme punctuated with bold gray racing GSS stripes complement each other. Custom embroidered carpet mats and a Mr. Norm's pistol grip shifter add finishing touches to the interior.
And to keep the interior – and its occupants – looking and feeling cool for years to come, the team added tinted windows.
Slip on a set of Viper-style wheels, 20″ x 9″ on the front, 20″ x 10″ at the rear and some Pirelli Scorpion Zero Asimetrico Tires – 265/45ZR20, front and 295/40ZR20, rear – and the ride and road-hug are even slicker. Then they slipped on red powder-coated caliper covers.
And they beefed up the look even more with Hotchkis lowered suspension. Available options include a carbon fiber engine / underhood dress-up package and TTI cat back dual exhaust-system.