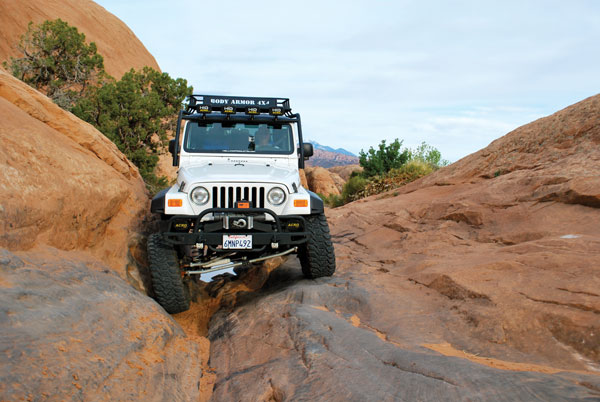 Some take the road not taken. And some take roads where there don't seem to be any roads.
Mark Hellwig of Hellwig Products likes to take his offroad adventures for some serious fun. He also likes to put his company's products to the test in real-world offroad situations. Here, he has his 2006 Wrangler Unlimited (not a Rubicon) that's been driven about 48,000 miles.
"I set the Jeep up to be very drivable on the street," he says. "In the area we live I can be at local off-highway trail heads in two to two-and-half hours, so I drive the Jeep with all our gear up the freeway and highways to our trails. (I trailer it on long trips to out-of-state adventures.) We attend trade events, club events and car shows with the Jeep, with the (Moab, Utah) Easter Jeep Safari being one of the big opportunities to interact with other offroad enthusiasts.
"This year's Easter Jeep Safari was the first year for the Wrangler; but I built up a very capable Jeep Grand Cherokee that I had at the event in 2009 and 2010. So I have attended Easter Jeep three years, but have been offroading most of my life."
This '06 Wrangler included front and rear Hellwig Products Sway Bars with a front end-link swing-away disconnect feature, a Rubicon Express Long Arm suspension set up with a 5.5″ lift.
ARB air lockers were installed front and rear in Currie Rock Jock D60 differentials with 0.488 gearing. There also were Teraflex's transfer case adapters. Mickey Thompson performance tires grip the road, dirt and rock. Bushwacker fender flares gave some trail armor protection.
Onboard compressed air allowed for easy air-up after trail runs. Tuff Country supplied suspension parts. Dual Optima deep-cycle batteries gave the electrical system plenty of 12V power. The interior includes a Hot Heads headliner, Kenwood sound system and a Tuffy Products locking security drawer behind the rear seat. "I found some stainless steel fuel cans (no rust), which mount nicely on the Body Armor spare tire carrier," Hellwig notes. "I haven't needed the Warn winch to get me out of trouble, but I have assisted others with it. I'll be adding some skid plate protection soon."
Other add-ons include Banks' air intake and exhaust. Acro lights were available when called on. Inside, Hellwig added Wet Okole seat covers and Daystar dash panel switches, hood latch components and winch hook isolator.
"We have a lot of fun with this Jeep. It is built pretty well and, so far, has met all the challenges I have put it up to," he adds.