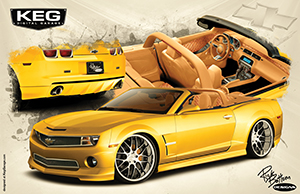 Show project vehicles again will wow expo attendees.
Many stars shine in Las Vegas at the 2012 SEMA Show. Perhaps the biggest stars, though, are the trucks and cars that populate exhibitor booths and line the outside spaces of the Las Vegas Convention Center.
Loaded inside and out with the aftermarket's coolest products, these vehicles shine, and draw the oohs and ahhs of admiring professionals from around the world.
Here's just a preview of some of the projects that will populate exhibitors' booths Oct. 30 through Nov. 2.  Take along this October copy of Restyling and you'll see how the final, real vehicle came to fruition.
---
Project Blackout
Low-ri-der. Maybe it's meant to hug the ground, but this 2010 Dodge Ram Mega Cab Dually looks like the road wants to hug it.
The Project Blackout, blacks out all it can. It's like a Stealth fighter staying under the radar. But you can see it and all its "night's" armor. A real black beauty.
Black satin paint with gloss graphics by Art Busche Designs are just the start of the dually's look, which carries Truxedo's painted-to-match tonneau. The windows are tinted, the custom HIDlighting comes courtesy ofRetro Shop, and Racemesh Grills covers the front end. 24″American Racing dually wheels get wrapped with 285/40/24 Toyo ProxesSTtires.
Inside, Roadwire gives the seats its black leather with Alcantara suede.
Firestone'sair ride suspension features four Viair Compressors with Dakota Digital air ride controls bagged by Art Busche Designs.
H&SPerformance's intake manifold and 5″ turbo back exhaust and Mini Maxx programmer add to the tuning edge from the company's EGRcooler delete and DPFdelete.
Snow Performanceprovides its water-methanol injection, while S&BFilters provides the cold air intake.
Project Blackout will reveal itself at the Extang/Truxedo/UnderCover Booth No. 31059.
---
>Track Fighter
The Track Fighter Mustang is intended to be a visually stunning yet practical daily drivable, affordable and durable open-track day car.
The project stared with a 2013 Mustang GTwith Track Package and Recaro seats.
Here's where it went from there.
The graphics theme pays tribute to a WWII D-day Invasion paint scheme typical of the P-51Mustang fighters. Pictographics chose Maj. Edwin W. Hiro's "Horses Itch" P-51-Das inspiration. The effect of the graphic is eye-catching and fitting for the aggressive intent of the Track Fighter Mustang.
Here are those who signed up early to start making this American muscle car come to life: Avery Dennison, Supreme Wrapping Film; Eibach Suspension; Corsa, exhaust; Nitto Tires; Procharger supercharger. Several other aftermarket companies likely will get involved – you can see what they, too, added to this Pony that will sit in Avery Dennison's North Hall Booth No. 12637.
---
A Focus on Bold
The vehicle in Sharpline Converting Inc.'s booth will feature a fully customized 2012 Ford Focus built by M&J Enterprises, a project vehicle builder in Phillips Ranch, Calif. This eye-catching compact, photographed by SG Photography, will be on display for demonstrations and applications of Sharpline's DuraShield brand paint protection film products. The vehicle has been featured in several auto shows in the United States and Canada this year, including the recent Barrett-Jackson Collector Car Auction in Orange County, Calif.
So many suppliers got themselves involved in this bold-looking project: Paint application by Starside Design starts it off with film treatments by 3M with its Crystalline window tint and black vinyl window trim by Tint Factory. You'll find House of Kolor paint products in the mix. How about 3dCarbon's rear spoiler and Bojix's front lip and rocker extensions? Then there's Oracle's LED headlight kit. Pecca Leather comes through with seat covers, door panels and shift boot, while Midwest Finishes does some interior trim.
Finish the look with Bassani cat-back stainless steel exhaust system with Bassani tips, Hankook Ventus rS-3tires wrapped around Ace alloy Couture 19″ wheels.
Add H&R Sport Springs. Even more stability comes with TCE Performance's front big brake kit and rear slotted rotors, along with Hawk Performance brake pads. And don't forget the Injen Technologies tuned air intake system.
Got sound? JBL offers its component speakers, amplifiers and 10″ sub-woofers, along with Amplified Motorsports' custom sub-woofer enclosure and speaker installation.
Get focused on this car in Booth No. 12829 in the North Hall.
---
Copper Camaro
It's Tjin, again. The Tjin Edition Chevy Camaro 1LEwill be the perfect blend where function and form meet style and performance. This Camaro is air-to-air-charge cooled and comes with a fuel pump booster.
Neil Tjin just has so much going on and so many companies and their aftermarket goodies in place. How 'bout these: American Racing headers;Injector Dynamics injectors; Motiv Concepts high-flow catalytic converter; MagnaFlow exhaust; NX intercooler spray bar.
Now, take a look at that paint from Dupont, by LR Paint and Body. Cool up the exterior some more with Street Scene lip kit, wing and grilles; Advanced Composite Specialities bumper vents and hood vents; Light WurkZ LED headlights and LEDbumper bars. Then add Falken Tires on Rotiform wheels. And add on Tangent bolts.
Give some good stance with Pedders suspension and Exotic Air suspension cups. Unique Fabrication adds a harness bar. Slow the Camaro down when it has to with Baer brakes. And if Smokey's around, Escort radar sends a message.
Go inside and sit in that Katzkin interior, with the overhead Webasto sunroof. Scoche Audio gives that sound, and monitor the engine's functioning with GlowShift gauges. And keep the motor smooth with Royal Purple fluids.
---
Modern Muscle Move
Motovicity Distribution, Madison Heights, Mich., teamed up with a select group of the company's brands to build this 2010 Camaro SS as a way of announcing its expansion into the modern muscle segment. The Camaro is outfitted with a 436-ci. professionally built endurance engine that is set up to handle 18 psi of boost from the twin turbochargers tucked under the hood that push the engine to 1,000 hp. The Camaro also sports a handcrafted one-off wide-body kit that really accentuates the body lines and gives this Camaro the looks to match its power.
Parts suppliers for this muscle car include the following: ARP fasteners; AEM gauges; BBK throttle body; Eibach coil-overs and swaybars; Energy Suspension bushings; Exedy multiplate clutch; Royal Purple oil; Stoptech big brake kit, front and rear; and Vibrant Fabrication components.
Catch that power at Booth No. 25157.
---
Street Comp M/T
How hot are this year's Mustangs? Ssssssssssssss – Hot!
This isn't just a 2013 Ford Mustang GT 5.0 six-speed manual. It's got  650+ hp in its pony's legs to show off the cornering capability of Mickey Thompson Tires and Wheels' new Street Comp tires. "Street Comp M/T" will feature custom paint, carbon fiber body kit, supercharger, air intake, headers, performance exhaust, custom wheels, brake upgrades and a fully customized interior.
Whatever the passion – road racing, autocross, drag racing or a night on the town – this Mustang will be one class act that's tough to follow. Thank these sponsors for helping this pony run: Ford Motor Co., Mickey Thompson Tires and Wheels, Edelbrock, XS Power Batteries, Doug Thorley, Anvil, Katzkin, Centerforce Clutches, SCT Programmers and more.
See it "pony up" in Booth No. 43021.
---
Enkore
The 2013 trucks might be out, but this 2010 Ford F-150 is outstanding. And it's a standout.
Ready to tackle a little offroad fun? Wrap four 46″ Mickey Thompson Baja Claw tires around 20 x 12 Fuel Off-Road "Nuts" wheels, supported by a 3rd Coast Suspension custom 20″ lift, Icon Vehicle Dynamics' custom coil-overs and upper control arms and all you need is the power. You'll get some of that from a ProCharger supercharger with Comp Cams camshafts tuned at Injected Speed Shop. Then give the picked-up pickup a Snow Performance water-methanol injection. Then add to it Stainless Works long tube headers and dual exhaust, a Mag-Hytec differential cover and Yukon Gear & Axle.
Bulldog Lighting supplies the LED light bars, N-fab the light bar roof mount and Spyder the headlights and taillights.
Suncoast Creations adds its ram air hood, while N-fab offers its pre-runner front bumper and rear runner.
And you want the F-150 to look sharp, too, and give a little added protection with Fiberwerx front fenders and bumper cap and Bushwacker rear flares and an RBP RX3 grille. UnderCover covers the bed with its LUX tonneau, while the bed gets a BedRug cover. Add a couple UnderCover Swing Cases for storage. Now, tint the windows and add some inside comfort for the crew with Roadwire black leather with blue stitching.
Want to see this blue baby? Look for it at UnderCover's South Hall – Upper Booth No. 31059.
---
Race Ready
Every time Rick Bottom gets his hands on a car to restyle, it's time to sit back and watch him go. Bottom teams with Jannetty Racing Enterprises JRE on their "XTC 800," a 2013 Camaro SS/RS convertible, featuring a Vortech V3 supercharger with air-to-air intercooler.
But like those informercials say, "Wait. There's more!"
And here you go:
How about the Eaton TruTrac posi unit; Jannetty billet diff side plates, "Rough idle blower cam" and Jannetty Vortech upgrade kit; Billy Boat performance dual-mode exhaust; and American Racing Headers 1-7/8″-long tube headers and floor brace; and Pedders USA SuperCar suspension system by Raymond Performance.
Look at the exterior for Planet Color paint; 3dCarbon body kit and spoiler; RaceMesh grilles; Showstopper hood side marker lights and under-hood covers; Gary's Customz vented fenders; Anzo taillights; American Brothers Designs billet accessories and door handles; and Pennington wind restrictor. Plus find the Classic Design Concepts sport bar; Axiom forged wheels; and Pirelli tires.
Go inside to see Metra 2-din dash kit and OE navigation; TruConnect wiring; and Vibe audio. Roadwire leather upholstery; Hurst shifter and roll control; Centerforce clutch; Innovate gauges, Lingenfelter fuel system and 3.70 gears
Tucked away are Granetelli Motorsports  rotors and  plug wires; Autometer pillar pod; SCT tuning software; ID-850 injectors by Injector Dynamics; Holley coil covers; Fragola AN fittings; and Driveshaft Shop 1,000-hp axles and aluminum drive shaft.
Audio installation by Greg Kosobudski of Epic Garage; and Shuriken batteries.
Get over to the Metra Electronics Booth 11841 in the North Hall-Center to get a good look.
---
En-Raptored
This blue 2012 Ford Raptor takes you where you want to go on or off the road, which is what its maker designed it for. Jim Lewis of Pro MotoSports, Scottsdale, Ariz., takes the stock truck and goes it one better with the kind of aftermarket add-ons our industry is famous for. Here's a list: a Leer 100XQ truck cap; Sony in the cab; Toyo tires on BMF wheels; Anzo lighting; T-Rex grille. And to maintain that performance on and off road: ICON; MagnaFlow; Pro Charger; and Rockford.
Take a look at this Raptor in Booth 34071.
---
>Crew Chief
This 2013 Ford F150 Super Crew Lariat 4×4 gets respect -" and it gets respect for the boss. Designed to appeal to the millions of Americans that put their lives in the hands of their trucks each and every day, Westin Automotive Products envisions this oxford white 2013 Ford F150 Super Crew with its 5L V8 engine, 5.5′ styleside bed, with color-coordinated interior, to be ready for whatever the workday or adventure the weekend could bring (with a proud 30- to 50-something owner behind the wheel. This truck is, first and foremost, a personal truck.
And the way Westin and its partner have this rig mapped out, it is very personal.
Westin put these goodies from its own brand corral on the super pickup: HDX winch mount grille guard with HDX light mount clasps; 6″ offroad lights; T-Max Outback Series winch; Wade bug shield, window deflectors and Sure-Fit mats; HDX running board; Pro-Traxx oval tube; Sure-Tow® hitch receiver; and HDX® slim toolbox. Bushwacker, came along for the ride with its 3″ flares.
MagnaFlow and Stett help with the exhaust system and performance air intake. BDS takes care of the suspension with a 6″ lift kit, while BMF Wheels puts on the 20×12 S.E.R.E , six-lug, wrapped with Toyo's 37 x 13.50 x 20 tires.
Inside is comfort and entertainment, starting with a full Katzkin Leather Interior arrangement and Rollin' Art interior pieces. Kicker provides the sound with its four 12″ subs, two three-channel amps, 1,000W amp and other components.
You can see this contractor-themed boss' rig in Booth 34031.
---
Cool Fusion
A midsize sedan? A family car? Well, OK – if the family is one of those that wants to stand out from the crowd in a fun, comfortable "family sedan."
It's another Tjin Edition project vehicle, this one a 2013 Ford Fusion. And it's anything but stock, thanks to some great aftermarket add-ons, starting with a 3dCarbon lip kit and wing; Webasto sunroof; Katzkin interior; and Recaro baby seats. Install Scoche audio; Escort radar; and GlowShift gauges to complete the interior. Give it a latte-golden-brown body color of Dupont paint by LR Paint and Body, and put on well-matched iForged wheels with Falken tires. Complete the sleek – and slick – exterior look with Light WurkZ LED headlights and LED bumper bars.
But Tjin isn't done yet. There's a bit of performance added to the Fusion: Unique Fabrication turbo kit; Vibrant tubing and intercooler; NX spray bar; Motiv Concepts high-flow catalytic converter; MagnaFlow exhaust; Tangent bolts; Baer brakes; Pedders suspension and Exotic Air suspension cups; and Royal Purple fluids.
Find this oh-so-cool Fusion at the Ford Booth.
---
Crossing The Rubicon
Here's an urban/offroad look: a 2012 Jeep Wrangler 4DR Rubicon 4×4. BDS supplies the 2″ lift kit and BMF the M80 offroad rims; then add the Open Country Toyo tires that get a bit of "hoody" protection with Rampage flares. Westin Automotive Products adds in its own flare with these aftermarket appointments: Max winch tray and bull-bar/light-bar setup with 6″ offroad lights; T-Max Off-Road Series winch; Wade's bug shield, window deflectors, Sure-Fit mats, SkyTop and air intake. Then add on GenX Oval Tube steps.
Need to see this one? It's at Booth 34031.
---
Batter Up!
Top-gun ballplayers don't get it all done on the ball field. Some of them, like Cincinnati Reds pitcher Sean Gallagher, get off the field and onto the road in style. Here's what Jim Lewis of Pro MotoSports, Scottsdale, Ariz., has done to Gallagher's 2011 F250 Crew Cab Limited Edition for the show: Pace Edwards Bedlocker Electric; Bedslide cargo slide unit, 10″ Rize lift with copper plating; chrome-plated King shocks; RBP-branded grille and 24″ wheels; Kumho 38″ tires; Bushwacker flares; MBRP exhaust tips; Bully Dog tuner; Alpine head unit; Focal speakers; Roadwire leather and suede seats with copper stitching, and a matching headliner.
Find this truck in LTAA's Booth.
---
Full Recovery
It's just another cool, popular 2012 Jeep Wrangler Unlimited Rubicon 4×4. Not!
Jeep builder Dave Doetsch, who transformed an early childhood interest of monster truck racing into a full-fledged professional business designing and building some of the offroad industry's hottest vehicles, designed what he and the Omix-Ada people wanted to become the ultimate offroad recovery vehicle created to get stuck 4x4s stuck out of the toughest terrain. The result: the "Crush Recovery" Jeep.
Doetsch outfitted the Jeep with more than 60 of the latest products from Omix's family of brands including, Alloy USA's high-strength chromoly axle shafts and Rugged Ridge XHD modular aluminum bumpers and new half doors for Jeep. New for 2012 Jeep is the Orange Crush color; the vibrant color stands out among the green and brown hues of the outdoors, making rescuers easily visible to those in need.
Some of the other product sponsors contributing to the project include the following: Rhino Linings; Amsoil; Truck-Lite; Monster Hooks; TeraFlex; and Fox.
---
In High Gear
The SEMA Businesswomen's Network (SBN) knew it was time to show that in the automotive world a woman's place is in the garage. So, leaders in the aftermarket industry put their heads together and came up with the idea to take a stock vehicle and turn it into an aftermarket showpiece. With a contest to choose the best design, Ford designer Jennifer Seely's "High Gear" Mustang captured the votes. The team assembled the following companies to supply the items to transform the muscle car:
Powertrain: exhaust, a Magnaflow SYS C/B 2013 Ford Mustang 5.0L w/custom tips; Edelbrock E-Force Mustang 5.0L supercharger street legal kits; Moser Engineering aluminum differential covers; Trufiber 2010-12 Mustang TruCarbon carbon fiber radiator cover; Classic Tubes 4 StopFlex stainless braided hoses; and oil and air filters from K&N.
Suspension: coil-over suspension, front struts and springs, and rear springs and shocks from H&R Springs; adjustable lower control arms, adjustable upper control arm and mount, adjustable panhard rod, rear chassis brace, geometry correction brackets, four-point adjustable front and rear sway bars, and Moser Engineering replacement C-clip axles, all courtesy of Whiteline USA; and bearings and wheel studs from Moser Engineering.
Interior: Katzkin Leather seat covers; Ford Boss 302 shifter; Roush Performance pedals; Lloyd's Floor Mats; and Ford scuff plates.
Sound & Electronics: Kicker supplies all: matched component speaker system; 6×9 coaxial speaker system; four-channel power amplifier; solo classic powered subwoofer; complete power installation kit.
Body & Exterior: Ford pony grille and headlights; 3dCarbon front bumper/valance/lip kit; and Oracle Lighting fog lights.
Wheels, axles, brakes & clutch: Perfect Equipment provides the Hofmann Power Weight wheel weights; Forgeline Motorsports offers front and rear wheels; the 265/35ZR20 99Y XL P ZERO front tires and 305/30ZR20 (99Y) XL P ZERO rear tires are from Pirelli; Wilwood Disc Brakes puts in the front and rear Big Brake kits; and Advanced Clutch Technology offers its ACT heavy-duty street clutch kit for 2011-13 Ford Mustang 5.0L, and XACT ProLite flywheel for 2011-13 Ford Mustang 5.0L. It might be in the Ford Booth.
---
A Green Machine
ADDCO, a manufacturer of American-made performance sway bars, is building a new show vehicle for the 2012 SEMA Show in Las Vegas. A 2013 Mustang GT has been selected as the platform for the firm's latest showcase, which promises to be a focal point.
Support for ADDCO's Mustang project has come from a vast number of aftermarket companies, including, but not limited to Hellion Power Systems, 3dCarbon, Borla Performance, BC Racing, Nitto tires, Kicker/ Stillwater Designs, Sony, Wilwood, XS Power, Classic Design Concepts, Croftgate USA, Flex-A-Lite, Metra, Katzkin interiors, Scott Drake, Design Engineering Inc., SCT, AEM Electronics, Speed of Sound, Woodhouse Ford, Whiteline and ADDCO. In addition, Ford Racing is involved in providing parts and helping to bring this vehicle to fruition.
Find this muscle car, looking like it's itchin' to get loose on the road, at ADDCO's display in Center Hall's Performance Alley,
Booth No. 23937.
---
Perfect Purple
Cody Dignan owns a 2007 Ford F-350 Super Duty Diesel dually. Fair enough… for a lot of people. But this dually takes "fair" and goes for the top grade – A+. The truck has an adjustable air-bagged suspension installed by Grunion Customs of Phoenix. With the suspension maintained by Viair compressors, Slam Specialties air bags and an AVS switchbox, Dignan can drive low or raise the suspension to still get big-time pull with the custom-fabricated 5th-wheel hitch and rear mounted-receiver.
The interior is a combination of black leather and gray suede installed by the Interior Shop in Phoenix.
The truck has a full, custom paint job from BC Auto Body, where Ryan Burson painted the truck using all PPG products, with the bottom half "Crystal Black" and the top half "Perfect Purple." Two additional colors break up the two-tone.
American Force Wheels sent a set of 24″ Fusion 10-lug, semi-style wheels.
In order to maintain a proper alignment at such low-ride height Jeremy Rice at Tre-5 will fabricate an arm-style suspension similar to that found on a Chevy truck.
Also added to the truck this year will be a Leer 700 fiberglass painted tonneau cover to match the "Perfect Purple" top half. Todd at the Interior Shop will build a full center console that will be home to the new subs for the full audio/video system be installed by Total Auto Pros; the console will be painted-to-match "Perfect Purple." For more power and tow Dignan plans to upgrade the stock turbo to an Aurora 3000 turbo system from ATS Diesel.
This long-rider will be found at American Force Wheel's Booth 47053.
---
Vortech Vortex
Muscle, muscle, muscle. How muscular is this 010 Dodge Challenger 5.7L? Even stock, it's all-American muscle car. Vortech took this Challenger as a project car and put in its own Vortech Challenger V-3 Si supercharger and let it be air-to-water-charge cooled. The build team added Forgiato wheels with Toyo tires supported by KW and Whiteline suspension systems. Baer brakes and Borla exhaust help quite a bit. And for the final look: a DuPont paint job by L&R Paint and Body.
Look for this Challenger at Booth No. 23063.
---
Foose Redux
It's a '49 Caddy gone hotrod – Chip Foose style. Here's the story on this refashioned EldoRod:
A significant part of Foose's design history, EldoRod is the first car he designed as a full-time employee at Boyd's Hot Rods. Ironically, it is the last car to be delivered out of the Boyd Shop before it closed in 1998. Based on a 1949 Cadillac, it is sometimes referred as the sister car to the Larry Erickson designed, Billy Gibbons owned Cadzilla.
Foose's original design had a lot of details that were removed or abbreviated in the interest of delivering the car. When current owner Chris Andrews purchased the car, he contacted Foose to ask if he would be interested in redoing the vehicle based on the original sketches. Foose jumped at the chance.
Many subtle design features based on the original design that previously lived only on paper are being fabricated for this refresh. The hood line has been changed, the front windshield reshaped with a more gentle curve, the dash has been reshaped to match the hood line, the wheel openings have been reshaped, front and rear bumpers are restyled including bumperettes from a '56 Nomad and grille opening from a mid-1950s Olds.
New chrome side trim has been custom made; and the top has been reshaped, surrounded by a thin chrome trim border and re-skinned in Mercedes canvas. The original maroon color has been repainted in a deep BASF Glasurit 90 blended blue, based on the color found in Foose's original illustration. A completely new leather interior has been designed, stitched and installed.
See the refashioned EldoRod in Booth No.  21455.
---
Big Time Vroom
HKS, Fujinomiya, Japan is well known for building innovative and exciting performance products. This Nissan R35 GTR was built by HKS as a showcase for the company's latest parts for the GTR platform. With the standard VQ38 punched out to 4.1L using HKS' new internals kit, and the manufacturer's turbo package, this GTR pumps out 1,005 hp at 6,700 rpm.
Parts that muscled up this Nissan are all HKS: 4.1L engine kit; GTR1000 turbo package; GTR1000 intercooler; intake manifold; and Hipermax suspension.
You'll find this road-hugging sports car at Booth No. 25157.
---
Jeep Envy
Aries Automotive will unleash its new Jeep JK this fall at SEMA: the Andrade Edition II will host Aries' new Aluma products, which include front- and back-end replacement bumpers, 4″ heavy-duty sidebars, tubular doors and its security cargo lid. In addition, the Adrade Edition II also will show Aries' new tire carrier/Hi-Lift rack, rock crawler roof rack, hood-hinge light holders and floor liners.
Additional sponsors of accessories include the following: BMF wheels; Toyo tires' Hi-Lift; K&N; Hypertech; Gibson exhaust; Ramsey winch; Skyjacker 6″ suspension; Fox shocks; Katzkin interiors; and PIAA lights.
See the JK in Booth No. 35035.
---
Mustang Rally
Take a 2013 Ford Mustang GT and give it to Vortech as a project car, and you'll get one kickin' pony. Vortech put in its V-3 Si supercharger with 8psi, making 605 hp and 473TQ eight-rib upgrade, competition air inlet and fuel pump voltage booster. Swoosh! This Mustang is air-to-air-charge cooled. Give it KW and Whiteline suspensions for a little extra road hug, along with  its Toyo tires wrapped around Forgestar wheels. Put on the Baer brakes to slow this Mustang down. Don't forget the Borla exhaust. And give it that low, road-grabbing stance with a Street Scene lip kit, wing and window ducts. The Scosche dash-unit gives a driver something to smile about, too.
Find this pony car at Booth No. 23063.
---
How Green The Grinch
Seems like every time the Ringbrothers get a hold of a vehicle, something great will come of it. Well, here's yet another Ringbrothers' build coming to this year's show. This one will be a 1970 Camaro called The Grinch, and the re-builders report that it's been "heavily modified," from its custom carbon fiber hood with an interchangeable insert, modified fender flares, full belly pans and lowered rocker panels to its one-piece front end, custom one-off rear bumper, intake manifold that's reversed to draw air from the cowl and its hand-built inner fenders.
What else? Oh, my… here's a complete list: custom green BASF Glasurit waterborne paint; Wegner Motorsports LS3 600 HP; Bowler TKO 600 five-speed transmission; Detroit Speed suspension, hydrofromed subframe, quadralink rear; Flowmaster exhaust; Hurst shifter; Hose Candy hose skins, hose bones and boa clamps; Royal Purple performance fluids; Precision Metalcraft intake manifold; Vintage Air Gen IV kit; Heatshield Products header wraps, spark plug boots, under-car heat shield; Ididit steering column with Ringbrothers Terminator Touch start system; AFCO shocks; Classic Instruments gauges; American Autowire wiring harness; Dynamat sound control; and Be Cool radiator.
Get a look at this mean-green machine in Booth No. 21455
---
A Powerful Storm Is Brewing
RealTruck.com, based in Jamestown, N.D., launched its Storm Truck Project, an initiative to customize a 2012 Chevy Silverado 2500 using high-end accessories and electronics.
The project is a labor of love for RealTruck CEO Scott Bintz, who envisioned the concept of putting everything his company could into one vehicle to show what's possible with truck customization.
Storm Truck is being built with the help of The Foss Shop, a family-operated auto body shop in Casselton, N.D. The project is challenging the team to do innovative customization work, including building a barn door-style tailgate, Lambo doors and vertical doors. Other upgrades to the exterior of the truck include massive wheels, mud grappler tires, a 6″ lift kit, power running boards, heavy-duty bumpers and LED lights.
Fargo, N.D., audio/visual retailer Site On Sound will be working on the Storm Truck's interior and electronics. The upgrades will include a television with gaming console that rises out of the truck bed, television screens in the rear-hinged back doors and the tailgate doors, and an iPad that controls the doors and electronics in the truck.
Here's who's contributing to the build: Boondock Bumpers, front/rear Backwoods; AMP Research PowerStep running boards, BedStep and BedStep2; WeatherTech Extreme Duty floor liners; Injen Power Flow air intakes; AVS in-channel vent visors; Putco oval truck bed rails, G2 DayLiners LED headlight trim, LED replacement dome lights, complete vehicle and stick-type replacement light bulbs and Liquid Billet pedals; KC HiLites LZR LED 10″ offroad light bar; Pro Comp 6″ lift kit; Pace Edwards BedLocker tonneau; Recon projector headlights; Gibson performance exhaust; US Speedo replacement needles (blue) and Daytona Gauge face kit (white); Fargo Tire; Nitto Mud Grapplers extreme terrain 40×15-50R22LT tires; Moto Metal 962 22″ x 14″ wheels; WeatherProof wire connector kit; two-channel motor control unit;
200-lb. capacity AutoLoc adjustable linear actuator with rod bearing; adjustable cable clamp  40-amp circuit breaker, deluxe emergency latch release system with crimp and hidden antenna; Keep It Clean 51″ Plug-n-Play deluxe relay harness socket; adjustable oval door popper;
Four-function 35-lb. and five-function 15-lb. remote shaved door popper kit; locking large bear; 2012 Silverado 2500 180 suicide door hinges; Site On Sound is responsible for audio and a majority of the interior work; Wilhelm Auto; and Midwest Machine is doing all powder coating.
The completed project will be on display in the Light Truck Accessory Alliance (LTAA) Booth section of the show floor at the 2012 SEMA Show.
---
A Century For Today
When Corky Coker, owner of Coker Tire Co., decided to build a car for himself, he chose a 1954 Buick Century. The car has an aftermarket suspension and brake system to provide a comfortable driving experience, while a mildly modified Buick Nailhead V8 offers plenty of power. Honest Charley Garage built the Buick, and gave it an old school look with Coker Tire's BFGoodrich whitewall radials and steel wheels from Specialty.
Go back to the future to find this '54 beauty in Booth No. 22775.
---
A Dark Knight That Shines
The team at Meyer Distributing got to it again with this 2012 Jeep Wrangler JK four-door set to take its stage at this year's show. The team's project includes a bevy of aftermarket goodies that will make any JK owner yearn to get his or her offroader equipped like this wrangler.
To start, 37″ Toyo Open Country M/T tires on 17″ BMF Novakane 5 wheels. Attach an ARB front and rear bumper with tire carrier, and AMP Powersteps. Give it a Draw Tite hitch to pull or help carry what you need out to the offroad roads. Give it some Rigid LED lighting and Recon LED smoke lenses for good… and cool-looking… lighting.
For good stability, how about a Rancho suspension lift w/MT7000 series shocks, a JKS track bar and then a Motive Gear ring and pinion for the drivetrain. Hook up a Dynomax cat-back exhaust, attach up front a TMD hood; then finish off with Weathertech floor and cargo liners, a  DEI remote starter, an All Sales locking fuel door and Daystar's switch panel and accessories.
---