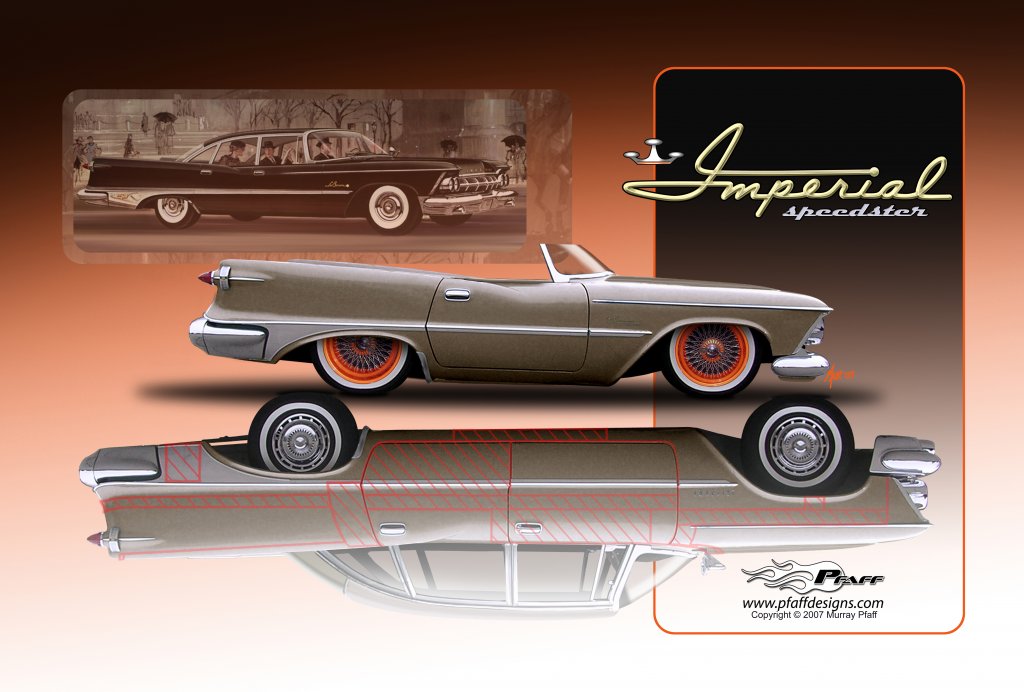 Editor's note: The team behind the "Imperial Speedster" project vehicle outlines what all's involved in turning a barn find into an award-winning showpiece.
To Murray Pfaff, there's more to any car than wheels, a chassis and a body. Those elements merely serve as a canvas for something greater and more artistic.
Pfaff, an artist, industrial designer, creative director and long-time hot rod enthusiast, owns Pfaff Designs in Royal Oak, Mich. Known for his unique renderings of hot rods and custom cars for a blue-chip client base, Pfaff has designed one-of-a-kind vehicles for numerous well-known hot rod garages, celebrities and professional athletes.
From Sammy Hagar's prized 1967 Mustang to "Franken'Cuda," featured in the latest film in the "The Fast and the Furious" franchise, to a recently unveiled Richard Petty tribute car, Pfaff has the know-how, the tools and the support to make dream cars a reality.
"On paper, the designs may appear simple, but in steel, it can be a whole different story," Pfaff says. "I always try to make smart choices when designing for others and set the builder up for success."
Using the latest digital imaging technology, he can take any vehicle, make unique, custom modifications to it and produce renderings that are "so real that some assume they're looking at photos of finished vehicles," Pfaff says, noting that this type of rendering allows him to present concepts to customers or corporate partners so they can see exactly what the finished project will look like, as he says, "beyond a shadow of a doubt."
He believes each vehicle he works on serves as an extension of its owner's personality.
"You don't just sit down and build a car," he says. "You have to know about the owner to design it and bring it to reality."
Once the design is complete, Pfaff proceeds with the help of a team of skilled builders, to create the car depicted in the renderings. A pro builder he is not, Pfaff says, likening himself more to the role of quarterback.
"I'm not a professional welder or builder," he says. "I know enough to be dangerous, so I create a blueprint, get my team together and, in essence, send the ball downfield to them. I throw it and hope they catch it."
His Own Project
Following an increasingly persistent desire to design and build a groundbreaking car without a customer's wishes in mind, Pfaff recently made his own dream car project a reality.
He and his team-a group of close friends and fellow hot rodders-embarked upon a major re-imagining of a 1959 Chrysler Imperial Sedan into "The Imperial Speedster"-an endeavor that was in the making for the past four years when the proverbial light bulb went off in his head at a hot rod show.
"I met a guy at a show who had built a 'Volksrod,'" Pfaff explains. "It was a crazy little car. Not smooth and polished, but so radical that it demanded you look at it. The guy told me he had built it in three months in his garage. I wanted to do the same thing, but add my own twist to the idea."
A fan of the outrageous '50s Chrysler products, Pfaff selected the 1959 Imperial sedan, and set out to find one he could chop into a "rough-around-the-edges, fender-less hot rod."
"I figured I'd find the car in a junkyard, rusted from the door handles down" he says. "Instead I was visiting my Dad in northern New York and he mentioned he knew about a guy with a car in a barn. Two weeks later it was in my driveway in Michigan. It was too nice and solid to make a rat rod out of, so I had to come up with a plan B. I was committed to redesigning it and rebuilding it in some fashion."
Pfaff and a team of 10 skilled and enthusiastic friends took on the challenge with vigor and determination. They spent not three months building out his design but, instead, three-and-a-half years and 10,000 recorded labor hours gutting and dismantling the 19-foot-long car to transform it from a hulking, four-door sedan to a flashy two-door sports model.
"The Imperial Speedster is a 'What if?' look at a luxury Chrysler sports car," Pfaff says. "I learned firsthand that drawing a cool little car and building one are two completely different things."
Tearing It Apart
According to Pfaff and his chief welder and fabricator, Steve Langdon, a telescoping, multi-axis body jig, fabricated from heavy steel tubing, helped keep the vehicle's sections in alignment as the team sectioned and shortened the shell, slowly narrowing and reshaping it from a hulking sedan into a rather compact, streamlined sports car.
"The proportions of the car were important to the overall design, so we wanted to get the body right before building a chassis, fitting a power plant or dealing with the concerns of the wheelbase and track," Pfaff says. "Once we sized the body down, then we could focus on those details."
The team gutted the car and mounted the body shell on an adjustable jig's table, where it was squarely welded to the legs before the crew began to cut it apart. The first cut took off the car's top and left the "A-pillars a little long," Pfaff recalls. With this first slice the transformation began with a lengthy list of cutting chores to follow-"resulting in several pieces that eventually would need to be reassembled.
By the time the project was complete, the team had cut the original, hulking sedan into 46 major pieces and welded it completely back together. They also substantially reduced its size in the process, shortening it in five places for a total of 52 inches and also cut it in half, taking 8 inches off the width.
The team cut horizontally through the beltline, removing 3 inches from the height, and channeled the body 4 inches over a custom chassis, which was welded together to create a monocoque-type construction.
Welding played a major role in the rebuilding process. Over the course of the build, the team worked with other skilled welders and metal fabricators to overcome challenges and troubleshoot problems.
One of the pros they turned to was noted fabricator Ron Fournier, who gave this key piece of advice: "Don't lose control of the metal."
The team kept this in mind as it set out to recreate the car to Pfaff's design and specifications in Pfaff's home garage. Langdon said most of the outer body panels were welded back together with mild steel and silicon bronze, using a Precision TIG 185 (current model Precision TIG 225) power source from Lincoln Electric, while the floors, the firewall and some of the underlying areas that aren't visible were welded with Lincoln Electric's POWER MIG 140C.
"I chose to TIG weld the outer body structures to minimize heat input, especially on the long body panels," says Langdon, who works as a welding instructor in Pontiac, Mich. "The less heat you have, the less chance for warping."
According to Langdon, who has specialized in the TIG process since early in his welding career, they started the welding process by first tack-welding and dollying the tack with Lincoln Electric's Invertec V350-PRO multi-process welder to make sure the panels didn't start moving in the wrong direction, particularly on sheet metal areas, such as the hood, doors and the trunk lid-which turned out to be a mini project unto itself.
"We cut the lid into five pieces. We had to remove the detail that looked like a spare tire and then quartered the trunk," Langdon says. "We then welded it back together and added the detail back on. Throughout the process, we ran into a lot of challenges, but we faced them head-on."
Restyling Success
Despite a significant reduction in size and a complete rebuild and restyling of the original sedan, Pfaff and his friends were able to retain all of the original Imperial detailing on the vehicle, while eliminating mass in its finished form.
Beneath the classic styling and shining chrome, lies a powerhouse-a thoroughly modern performance vehicle. The car features a 425-hp 6.1-liter SRT Hemi V-8 engine featuring sports modified valve covers from the 1950s, channeled through a 518 automatic transmission to a Dodge Viper independent rear suspension. Its stopping power comes from four-piston, monobloc brake calipers taken directly from NASCAR superspeedway cars.
The car is ready to race, and it already has, Pfaff says. Its driving debut was during last year's Power Tour, where it took a lap at the Indianapolis Motor Speedway. The Imperial Speedster also competed for Street Machine of the Year at the Goodguys show in Columbus, Ohio.
"That's where we auto-crossed it," Pfaff says. "People thought we never would do that with it."
The Imperial Speedster received the Meguiar's Magnificent Masterpiece award and also the coveted Select Six recognition in the Winfield Awards at the 2011Syracuse Nationals. Most recently, it garnered the Mother's Choice Award at the 2011 SEMA Show.
"Custom cars and hot rods are the ultimate personal statement, and ultimately they only need to please one person: the owner," he says. "Too often, I find cars are being built to please others-show-goers, editors, judges. In trying to please everyone, you don't please anyone. Cars should make a statement and should tell you a little about the people who own them. And they shouldn't be perfect. We fall in love with cars for their quirks, oddities and imperfections as much as for their beautiful lines and form."
Pfaff says he feels building his own car was an excellent learning experience for him as a designer because it got him out of the studio and into the garage, experiencing what those who build his designs undergo when they have his blueprints in hand.
"It has made me a better designer," he says. "I understand first-hand how things are built and how to design to help things be built better, smarter and in a more efficient way. And it let me put my own stamp on something I designed, from start to finish."