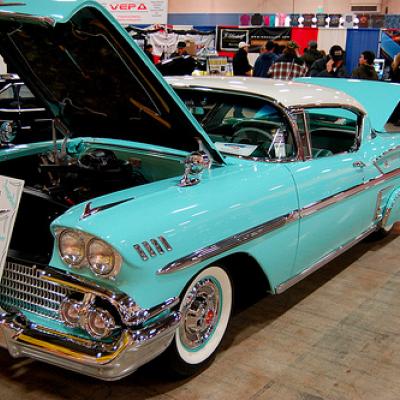 Here are a few hot rod get-togethers planned for this weekend… Send information regarding car shows, cruises and other hotrod and classic car events to HRREditor@NBM.com
May 17-19, 2013: Goodguys 8th Nashville Nationals at LP Field, Tennessee Titan Stadium, 1 Titans Way, Nashville, TN 37213. More than 2,000 hot rods, customs, classics, muscle cars and trucks will be featured. www.good-guys.com/nvn
May 18, 2013: Old Tucson Dragway 51st Hot Rod Reunion, 12000 S. Houghton Road, Tucson, AZ 85707. Admission Price for Spectators: $10. Lots of nostalgic cars. Participant entry opens at 8am. Benefits: Humane Society of Southern Arizona. Music by: Retro Rockets. http://www.sirace.com
May 18, 2013: Wabash Valley Rodders Cruise-In & Poker Walk, 2324 South 3rd. St., Terre Haute, IN 47802; 5pm-9pm. Awards at 8:30pm; $3.00 Pre-Register. Dash Plaques to first 50; Presented by Wabash Valley Rodders & Show Mes. Benefits: Cloth-a-child. Email justcruisin95@aol.com or call 812-446-2612.
May 17-19, 2013: Beach Blast 19 at the International Palms Resort, 1300 N. Atlantic Ave., Cocoa Beach, FL 32931. Event T-shirts; open to all makes & models; presented by Mike Kelly Cruise News; Music by DJ Butch Johnson of WJBJ. www.cruisenewsonline.com/BeachBlast.html
May 17-19, 2013: Two Nations Thousand Islands 3rd Annual Extravaganza at Cerow Recreation Park, 600 East Line Rd., Clayton, NY 13624. Gates open Friday 2pm to 7pm, Saturday 9am to 7pm, Sunday 10am to 4pm. Free entry to everyone who brings a classic, antique, muscle car, import, truck, farm tractor, modified tractor, race car, etc. Donations benefit the Jefferson County Historical Society and Local Food Pantries. Presented by Highway Legends. www.highwaylegends.us
May 19, 2013: 14th Annual Wheels and Waves Classic Car and Hot Rod Show, on State St., between Micheltorena and Gutierrez, Santa Barbara, Calif. 9am – 4pm. Over 350 classic cars, hot rods and performance vehicles. BBQ, vendors, entertainment. Proceeds to Wheels and Waves Foundation supports Page Youth Center, Progeria Research Foundation, Goleta Lions Club and Santa Barbara Downtown Org. www.wheelsandwaves.com.
May 19, 2013: 4th Annual Collins Cruisin for a Cause Car Show, at Sonora High School, 401 N. Palm St., La Habra, Calif. Hours: 9am – 3pm. Open to pre' 89 vehicles, car and truck clubs welcome. Lunch, awards and drawings. Proceeds benefit Juvenile Diabetes research. Contact: Liz 562.665.5515 or email StevesCrewProductionsun1@gmail.com.