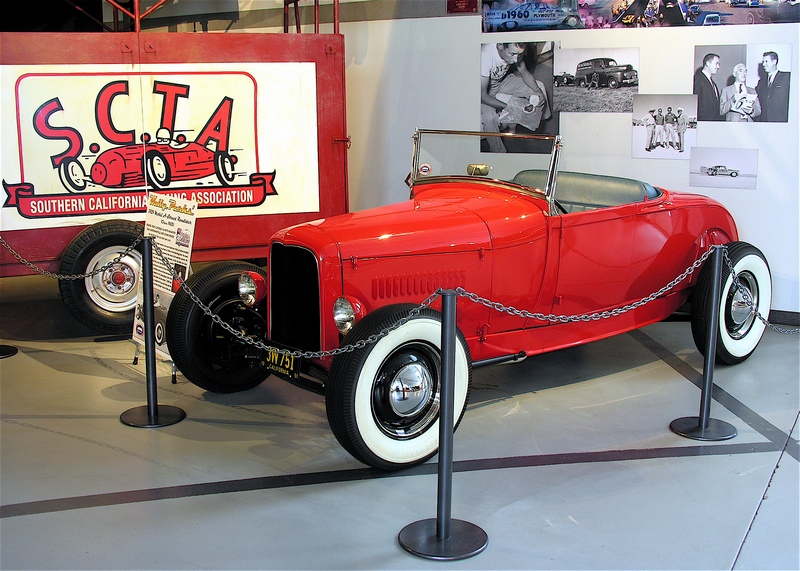 Editor's note: This is the second in a series of articles reviewing the history of hot rods and the origins of the performance market. Here, we take a look at the growth of the hot rod movement following World War II.
Hot Rod Heritage, Part I     Hot Rod Heritage, Part III
After the war there was said to be more than 200 manufacturers producing speed parts for the Ford Flathead engine. While many customers were concentrated in California, parts were being sold all over the country as word got out of the availability of these "hop-up" items.
The launch of "Hot Rod" magazine did wonders to help spread the word of the aftermarket racing equipment industry (and the hot rod scene in general); however, there were other titles that predated it.
"Throttle" magazine was introduced in 1941. Lasting just about a year (publishing some 12 issues in total), "Throttle" reported on the burgeoning dry lakes racing scene as well as covered circle track racing (including the Indy 500). Unfortunately, the war halted publication of the magazine and it never returned to the market after Jack Peters (editor and publisher) returned home after his service in the armed forces.
Another magazine called "Speed Age" came out in 1947, and there was a book release that same year: "Veda Orr's Hot Rod Pictorial" featured photographs of dry lake cars as well as drawings of them done by a young Richard Teague. Her book is considered one of the truest accounts of the goings-on of the era.
Live events were also happening. The First Annual Hot Rod Exposition took place in January, 1948. The three-day event was put on by Hollywood Associates Inc. and sponsored by the Southern California Timing Association, the group formed by five car clubs to help organize hot rodding. This exciting car event was held at the Los Angeles National Guard Armory and some 55,000 people showed up to see the cars and racing equipment.
It was at this event that Bob "Pete" Petersen and his then-partner Bob Lindsay launched their new magazine called "Hot Rod."
The 'Hot Rod' Effect
The venture was risky-there was no other publication like it at the time. However, Pete knew cars (he at the time owned a Ford Model A with a transplanted flathead V-8 engine in it from a '34 Ford) and he also was hungry for success.
Both partners invested $200 into the company and the first print run was 10,000 magazines. The 8-3/4-by-11-3/4-inch-sized publication sold well and quickly built its reputation.
Years later, Robert E. Petersen explained that Lindsay's father had a magazine of his own that catered to pet owners and that, plus the fact that Lindsay had worked in film developing, contributed to "Hot Rod's" success.
"All we had was a one-room office, a typewriter and some imagination…and a phone, two months after the first issue," Petersen is famous for saying.
The first editorial of that Vol. 1, No. 1 issue said the following: "HOT ROD is published to inform and entertain those interested in automobiles whose bodies and engines have been rebuilt in the quest for better performance and appearance."
Petersen and Lindsay were the only staffers for the first few years and freelancers included Anthony Granatelli and Tom Medley, the founder of the "Stroker McGurk" cartoon. Wally Parks soon joined the staff and then starting in the November 1949 issue, he was named editor, after leaving his executive secretary position at the SCTA.
The year 1949 was also about the time that running fast on the Bonneville Salt Flats started to become popular. The dry lake beds used in the earlier decades were showing the effects of years of constant use (causing rutted courses). "Hot Rod" cosponsored the first Bonneville event that year and it became the place to run safely at high speeds.
However, Utah was a long ways away from major population centers like Los Angeles, so there was a real concentrated effort for the hot-rodding movement to find alternatives for people to run their cars-if not at top-end speeds then from a standing start.
Thus, quarter-mile drag racing began to make its mark.
Quarter-Mile Competition
The roots of "organized" quarter-mile drag racing from a standing start goes back to a day in 1949 when four employees of Petersen Publishing (Parks, Don Francisco, Walt Woron and Medley) were traveling down California's Route 395 from Los Angeles to San Diego County in a brand-new 1949 Hydramatic Lincoln. The purpose of that trip was to conduct a road test on the car for "Motor Trend" magazine, and to run it through the measured quarter-mile for acceleration tests.
The destination was an unused airport located in Ramona, and J. Otto Crocker was there with his timing equipment that normally was used at the dry lakes.
What Parks and his pals didn't know was that a local San Diego car dealer named Fred Davies had heard about this testing project, and to add a bit of rivalry between the marques, Davies brought along a brand new Oldsmobile 88. Also, there was a turnout of San Diego-area hot rodders-about a dozen or so that ended up running against the clocks and each other.
Parks remembered that day in Ramona during a celebration of the 20th anniversary of NHRA in 1971 and said: "After a few preliminary test runs through the course, our project soon evolved into a full-fledged match race series-everyone raced anybody. It was before organized drag racing's existence, and in addition to adding new interest to a standard road test, we had a real ball!"
Looking back, those local hot rodders were big contributors in the "invention" of organized quarter-mile drag racing. Soon afterward, Parks began to get an organization together to race at tracks with a quarter-mile of length and adequate space to slow down afterwards.
What separated the cars running at Ramona that day and other activities elsewhere, at other airstrips like Goleta and of course racing on the streets, were the timing clocks. And it wasn't too much longer-June 19, 1950-when Cloyce J. "C.J." Hart started running drag races at one of the unused airstrips in Santa Ana.
In 1951, Parks (with help from Marvin Lee and Akton Miller) got the NHRA (National Hot Rod Association) up and running, and soon afterward there were quarter-mile drag strips sprouting up all over California and growing across the country, thanks in a large part to the "Safety Safari" that toured the country in 1954-'56.
The Safety Safari was a "get-acquainted" program that assisted others on how to set up drag meets under universal rules and proper supervision. After three years of the Safari, there were in excess of 165 new drag meets now taking place across the country annually.
Fitted to a T
The question of how long there would be a good supply of vintage T bodies came up in early 1954 when Spence Murray had written a piece titled: "The Perennial T" in the March issue of "Rod & Custom" magazine.
In it he said: "As long as there are street and competition roadsters running around, the Model T will continue to provide the body for such machines. The old Ford remains the favorite and will undoubtedly continue to do so for a long time."
Murray added that, even though the T was forever a favorite with builders, the present talk concerning material for car bodies hinted strongly of the advantages of fiberglass.
"This tough material is light in weight, easily formed and extremely durable," he added. "Should the T roadster body eventually become just a memory or exist only in a few scattered antique collections, it is quite possible that enthusiasts will continue to favor the T design, substituting fiberglass for steel. It appears that a roadster just isn't a roadster unless it suggests Ford's Model T days in one way or another."
Norm Grabowski started a major trend when he built his custom T-bucket in 1954, a car that got a lot of attention with its aggressive stance featuring a channeled body, plus it had a unique flavor because of the extended front frame, Z'ed rear frame rails and a nearly vertical steering column.
Equipped with a Caddy V-8 and colorful painted-on flames, this influential machine is credited as being the very first "fad T" and was shown to a nationwide audience in the April 29, 1957 issue of Life magazine, creating great exposure for the hot rod scene in a mainstream publication.
The car was in movies (with Norm doing the driving!) and later became famous on TV as the "Kookie Kar" on the "77 Sunset Strip" program.
By 1958, the industry saw an increased use of fiberglass in the building of rods. Dee Wescott, located in Damascus, Ore., had been making fiberglass fenders for '32 Fords and other items (including running boards, fiberglass rear splash pan covers for the gas tank on '33-'34 Fords, etc.) for a couple of years and was off to a good start in expanding the business.
And what really got the ball rolling in promoting fiberglass as a means for body parts on rods was when author Pete Sukalac's article appeared in the August 1958 issue of "Hot Rod"-"Glass Rods for Tomorrow." Readers quickly learned how fiberglass could solve their problems of dealing with rust and/or even finding the parts and pieces they needed, leading to a surge in the use of fiberglass replica components.
The first known advertisement for a 1923 T body made from fiberglass actually appeared in 1957, with an ad from Diablo Speed Shop (located in Walnut Creek, Calif.) printed in the August issue of "Hot Rod". It is believed that only a few such bodies were sold by this company, and that it was a business called Cal Automotive that really took the ball and ran with it as far as producing and selling fiberglass Ford 1923 T bodies.
More on Fiberglass
In 1960, Curt Hamilton and Bud Lang started Cal Automotive, with their first product being a 1923 T body. Perhaps their most famous customer was the group of Harrell and Borsch, which ran a drag roadster that would become the "Winged Express."
Using a Cal Automotive 'glass body, the drag car entertained fans like no other '23 T on the planet and brought a lot of attention to the T-bucket body shape in general, be it for drag racing or street applications. The "repro" (reproduction) body business got a great shot in the arm as a result of the efforts of the magazine press and action at the drag strips.
In fact, as luck would have it, good news for the glass movement was the publishing (cover shot and article) of a story titled "Glass Image" that "Hot Rod" ran (June 1962) featuring the fiberglass-bodied '23 T roadster belonging to Rolland "Buzz" Pitzen. The car was a beautiful blue creation that was a showstopper and a great promotional piece for the fiberglass movement.
The Pitzen car actually didn't feature a Cal Automotive body shell, but rather one of those few Diablo Speed Shop bodies that were sold, but it didn't really matter, as the article didn't mention where the body came from.
In the story, these encouraging words were used to promote the idea of using fiberglass as a material for a street roadster body: "The fact that 'T' bodies are so rare is no longer a problem now that such fine fiberglass reproductions are on the market." A particular benefit to Cal Automotive was when readers flipped back to page 121 of the magazine, and saw the "Glass Tee Roadsters" Cal Automotive advertisement.
And in the August issue to follow, a bright red cover car shot of the Tony Nancy "22jr" 169-mph 'Glass Drag Roadster dragster that was fitted with a drag-modified Cal Automotive '23 T body appeared. Fiberglass T-bodies were well-publicized and sales of these bodies soon went through the roof.
Of course, it didn't hurt that Bud Lang was a writer and photographer for Petersen Publishing at the time and his partner Curt Hamilton was a freelancer for "Hot Rod," "Car Craft" and "Rod & Custom" as well.
Instant Hot Rod
Andy Brizio's "Instant T" with its Art Himsl-painted psychedelic ribbons came as a direct result of the efforts of Hamilton and Lang. The first time Andy Brizio laid eyes on the Cal Automotive '23 T creation, it was during set-up day at the 1961 running of the Oakland Roadster Show.
As Brizio was watching Bud and Curt pull in with their U-Haul trailer, then unload parts needed to assemble their '23 T-bucket display car (complete with a Chrysler Hemi block and heads fitted for added visuals), he observed how quickly the duo put together the do-it-yourself hot rod.
"My God, an Instant T!" was his remark that day, and a few years later, Brizio would be doing a brisk business selling those types of inexpensive and fun cars himself.
And they were fast, too. The "Instant T" car that Brizio built ran an 11.50 ET at 123 mph on the drag strip using a supercharged small-block Chevy engine but complete with fenders and full legal street equipment.
Another shop that sold many '23 T kits was Speedway Motors located in Lincoln, Neb., offering the fiberglass bodies for as low as $59 (called "Iron Glass," they were described in their catalog as being stronger than iron and at the same time smoother than glass), along with T frames priced starting at $89.
When these '23 Ts grew in popularity it basically established that the use of a fiberglass body for a rod was acceptable. All the cars built, which numbered well into the tens of thousands, proved to be an important aspect in growing the hobby, regardless if the supply of "vintage tin" was starting to become harder and harder to find for builders.
HOT ROD DEFINITIONS
One of the great things about the history of hot rods is the terminology that goes with it. Here's a look at some of the history behind those terms.
What is a Hot Rod?
NHRA publicity man Bob Russo addressed this topic in a 1963 report:
"Original hot rods were little more than stock machines stripped of their fenders and other unnecessary weight for competition, but retaining the essential components to make them legal for street use. Generally they were Fords-roadsters mostly-for this was the era of the Flathead V-8 on which hot rodding was built."
Russo went on to talk about further advancements of the hot rod after WWII and added this notation about them as viewed in the early 1960s:
"When you speak of a 'hot rod,' it is the street roadster, usually a '32 Ford with a late-model engine, modest use of chrome, well-designed interior and low silhouette that comes to mind."
Gow Job/Hop-Up
Early descriptions of hot rod cars saw the use of the name "gow job" and it meant a car modified for speed. It's not clear what "gow" meant, but the word "job" was popular at the time as a general description for cars that were non-stock in condition.
At the same time the term "hop-up" applied to the hot rod cars as well, and early publications of magazines such as "Mechanix Illustrated" called the drivers of these cars "hop heads" and "hop-up boys." A hopped-up jalopy was also called a "hot iron" in the early days.
In the July 26, 1941 edition of "Colliers" magazine, author Edward Lawrence painted this picture of the scene: "Three years ago in Los Angeles, quiet residential districts were being invaded by wild-eyed kids in hopped-up jalopies. Up and down the streets, stripped cars raced at dizzy, breakneck speeds."
The 'Hot Rod' Term
When "Hot Rod" magazine celebrated its 50th Anniversary and did a commemorative book on the subject, it stated that the "hot rod" tag was started initially as "a contraction of the term "hot roadster" from the early 1940s.
When Dean Batchelor researched the term "hot rod" for his "Dry Lakes and Drag Strip"s book, he devoted two years to gathering information and believed the term came to be after the war. In his estimation it was sometime in early 1945.
Dry Lakebed Background
Muroc was the best of all the dry lakebeds in southern California (which also included Harper Dry Lake, El Mirage Dry Lake, Rosamond Dry Lake and Cuddeback Dry Lake) because it had the flattest and the smoothest alkaline surface, and lots of area for high-speed runs.
However, the Army Air Corps took over Muroc and lake racers had to go elsewhere, mostly to El Mirage, Harper and Rosamond (Cuddeback was very remote and the surface was not well-suited for fast speeds). Today Muroc is known as Rogers Dry Lake and is part of the Edwards Air Force military base.