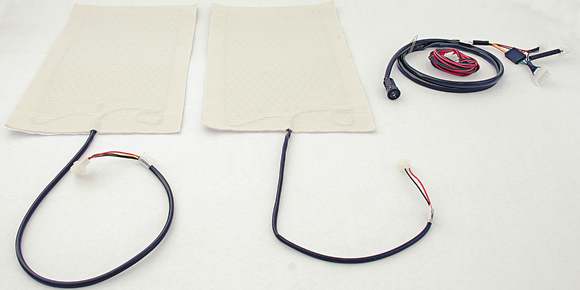 Despite increasing competition from OEMs, aftermarket seat heaters are projected to simmer, if not sizzle, through 2012.
After a few less than stellar years of flat sales and decreased demand due to the overall economic outlook in North America, the market for a long-popular aftermarket luxury upsell, seat heating units, appears poised for a rebound.
"Many more car buyers and owners are interested in adding seat heaters to their vehicles than ever before," according to Nathan Mades, product manager for Troy, Mich.-based Check Corp.
Mades, among a number of representatives of other major seat heater suppliers to the aftermarket, notes that pent up demand for high-quality and more broadly featured products than in recent years is driving activity in this changing market.
Scott Wolin, business development/marketing/sales for Pecca Leather Inc., of Downey, Calif., is another who is feeling notably more optimistic heading into 2012.
"I see good growth for seat heaters in 2012 for a number of reasons," he says. "The market for car sales will be vastly improved and seat heaters are a must-have feature for most customers."
Additionally, Wolin notes that rear-seat installations are catching on and sales of new vehicles with factory cloth upholstery is on the rise in the marketplace.
Steven Koyama, president and CEO of Vancouver, B.C.-based Pacific Restyling Products, also feels a growing optimism about the market for aftermarket seat heating systems, if for a slightly more calculated reason. Despite his belief that consumer confidence will continue to struggle this year, "auto manufacturers are currently driving sales with incentive-laden pricing," he says. That demand, as manufactured as it may be, will continue to prop up sales of new vehicles and create opportunities for restylers to up-sell vehicles on new-car lots.
"We expect sales for new vehicles to mirror that of 2011, but we are seeing comfort accessories such as seat heaters being purchased to provide that touch of luxury until the economy turns around," he adds, drawing a comparison to the housing market. Similar to that other struggling market, where new housing starts are slow but renovations to existing homes and sales of new appliances are increasing, so too are upgrades to used vehicles on the rise.
Expeditors remain competitive
Restyling's sources all noted that penetration into the market on the OEM level would likely continue its historically upward trajectory. However, with a relatively small amount of new vehicles rolling off the lot with factory seat heaters installed, there remains a great deal of potential for aftermarket installers.
Check Corp.'s Mades notes that more of today's models offer seat heaters as an option or as standard equipment (on higher-end models), but "seat heaters as OEM equipment are installed on somewhere around 35% of vehicles produced," he estimates.
That leaves dealer expeditors and restylers responsible for most aftermarket installations at the point of vehicle sale. And that's not to mention the market for classic and custom-built vehicles, both of which are proving to be a growing market for small- to medium-sized restylers.
Rick Walterson of Park City, Utah-based Seat Comfort Systems, a supplier of seat heating units and related accessories to the aftermarket, says that while other markets are available, including direct-to-consumer, most seat heater business is still done in conjunction with new-vehicle dealerships.
"The majority of sales are based on new-car sales and dealerships that are upgrading used cars," he says. "Restylers have always been linked with dealers for their core business."
Pecca Leather's Wolin agrees, noting that even in the case of vehicles with OEM leather interiors, the draw to purchase an aftermarket interior is irresistible to some buyers. And when a customer comes to a restyler for an upholstery upgrade, an opportunity for a seat heater upgrade is born.
"The increase in aftermarket leather goes hand in hand with seat heater installs and should be offered in each and every sale," he says.
Oftentimes, these customers likely would have bought an aftermarket leather package and seat heater combination from a dealership. Had they known it was an option, that is. This common error on the part of dealerships can be cash in the bank for an industrious restyler.
"The buyers for aftermarket installs of heaters are the customers who simply fell through the grasp of the new-car sales staff," says Pacific Restyling's Koyama. "[Dealership sales staff often] couldn't be bothered to offer [aftermarket products], didn't know the aftermarket offered them or management wanted to only promote OEM offerings. This is typical at many of the dealerships throughout the continent. The buyers that are savvy and have done their research will seek a local accessory installation center to get them what the dealership couldn't or wouldn't."
Marketing: Creativity is crucial
The tenuous relationship with dealerships can at times be either a blessing or a curse, according to our sources. On one hand, restylers often benefit from creating a solid relationship with their local dealer, and partnering to upgrade vehicles to resell, thus becoming a dealer expeditor. Short of that, they also can benefit from those dealerships who don't offer such upgraded vehicles by marketing to the dealerships' customers directly.
For Check Corp.'s Mades, "the relationship between restylers and dealerships is important to the sale of vehicles."
The restylers focus on this segment and offer services to expand their customer -¨base, Mades adds. Restylers, then, must adapt to changing trends and create trends of their own through this relationship.
While "new- and used-vehicle dealers continue to be the best avenue to market and sell seat heaters," according to Pecca's Wolin, vehicle auctions, rental car fleets, and work truck and van fleets are also areas of notable potential growth for restylers.
Pacific Restyling Products' Koyama agrees. "The majority of the supply of new vehicles still funnels into the marketplace through automotive dealerships, so it's logical for restylers to continue to nurture this relationship," he says, noting that other similar partnerships could include vehicle exporters and upfitters, or "a type of second-stage manufacturer who offers uniquely packaged vehicles to dealerships and corporate fleets may be an another avenue to pursue."
Material developments, new applications
Throughout the approximately 40 years since the introduction of seat heating units, technological advances have continued at a steady pace.
The first units to hit the market utilized resistance wire technology that, while generally considered safe and effective, would at times fold over onto themselves creating a risk of overheating.
More recent units, introduced over the past 20 years, have favored carbon fiber technology that provides a positive temperature coefficient and cold-failing carbon polymer blended substrates, decreasing the likelihood of a dangerously overheating product.
Even more recent units utilize resistive ink, which features carbon particles suspended in ink and printed onto a surface to allow for smoother current flow.
The development of these new materials, along with safety features like temperature control units and applications that accommodate mandatory vehicle occupant sensors, has resulted in seat heater units that are not only less expensive, but also far safer and more effective than their predecessors, according to these sources.
Along with safer units came expanded application options, according to Check Corp.'s Mades. That most modern seat heaters can be used with any upholstery creates an additional opportunity for restylers as they battle for the valuable real estate in new and used vehicles.
"The OEMs often offer seat heaters only with leather upholstery as a marketing decision to increase sales of leather packages," Mades says, while seat heaters from his company "are designed to be used with cloth, vinyl and leather upholstery."
Pacific Restyling's Koyama notes that while most seat heaters will perform in most applications without problems, there are safety considerations to be made, including how each technology behaves differently in the range of materials used in today's interiors.
And according to Seat Comfort Systems' Walterson, the variety of products available today has created important differences in performance and, thus, applications. That makes different products perform better in different regions and climates.
"We have two heaters: wire element and carbon fiber," he says, for example. "The heaters get to the same temperature, but the wire heater will get there quicker. Based on the geographic location, we suggest the wire element to be used for the colder climate."
Walterson also notes differences in performance between OEM seat heaters and their aftermarket counterparts -" and so do customers. Restylers, he says, should be sure to demonstrate the differences in performance at the outset of the selling process.
"Customers have an idea in their mind regarding the performance of the heater," he says. "They will compare the aftermarket install with their factory-installed heater. It is always best to have them sit on a demo heated seat so they will know what to expect."
While finding the heating unit best suited to a given application can be difficult, all of our sources agreed that restylers have one major asset working in their favor: suppliers and their support staff.
Asked to provide a tip or two for installers, all replied with a variation on that theme. Check Corp.'s Mades noted that "[restylers should] work with their seat heater supplier and with their dealership to make informed decisions when installing seat heaters on seats with occupant detection sensors."
"Find out appropriate applications for the seat before promises are made and the vehicle is sold," he adds.
A reputable supplier will provide that research information to customers. Pecca Leather's Wolin, agrees, noting, "Installers should always follow the installation manuals and work closely with the manufacturer's technicians on new vehicle introductions."
With falling prices, safer products, increasingly easy installs and a wealth of information from suppliers, it's hardly a surprise that seat heaters and related accessories have become part of the mix for many restylers well into 2012.
---
Related seat -¨upgrade opportunities
Just as seat heating units themselves are a great upsell as part of an aftermarket interior trim package, other related products abound to be packages in an effort to increase overall sales. Most notably, closely related products like lumbar systems, massage systems and cooling units are popular add-ons.
Similar to how penetration of OEM units has inspired more drivers to ask for aftermarket seat heating units, so, too, does the popularity of these related products on high-end vehicles spur demand for aftermarket units, says Seat Comfort Systems' Rick Walterson.
"We introduced the seat cooling system in 2001 and it has been growing steadily since," he says. "Many high-end cars have the cooling systems as an option and now these owners want the same for their other cars and that is where we come in. The massage system has been a great seller for our export business."
According to Check Corp.'s Nathan Mades, "There is no doubt that massage and cooling for seats are in demand. People with bad backs, athletes and those that want to pamper themselves add massage to their seat and seat heater products, and cooling seats are now offered on some OEM vehicles."
While these items are popular with customers and boost overall sales, they aren't without their drawbacks. Mades notes that adding a cooling feature, for example, can be labor intensive and at times cost prohibitive, so restylers should tread lightly in their selling process. Cooling units can require major modifications to the seat foam and sometimes require perforated upholstery to function correctly.
Regardless, in the right situation, these products represent a great sales opportunity.        According to Pecca Leather's Scott Wolin: "There is a good demand for seat massagers and cooling units, and the aging population and those that spend many hours on the road are great candidates for both products."
And just as pricing for seat heaters has dropped substantially over the years, so too will prices on these related items, says Pacific Restyling's Steven Koyama.
"With the price for seat heaters getting a close-up view of the floor as it gets kicked around the market it won't be too long before the same thing happens with cooling products," he notes. "This presents opportunities for the aftermarket to approach people of all demo and psychographics. Who isn't a prospect?"