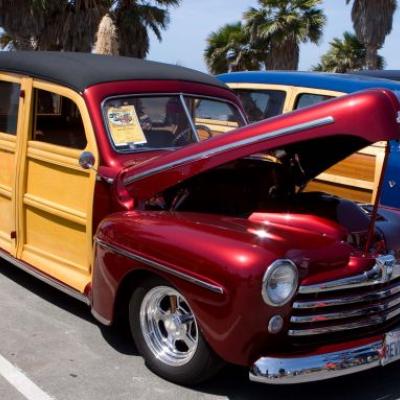 This long Martin Luther King Jr. holiday weekend, a number of organizations, car clubs and businesses around the country are hosting car shows and events that give retailers the opportunity to show off their latest builds, find new projects, connect with new customers and support community organizations. Here's information on nine such events. Additional car shows and events will be posted on Hotrod & Restoration's Twitter throughout the week.
The 4th Annual Shelby Vegas Bash takes place Thursday, Friday, Saturday and Sunday at the Las Vegas Motor Speedway in Las Vegas. The event is for enthusiasts driving any car built by Shelby American Inc., designed by Carroll Shelby or any Ford-powered vehicle recognized by Team Shelby. The four-day event will feature a cruise-in, a poker run, open track racing, happy hour and a banquet. For more information, visit www.shelbyvegasbash.com.
The 2011 Mesquite Motor Mania takes place Friday, Saturday and Sunday in Mesquite, Nevada. The event is open to all years, makes and models of classic vehicles, and will feature a show and shine, roaring engines competition, slow drags competition, burn-out contests, and a poker/trivia walk. Over 260 top vehicle awards will be presented in categories including People's Choice, Participants' Choice, Police Department Pick, Fire Department Pick and Kids Preference Pick. The event will also feature parts vendors, a classic cars and parts corral, drawings, giveaways, and food and beverage concessions. For more information, visit www.mesquitecarshows.com/.
The Phoenix Classic and Exotic Car Auction, co-presented by Motoexotica and Manheim, takes place Friday and Saturday in Tolleson, Arizona. The event will feature over 400 classic and exotic vehicles up for bid. Among the vehicles available are a 1936 Ford Coupe, a 1954 Chevrolet Corvette, a 1966 Batmobile Replica, a 1970 Dodge Charger ISE Hemi and a 1971 Plymouth Barracuda 440. For more information, visit www.motoexotica.com/auction.htm.
The 5th Annual Road Zombies Rods & Kustoms Car Club Night takes place Saturday in Brisbane, California. The event will attract over 25 Bay Area car clubs and will feature live music. Car club members wearing club jackets will be admitted free. Admission is $10 for the 21-and-over event. For more information, visit www.boozebroadsandhotrods.net/8.html.
The Barrett-Jackson Auction Co. will host its 2nd Annual Scottsdale Road Rally on Saturday as the kickoff to its Scottsdale Auction, which runs Jan. 17-23.  More than 100 hot rods, resto-mods, classics, new collectibles and muscle cars will participate in the all-day celebration of the collector car hobby. Rally events will include a cruise-in, a safety presentation by the Scottsdale Police Department, live entertainment, prizes, giveaways and an awards presentation. For more information, visit www.barrett-jackson.com/events/scottsdale/.
The 20th Annual Edition of the Nashville Auto Fest takes place Saturday and Sunday at the Tennessee State Fairgrounds in Nashville. The annual Auto Fest is a combination car show and swap where more than $2,000 in cash and awards will be given out. Awards will be presented in 16 elite classes, as well as five special awards. Additional plaques will be presented to the Top 50. The event will celebrate White Castle's 25th anniversary in Nashville and the first 2,500 spectators each day will get free White Castle burgers. For more information, visit www.nashvilleautofest.com.
George Cross & Sons presents The Pomona Swap Meet and Car Show Sunday from 5 a.m. to 2 p.m. in Pomona, California. The event will feature thousands of vehicles for show and/or sale and thousands of auto parts and related items. There will also be concession stands located throughout the event selling a wide variety of food and beverages. General admission is $8, with children 12 an under admitted free. Any year Corvette, any year Porsche, pre-1975 Volkswagens, pre-1957 street rods and pre-1975 collector cars will be admitted for $25. Any 1931 older stock motorcar will be admitted for free. For more information, visit www.pomonaswapmeet.com.
The 3rd Annual Canby Auto Swap takes place Sunday at the Clackamas County Event Center in Canby, Oregon. The event will feature autos, parts and related items for purchase, sale and trade. For more information, visit http://www.clackamas.us/fair/canbyauto.jsp.
The 4th Annual Wheels of Wellness takes place Sunday in Phoenix. Designed as a social and fun event for car aficionados, the event will feature restored international race cars on display. Lunch, imported wine and beer will be served at the event, which benefits cancer support programs provided by The Wellness Community. For more information, visit www.wheelsofwellness.org.