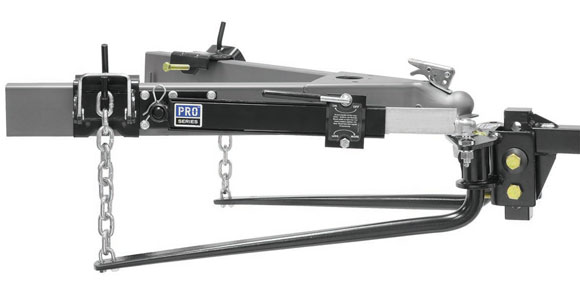 Today's trailer hitch market is more saturated, by far, than it was a decade ago. Yet, even with the increased amount of dealers selling hitches, surely a few of those installers have mechanics who could learn a few new things about towing, hitches, wiring and installations. Here are 10 tips that will educate "newbies," for sure -" and might even help an experienced tech whose main forte is not hitch work.
---
1. You don't need expensive tools
A torque wrench is about the most sophisticated and expensive tool a hitch installer needs. For the most part, hitch and wiring work requires simple hand tools: sockets, extensions and ratchets, pliers, wire strippers and cutters, screwdrivers, combination wrenches, Allen and Torx tools, and sometimes, yes, a hammer and pry bar.
A set of interior panel clip removal tools is a smart yet inexpensive investment, as is a cordless screw gun and a good old-fashioned corded 1/2″ chuck drill and bit set. Speaking of bits, since drilling through steel frames is a common part of hitch installations, a good source of drill bits is a must -" you'll wear quite a few out quickly.
Finally, a small butane heating torch (for heat-shrinking electrical connections) is another cheap yet handy tool that makes wiring jobs go much easier. As your technicians gain experience, they'll pick up on the need for other tools -" but this short list is a great start.
---
2. Weight Carrying vs. Weight Distributing
A tech who doesn't know the significance of weight carrying and weight distributing is in for a tough lesson, often a dangerous one. These terms are used as ratings applied to the capacity of Class III, IV and V receiver hitches. "Weight Carrying" refers to the amount of load a receiver hitch is capable of carrying when used as a "deadweight" hitch -" that is, using only a standard utility ball mount to connect the hitch to the trailer. "Weight Distributing" is the rating used to describe the capacity of that same receiver hitch when used in conjunction with a weight-distributing hitch kit, which increases the hitch's capacity, because it spreads some of the weight of the trailer out over the tow vehicle's, and a trailer's suspension and tires, as opposed to concentrating it at the hitch and trailer coupler. Typically, a receiver's Weight Carrying load rating is much less than its Weight Distributing rating: For example, a Class III receiver might be rated to carry 5,000 lbs. as a Weight Carrying hitch, and 10,000 lbs. when used with a Weight Distributing hitch. Knowing and understanding the difference in these ratings is critical when selecting the right hitch combination for a customer's tow vehicle and trailer.
---
3. Hardware: It's all the same, right?
Hitches are sold and installed with specialized attachment hardware. The fasteners used in each hitch installation are typically high-strength bolts, specialized washers, blocks and spacers, and nuts. The engineers responsible for each hitch's design, fit and performance carefully specify the exact hardware needed to attach the hitch to the vehicle's frame. Substituting hardware is a risky prospect at best, and can easily compromise the entire installation if the wrong size, strength grade or length bolts are used.
---
4. Neatness counts: the professional touch
Tow-vehicle wiring is perhaps the most visible and "out there for inspection" part of a trailer hitch installation. I've been at the boat ramp, in the campground or in the parking lot, and it never fails that those who are towing will look at each other's hitch setups and make comments and crack jokes. The wiring is the most critical area; every hitch sale and installation from your shop should include a nice way to tidy up the wiring near the hitch. Too often, the installer simply wraps the excess length from the vehicle harness around the hitch, and it ends up dangling and dragging on the road. Selling the customer on a bracket, storage box or other type of wiring organizer is a must to maintain a clean look at the hitch. In addition, touching up any chipped paint on the hitch side brackets, receiver tube or cross tube will only help keep the customer happy, as his hitch will look better and last longer on his vehicle.
---
5. Torque wrenches: Is good 'n' tight enough?
Just as using the right fasteners is critical to a proper installation, so is tightening them to the torque specifications listed in the manufacturer's installation instructions. The only way to do that is with a quality torque wrench, one that's checked every so often for accuracy. While under-tightening a bolt and nut is bad, over-tightening is just as bad because the bolt will eventually stretch and fail under load. Quick tip: When installing a hitch to a vehicle frame that's been undercoated, it's necessary to scrape all but a very thin layer of the rubberized coating from the frame before bolting up the hitch. A thick layer of rubber undercoating will compress as the bolts are torqued, thereby allowing the hitch to loosen over time. By the same token, if you need to drill holes in the vehicle frame to install the hitch attachment bolts, it's good practice to spray a quick dab of paint on the bare metal hole to keep the frame from rusting prematurely.
---
---
6. Side brackets: carrying the load
Size matters -" as in the size of a hitch's side brackets. There's a reason that receiver hitches with higher weight capacities have longer, thicker side brackets. The extra material is there to help the hitch withstand higher load forces, and the extra length helps spread the load out over a longer portion of the tow vehicle's frame. Don't use a lighter-weight hitch if the customer might be towing heavier loads later.
---
7. Brake controls: tidy little profit makers
Many installers shy away from brake controls because they're afraid that installing a brake control in a customer's vehicle might get them involved at some point with that customer's trailer brakes. The reality is that not only are trailer brakes easy to service, the entire electric braking system is a very simple one -" and the brakes themselves are usually serviced by trailer shops. Brake controls are excellent profit makers, because they're easy and quick to install, and today's controls rarely fail. Many of today's tow vehicles are pre-wired for brake control installation, which makes the job go even more quickly.
---
8. Vehicle wiring today: -¨It's complicated
Back before bolt-on, no-drill hitches became commonplace, it was the hitch installation that was troublesome and the wiring was the no-brainer part of the job. Today, it's the opposite; most hitches bolt on easily in less than a half hour, and the wiring has become increasingly difficult and complicated thanks to onboard vehicle computers and the use of increasingly lighter-weight wiring. It's more important than ever to select the correct wiring component from supplier catalogs. Using the wrong T-connector, or converter can not only cause the lights to operate incorrectly, it could cause a catastrophic failure of the tow vehicle's wiring and computer. Using a circuit-protected, battery-powered wiring component (offered by all major hitch and wiring manufacturers) is the best protection against wiring failures down the road. Sealing and protecting all connections from weather and possible corrosion will ensure that your work stays intact later on.
---
9. Cutting fascia: You'd better advise the customer
Sometimes, a hitch installation requires that the vehicle's plastic bumper trim (fascia) be trimmed or cut to provide clearance for the hitch's receiver tube to protrude out and be accessible. However, this modification changes the appearance of the rear of the vehicle, so advising the customer beforehand is mandatory. Some customers are extremely particular about their vehicle's appearance. It's happened more than a few times that the installer trimmed the bumper fascia to accommodate the hitch, only to have the customer demand a refund and removal of the hitch because of the "ruined" bumper -" and new plastic fascias are very expensive.
---
10. Don't forget the towing add-ons
Helping the customer tow safely is more than just a good, solid hitch and wiring installation. It's your responsibility as a towing expert, a professional installer, to fully evaluate each customer's tow vehicle (and trailer, if available) and make recommendations that would enhance the towing experience. Add-ons like heavy-duty shock absorbers, improved brakes, stiffer springs, airbag suspension add-ons and other towing-related products can make money for you while making your customer's towing experience a safer and more pleasant one. Too many hitch installers leave money and expertise "on the table" by only concentrating on the hitch and wiring aspects of the job. The ultimate compliment from a customer, overheard, say, at a campsite, is to have them say, "Oh, you need to go to X's Hitch Shop; they really know their stuff, and you'll be very happy with the job."