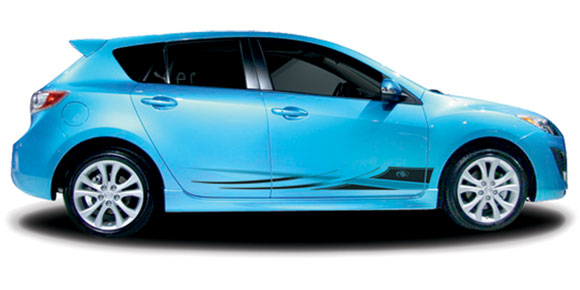 Despite hard-hitting economic times, the smaller-utility vehicle market remains a promising niche for restylers. With the price of gas first up, then down as the holidays approached, and headaches at the airports up, these functional and practical vehicles offer families a means to travel in comfort and style (with a little help from the latest aftermarket accessories, of course).
Restyling asked manufacturers and suppliers from different specialties and in various parts of the country what it will take for aftermarket dealers to be equipped for stellar sales in the new year. Their answers present an array of ideas to help add a little "sport" and "style" to the utilitarian platform these wagons, crossovers and even luxury SUVs offer.
With the apparent downsizing from big SUVs (truck-frame based) to smaller, car-frame SUVs (Subaru Forrester, Chevy Traverse, Jeep Grand Cherokee, Toyota Highlander, etc.), CUVs (Honda Crosstour and Pilot; GMC Acadia; Buick Enclave, Ford Edge, Toyota RAV4) and wagons (Subaru Outback, VW Passat and Jetta, Mitsubishi Lancer Sportback), how is the aftermarket responding with products for this market?
We are seeing an increase in smaller, more tasteful graphics kits that appeal to the owners of these smaller vehicles. These types of kits feature more sedate colors that emphasize the tastes of buyers. We are also seeing a huge influx of chrome accessories that are targeted straight to this vehicle niche. Pillar post trim, door handles and mirror backs are just a few of the products that manufacturers have directed at this hot-selling segment.
– Doug Jacobs, -Restylers' Choice, Cincinnati
As always, those of us in the aftermarket have learned to adapt quickly to new products. We will look for the items the OE's felt they could eliminate without too much angst and fill that void. As an example, we built a set of lighted sun visors for the redesigned 2009-2011 Subaru Forester. They were eliminated in an effort to keep the vehicle cost down. This is an example of how the people in the aftermarket find new products to provide customers with the same comforts they had in their larger vehicles. We also look for new opportunities that will arise from someone moving from a large vehicle into a smaller one. Similar to moving from a large house to a small house, many things become more difficult and require more planning. People find the need for better storage in small areas, or desire more trim items to make the vehicle feel like their own.
– Stephen Carl, -C&C Car Worx, -Wappingers Falls, N.Y.
We focused our running-board development on the CUVs in early 2007. We still produce boards for trucks and SUVs; however, with the influx of smaller vehicles due to higher fuel costs, the popular CUVs were targeted for molded running board applications. The CUV applications have become some of our company's most sought-after running boards.
– Kathy Knautz, -Owens Products, -Sturgis, Mich.
Many of the CUVs have long been popular candidates for leather upgrades. As more automakers enter this market segment, it is certainly opening up more opportunities for restylers, as well, to up-fit these vehicles with leather interiors.
– Jeff Cater, -Pecca Leather, -Downey, Calif.
In the dealer world, there is a continued emphasis on technology and entertainment. We see lots of remote starts, back-up sensors, DVD systems, Bluetooth, etc. I think the trend of inside-out is the key for aftermarket growth. Start with the inside of the car and work your way out. On the outside, it seems like "tattoos," like vehicle graphics accents, will be an area of growth.
– David Copp Stringer, -Insignia Group LLC, -Rock Hill, S.C.
The smaller-SUV market has always been a strong segment for our company's products. Aftermarket accessories such as leather interiors, power sunroofs and navigation are ready to go for these types of models. I think the challenge is to decipher which trim level it is that you are going to target. It's up to the restyler to be able to create the right combination of accessories to add in order to make the car more attractive for the customer, and more profitable for the dealer.
– Bill Murphy, Attention To Detail, Middletown, Conn.
What items, specifically, do you see becoming more readily available this year and next for these types of wagons, CUVs and SUVs? Do you see this market growing?
Again, the chrome accessory market is really a target for these types of vehicles. We are also seeing a good selection of aftermarket spoilers that fit these models. Color-keyed body side moldings, door edge guards, and wheel-well trim have also become very popular in the crossover segment.
– Doug Jacobs, -Restylers' Choice
People look for items to help protect their investments. Owners I have spoken with say they plan to own their vehicles longer then they have planned to in the past. That translates into additional protection, comfort and convenience items not available on the vehicles they are purchasing. These might be Bluetooth items, GPS, heated/cooled seats, better storage units or maybe even the new flat-look [matte] paint film that has been catching on in Europe. We must give owners better choices in accessories than standard floor mats or seat covers. Today's customer wants choices. They can go to any parts store, Walmart, Target or hundreds of standard auto parts online sites to shop for an item. We must supply them with new ideas, or at least new variations on current ideas. People want choices. They will pay for new technology and ideas. In the absence of that, they will go to any of the abovementioned suppliers and shop mainly by price.
– Stephen Carl, C&C Car Worx
Numerous families who previously purchased mini-vans, SUVs and crew cab pickup trucks have made the move toward smaller vehicles – CUVs and wagons – which have the capacity to transport several people. Many of these consumers prefer to personalize their ride, thus ensuring the automotive aftermarket will remain strong for this segment.
– Kathy Knautz, Owens Products
We will continue to develop leather patterns for SUVs and CUVs. We see the CUV market as one segment that will continue to grow over the next few years, and we will be there to satisfy the consumer with style and innovation.
– Jeff Cater, Pecca Leather
The real question is, Can the aftermarket take the leap over the OEMs in terms of technology? Ford's SYNC technology has opened the customer's mind to what is possible. Chrysler is going for "Internet in the Car." Again, for growth areas, I think looking into the crystal ball is all about inside-out technology and visual appeal on the outside. Traditional accessories like leather, sunroofs, wheels, step bars and mud flaps will be the staple, but the growth will be found in technology.
– David Copp Stringer, -Insignia Group
What's your best guess as to whether interior or exterior aftermarket accessories will be the stronger buy in 2011? What about 2012 – will it mirror 2011?
Exterior enhancements seem to be gaining a lot of ground in this market. As buyers select more fuel-efficient and pedestrian vehicles, they want to stand out from the crowd. These types of vehicles are sold in the hundreds of thousands, and making yours different form everyone else has become a priority. Also, the OEMs have really brought the content level up on vehicles over the past 10 years, making interior accessories harder and harder to find opportunities to provide.
– Doug Jacobs, Restylers' Choice
People who care about their cars will buy both interior and exterior accessories. It might be like buying a new house: Do you put in the lawn and landscaping first, or do you paint and buy new furniture? People who want to make a vehicle their own will add to the exterior to get attention, but once you have that attention, you must make the car yours. That means the interior must show your personality, too. We all hope 2011 will be a stronger year than 2010. The markets are pointed that way, and we have no major elections to scare people in 2011. That said, 2012 is an election year, and all bets might be off if there are still large issues looming. You can never forget politics.
– Stephen Carl, C&C Car Worx
Our fascination with interior electronic gadgets is tremendous, and we will see a profusion of new products in this area to make our rides both more enjoyable and safer. This market segment will continue to grow throughout 2012. New vehicles are equipped with many products like GPS, MP3 players, back-up cameras, etc. However, used car sales are very strong, and drivers of those vehicles do not want to be excluded from this technology.
– Kathy Knautz, Owens Products
We have already begun seeing an upward trend in vehicle accessorization. Dealers that had ceased adding accessories during the bottom of the market cycle are now open to accessorizing vehicles for stock. We expect this trend to continue, and we are adjusting our strategy to meet the rising demand.
– Jeff Cater, Pecca Leather
Interior products will remain a strong buy in the coming year, and in future years.
– David Copp Stringer, -Insignia Group
I think mobile electronics products are always going to be in high demand for these types of cars. With the fast-changing world of "have to have the latest and greatest technology" and cell phones, most of the smaller-SUV buyers have their family members to consider. Whether it's teens or our younger children, they will let their parents know what features they want in their new family car. Navigation and video are always going to be great items to add to a car that is marketed toward the family.
– Bill Murphy, -Attention To Detail
Of course, larger wagons and SUVs are still to be found, like Cadillac's $63,000 CTS wagon with a 556-hp V8 – but that's not for everyone. And then there's the Porsche Cayenne SUV and the Lincoln MKX. Will there be many aftermarket products available for these larger, more luxury-minded vehicles? What will they be?
The more luxury-minded the vehicle, the harder it is to accessorize. Chrome is an easy add-on to these vehicles, accentuating the factory trim and adding a bit more style to these classy vehicles.
– Doug Jacobs, Restylers' Choice
There will always be new accessories available for most vehicles, and these are no different. The person buying this type of vehicle is not, for the most part, concerned about cost. That means they want to stand out and be noticed. That might be with a wheel and tire package – although the OEs are getting better with those options – or it could be through adding power or changing the power curve. There will always be accessories for all lifestyles and needs. That's what we do.
– Stephen Carl, C&C Car Worx
The larger and luxury vehicles will continue to sell well, and we will continue to develop running boards for these vehicles. Other accessory manufacturers will do the same. The Lincoln MKX, a recent luxury vehicle, does not come equipped with steps, for example. We provide steps for this vehicle as well as others like the Cadillac SRX. The demand remains strong for these accessories, and we will continue to fill this need.
– Kathy Knautz, -Owens Products
Ninety-nine percent of these vehicles come from the factory with leather. Traditionally, these vehicles have been serviced by full-custom upholstery shops when the customer required an upgraded interior. At the moment, only the very affluent are returning to bespoke interiors for luxury cars. We don't see any significant growth in the market for the near term.
– Jeff Cater, Pecca Leather
Luxury SUVs will still command wheels and appearance products. At the price point of the higher-end SUVs, they will be packed with factory technology and entertainment. Unless the aftermarket can design a better interior "command center" to replace the factory system, there's not much else (besides all-weather floor mats). I don't see someone with a Cayenne tattooing it with flames….Maybe?
– David Copp Stringer, -Insignia Group
The bigger, more expensive SUVs require a little more digging to find out what creature comforts they might be missing. It might be a Bluetooth system or heated seats – you never know. The best way to keep up on this segment without a lot of sales expense is to track the phone calls coming into your shop and ask your customers why they are asking for certain options.
– Bill Murphy, -Attention To Detail