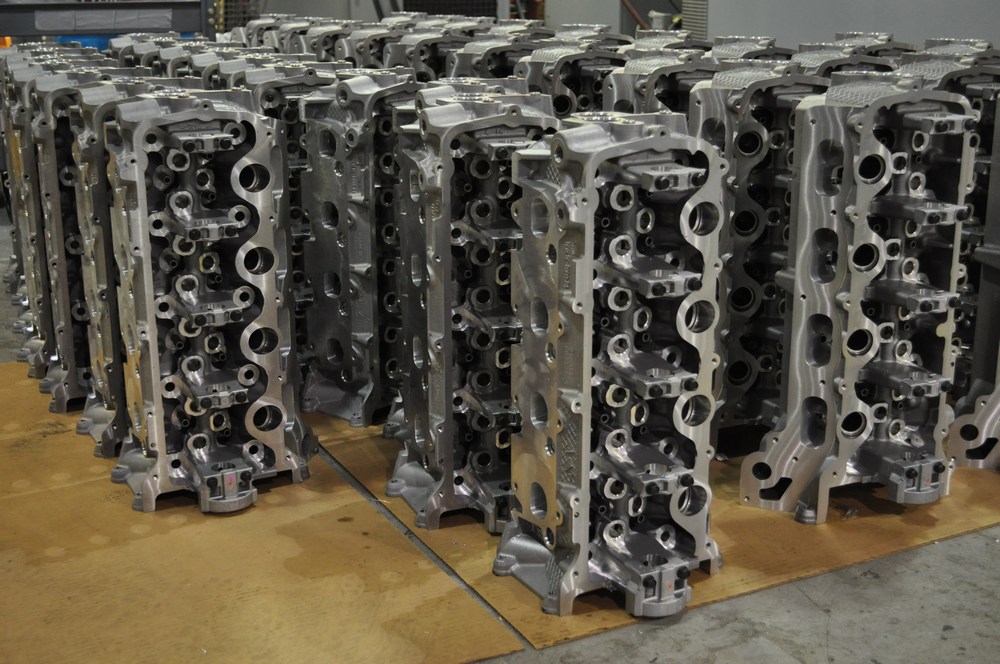 It doesn't take a budding gearhead long to understand that cylinder heads are a quick and efficient way to add power to any engine.
Sometimes, buying heads is part of a bigger package purchase, along with a new induction system and maybe an upgraded exhaust. Heads are bought for new engine builds, too, so they have large overall appeal in many applications.
We wanted to know what the market is looking like for 2012, and what local speed shops and builders can expect as far as demand, new technology and any challenges that might keep them from winning the next time their customers call heads.
A Head Start
Our first question was on the current state of the cylinder head market, and what performance shops can expect here in the new year.
"I think the performance cylinder head market is surprisingly strong, especially when you consider how long the economy has been struggling now," says Jack McInnis of Dart Machinery. "The lower-cost entry-level offerings and the very high-technology racing heads seem to be the stronger sellers, while the middle range components are seeing somewhat lower volumes."
Mike Schropp of Livernois Motorsports has also witnessed strong interest in high-performance areas.
"The performance head business market grew in 2011 and it looks like that trend will continue into 2012," he predicts. "With new platforms becoming available, as well as further development and offerings for existing platforms, the market gets bigger and bigger."
Eric Haugland of EngineQuest is also optimistic.
"The performance cylinder head business is growing for EQ, and we expect even better results in 2012. The less-than-robust economic conditions in the U.S. marketplace, along with less available expendable income from customers, have made it a very challenging business the last couple of years."
For speed seekers, upgraded heads are a staple that's not going away.
"Cylinder heads are the first stop for people that are looking for big power gains," notes Jeremy Anderson of Roush Yates. "The market is strong, but the competition is fierce. It is great to have so many choices as an engine builder. The prices on new modern cylinder heads make it more cost-effective to build even mild performance engines with new heads rather than rebuild 30-year-old cores."
Heads of the Class
So, with a market interest firmly established, which types of heads are selling well?
"Our Ford Modular 5.0 and 6.2 heads, along with our new Ford EcoBoost heads are really starting to become hot sellers," says Schropp. "There is a lot of interest in modifying these new offerings from Ford and each of these engine families has its own unique cylinder head. We've spent a considerable amount of time on research and developing programs for these engine families to allow for multiple stages of gains to be had from simple head bolt-ons to full-out engine builds."
Anderson is also expecting big things from the Blue Oval crowd.
"The new 5.0 Ford engine market is growing fast," he says. "It is a great engine. I see this engine taking off in popularity like the GM LS did a few years ago."
Not surprisingly, racing offers plenty of opportunities for heads sales.
"We are offering several CNC versions of our cylinder heads," notes Haugland. "EQ is also rolling out a new Mopar spec head for the IMCA Racing Series. In addition, our aluminum performance Torker small-block Chevy head is very popular. It's a high-quality 'budget performance build' cylinder head with extreme performance numbers."
McInnis also sees potential from the "budget" segment.
"Dart has introduced a new aluminum small-block cylinder head for our SHP line, which I think will be a big seller," he says. "The casting is made and machined in the Midwestern U.S. and is priced very affordably, but the quality is far better than you might expect at the price point. Customers have been really impressed by the SHP product."
Use Your Head
Heads always seem to be connected to advances in machining, materials and construction, so we asked about any recent technological changes and/or trends that will affect the market.
EQ's Haugland explained what is going on in this field and how it directly helps shops sell.
"We are using a new five-axis machining center and state-of-the-art flow technologies to maximize our performance cylinder heads. Intake runner flows well over 300cfm at 0.600-inch lift are now being realized in several of our products. In general, technology has impacted the engine building market by allowing us to solve problems by introducing a series of products that are now available at an affordable price. This could only be accomplished with modernized manufacturing processes. Having affordable, high-quality OE-fit products allows speed shops and engine repair facilities to offer a wide range of products at a much more affordable price to their customers."
Roush Yates' Anderson agrees that better technology makes a better product.
"The new wave of more cost-effective CNC porting equipment has made fully ported heads available from even small shops," he explains. "Just a few years ago, a five-axis machine to port heads was so expensive that only a few elite shops and large manufacturers had them. Now, purpose-designed CNC mills are available for a reasonable cost."
Materials are another area where new developments are driving innovation.
"We have been aggressively pursuing a number of technologies including metallurgy, foundry practices and machining operations in order to offer greater value to our customers," notes Dart's McInnis. "The cylinder head business is more competitive than ever, and we believe that our good reputation is our greatest asset. It is very important to deliver a product that not only meets, but exceeds the customer's expectations."
Even the OEMs are getting in on the act, adds Livernois' Schropp.
"A lot of the recent changes for the late-model OEM heads we have seen directly tie in to the development and advancements that the OEMs have made in refining the heads in stock form," he says. "These heads are very refined and require a lot of time spent on research and development to make further improvements over the already decent form they come in as stock castings."
When it comes to which types of heads projects shops are most likely to see this year, take your pick. The manufacturers say there are opportunities across the board.
"At Roush Yates, we build a little bit of everything," notes Anderson. "From maximum-effort Ford 436 dirt late-models with D3 heads to street engines with cast iron 23-degree heads, the variety and choices for cylinder heads is endless."
Even daily drivers are fertile ground.
"The majority of the heads we are producing these days are oriented towards street/strip cars," says Schropp. "The rest are considered dedicated race cars. I think the street/strip market is the largest, though, with a large percentage of customers who drive their cars daily."
Haugland agrees with the trend. "Most of the shops that we are dealing with are building both circle track and strip projects. We have seen a slight increase in the restoration street market also."
He also suggests looking in places you might not think of right away.
"Shops can immediately begin making more money in engine building by gapping into the vintage engine and restoration marketplace. This seems to be one of the areas that has not been as significantly affected by the current economic downturn. We see restorations as a strong spot in our sales numbers. Diversity in services offered along with solid training of employees will help speed shops maintain their sales."
Heading Out
All the talk seems fairly positive surrounding cylinder heads. So, what should shops look for when attacking this important market?
"I think customer loyalty is a huge deal, especially with the prevalence of social media and the speed of communication today," says McInnis. "A happy customer can be a great advocate and influence a lot of people to consider your services and products. An unhappy customer has greater opportunity than ever to influence people as well, so it's critically important in my opinion to deliver great products and service."
Schropp says knowledge is king.
"We recommend that shops always work with us when initially installing heads on an engine platform they are unfamiliar with, as this helps them get the needed tips and information required for that specific engine platform," he says. "Beyond it helping with the actual installation, it also helps shops become more accustomed to the specifics of that engine platform and helps in terms of selling the heads to customers. The more information the shop has, the better chance of making a sale by being knowledgeable in the products they are selling."
When it comes to knowledge, the heads manufacturers are happy to share.
"Customers should know that EQ products are being used in all sorts of different applications throughout the performance industry and have been used in multiple championships across the country," says Haugland "Among the biggest challenges for speed shops offering building services is the availability of funds for their customers' projects. Another challenge is having a good knowledge of the vintage engine and restoration marketplace. This challenge is also an opportunity. Shops that have this expertise will have an advantage, because there is a current shortage of knowledgeable vintage specialists."
Finally, Anderson points out how shops can score a homerun-by understanding the market and steering their customers in the right direction.
"Proper application is key," he says. "You need to get the right head for the right customer. This is the whole reason that there are so many choices. There is no one-size-fits-all cylinder head. Performance goals, weight, cost, appearance and track rules all play a role in choosing the correct cylinder head for that particular customer. The right head and porting will get you hero status with your customers."
Put it all together and it's a winning combination for coming out a-head (pun intended!)