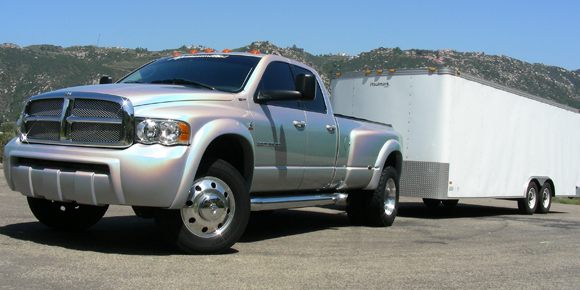 Take me along with you.
That could be the mantra of travelers, enthusiasts and men (and women) at work.
Hauling trailers for work or fun means having the right tow system coupled with the right vehicle to pull the load safely, confidently and without undue stress on the vehicle and hitch system.
Just recently, Larry Weiner at Performance West Group in Bonsall, Calif., paired a 2003 Dodge Ram 4-wheel-drive dually with a 24′ steel Haulmark tandem, enclosed auto transport trailer, one that people might use to haul their show or project vehicles.
The six-speed manual dually has a powerful 3500 with Cummins 550 HO engine with 4.10 gear; the Gear Vendors under/ overdrive provides 22% overdrive and the ability to split transmission gears and get better fuel economy, Weiner says.
The Oasis differential cover for the rear axle is larger than stock, holds more oil for reduced oil temperature, and the finned cover dissipates heat for longer differential life.
The dually got upgrades, first, in the form of plus-size (from 17″ stock to 19.5″) Rickson truck wheels that weigh less for better fuel economy, and extended brake pad and wheel bearing life. "Compared to stock steel wheels, the lighter aluminum wheels reduce critical unsprung weight, resulting in safer vehicle handling," Weiner says. Second, came the larger-than-OE 17″ Goodyear tires: front, model G159, size 265/70R19.5; rear, model G124, size 265/70R19.5. The benefit to using these bigger tires is that they are specifically designed for high-mileage over-the-road truck use, with more plies.
To connect the auto carrier to the Ram, a lightweight aluminum Rapid Hitch is used because Weiner says it offers adjustable height to ensure safe, level trailering regardless of tongue height of trailer or ride height of truck.
The Haulmark vehicle carrier received upgrades, too, starting with 12,500-lb.-rated axles with torsion bar suspension. "Torsion bar suspension is more durable, results in a smoother ride, and eliminates original leaf springs that can break and cause axle(s) to move with a resultant accident risk," Weiner notes. Inside, steel-fabricated Kinedyne Logistic Track went on the floor. Its flexibility enables safe, secure, easy tie down of any vehicle to trailer floor.
Weiner included a Superwinch S5000 12V electric winch with a 5,000-lb. pull rate to get the trailered vehicle into the Haulmark. The winch also has remote control.
And for trailer tires, he went with Goodyear model G647 RSS, size 225/75R16, specifically designed for over-the-road truck use. Like the Ram's oversized rubber, the tires are larger than 15″ standard equipment and much more durable with more plies. "Tire failure is the most common problem associated with towing, and a significant safety issue," Weiner offers.
He also suggests including the following items in trailer: an aluminum floor jack in case of flat tire, and a battery hot box in case the vehicle to be towed has a dead battery.