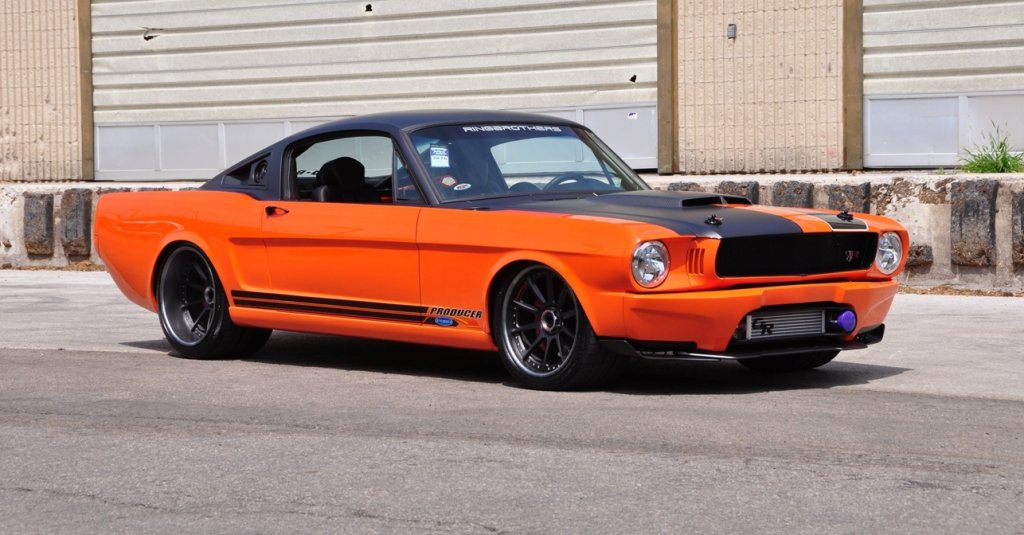 Pennsylvania's Gary Bowers' bright orange 1965 Mustang won the Goodguys 2012 Optima Batteries Street Machine of the Year crown at the Goodguys 15th PPG Nationals in Columbus, Ohio.
Bowers' high-tech, ground-hugging Mustang, built by Ringbrothers, represents the latest in track-ready, show-quality super muscle cars, according to a press release.
Well-known for the ability to transform Mustangs into modern masterpieces, Ringbrothers has set the bar even higher with the Bowers '65, nicknamed "Producer." The body was widened 4 inches (2 inches on each side, rather than cut down the middle), the rockers are extended, there's a full belly-pan underneath and both the hood and roof are carbon-fiber-signature Ringbrothers touches.
Under the hood is high-compression, Keith Craft-built 427-ci stroker based on the 351 Windsor small-block making 740 hp. The matte-finish three-piece wheels designed by Ringbrothers were built by Forgeline. Baer Brakes, AFCO shocks and a suspension consisting of front tubular A-arms and a Watts link setup in the rear give it razor-sharp handling.
The car gets its name from Bowers' Waynesburg, Pa.-based Producer Supply Co.
For winning, Bowers will receive a customized toolbox from Snap-on as well as travel accommodations to the Goodguys 15th Southwest Nationals Nov. 16-18 to exhibit in the Champions Arena.
The other finalists for the Goodguys 2012 Optima Batteries Street Machine of the Year award were Dave Leisinger, Wall Lake, S.D.,  (1971 Camaro); Dana Irvin, Cypress, Texas, (1965 Mustang); Steve Keefer, Brentwood, Calif.,  (1969 Camaro); and Dale Boesch, Humphrey, Neb., (1969 Camaro).