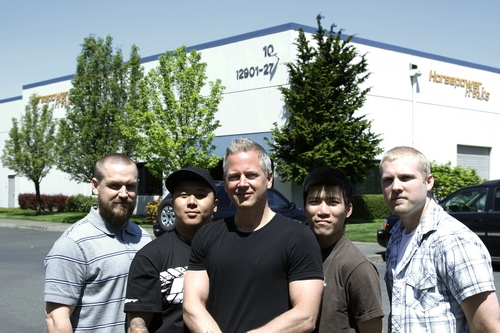 Ten years ago, Chris Bergemann, president of Portland, Ore.-based HorsepowerFreaks Inc., was obsessed with speed, but in a much different way than he is today: Namely, he was sustaining himself by building cutting-edge information technology systems up and down the West Coast.
At the time, he was feeding his passion for performance only by gunning for the fastest times racing amped-up Toyota Supras as a hobby.
But it wasn't long before he found a way to blend together his competing passions for technology and performance. In January 2001, the Supra enthusiast opened HorsepowerFreaks as a purely Internet store that primarily sold parts to Supra customers.
The fledgling company had high ideals and goals, primarily an undertaking to bring high-performance parts to a global marketplace at a fair price and with customer service that exceeded that of its competitors. No small feat, to be sure.
It was soon apparent that Bergemann's fast response times weren't limited to the track. He and his team found an amazing amount of success right out of the gate: HorsepowerFreaks grossed $860,000 in sales in its first full year in business and $2.1 million in its second.
"For me, starting HorsepowerFreaks was a way to do all the things I loved, and to combine those passions into one project," Bergemann says. "The business grew very rapidly and in two years expanded into a 6,000-square-foot building. In three more years, HPF expanded into product development and added another 9,000 square feet for engineering and service."
The now multi-million-dollar-company's new facility provides both a retail store front for parts and service, inventory warehousing for aftermarket and OEM products, as well as an engineering and manufacturing division for its own HPF line of products for BMW platforms.
Over the years, the company's turbo kits for BMWs have extended far beyond domestic borders, with more than 100,000 customers across Russia, Japan, the Middle East, South America, Canada and Europe.
And through it all, Bergemann has operated the shop much like an information technology, or IT, company.
"I've always run it like I've run all my operations-"extremely clean and organized," he says. "That has helped us tremendously. Some of our products have over 500 pieces, so you've got to focus on your supply chain. If one of those 500 pieces has run out, things can grind to a halt. You have to be very organized to anticipate your needs and make the proper orders."
Tech-Focused
Now in 2011, HorsepowerFreaks is again growing out of its current space and looking to expand.
"I actually looked at property today, and this time we're interested in buying as opposed to leasing," Bergemann says.
If any company can justify the expense, it may be HorsepowerFreaks. In 2007, the company was listed as the 268th fastest-growing company in America by Entrepreneur Magazine.
Bergemann now manages a team of 17 employees in a 15,000-square-foot facility and specializes in bringing all types of products to market for various BMW applications, ranging from turbo systems to motor mounts to interior and exterior parts and accessories. The company works with nearly 200 warehouses around the world.
"Whatever it is, we can almost always get it," says Bergemann.
Technology, as it was in Bergemann's former life, is playing a huge role in HorsepowerFreaks' ongoing success. While custom vehicle builds are a growing part of its operation, online sales still provide the fuel for the HorsepowerFreaks' fire.
The company's website gets about 12,000 unique visitors a day, with about 70,000 to 80,000 page views a day. That astonishing feat, along with a heavy focus on online video, has given the company excellent Search Engine Optimization (SEO) rankings, which is a key to any online business.
"With products and services as complex as ours are, the Internet has become a really valuable tool for communicating with our customers," says Bergemann, noting that he and his staff provide many informational videos on Internet video portal YouTube at www.youtube.com/hpfchris.
"With things this complex, we really have to give away some of our secrets online to be sure that our customers feel secure in our products," he adds. "We use online video as a way to show people how we achieve the results we achieve. It helps them to not feel the need to question what is inside a complex turbo system, for instance. We feel strongly that shedding some light onto how things work is a benefit to us, even if it could open us up to some additional competition."
HorsepowerFreaks today has a full-service facility that specializes in BMW tuning-in addition to a warehouse and showroom-but its core business (about 80 percent of total sales) still originates from the company's online operation. It has about 200,000 parts for all types of vehicles available online at any given time, and a call center to manage phone orders.
But that's not to say its own shop isn't making an impact. Bergemann says most cars come in for full motor build turbo systems, stages 2.5 and higher.
"We remove the motors from their cars, tear them down, bore them 0.020 over, or we have standard bore blocks in stock as well as sleeved blocks that allow us to run 0.040 'under' pistons and increase the cylinder wall thickness," he says. "None of these parts were ever created for the cars that we have in our shop, so we designed everything, even the engine management system.
"We have a step-by-step process to install our kits that can take from one week for a simple Stage 1 job to three weeks for a Stage 3 or 4 turbo system," he adds. "A lot of the time that depends on the other options people choose. Most of the big builds have everything from brakes to suspension to body, wheels and dress-up parts. So much of our business comes from all around the world that we are typically shipping the vehicle back to the customer."
With builds that substantial and far-reaching, it's no wonder that when asked about his favorite projects over the years, Bergemann has a tough time singling out just one or two.
"We've received a lot of magazine covers," he says, noting that it's always nice to get the level of recognition of a magazine cover at the end of a hard-earned project. "I guess I'm most proud of the HPF M3. It recently won the MFest drag event in Las Vegas and took second in the MFest Tuner Time Attack."
Over the years, HorsepowerFreaks' vehicle builds have graced the pages of magazines including Bimmer, MaxPower, Performance Auto & Sound, Eurotuner, Heavy Hitters, European Car, and Performance BMW, to name just a few.
Growing Pains
As with any company experiencing what essentially amounts to hyper-growth, HorsepowerFreaks' biggest challenges today would likely fall under the category of growing pains.
The company, which primarily serves male customers ranging in age from 20 to 35 but has seen an increase in female customers in recent years, has experienced so much growth that there have been periods where simply keeping up with demand has become an arduous task.
A prime example: Bergemann, in addition to normal daily duties of a company president, also applies his technology background in building the computer terminals his employees use and, in many cases, the software that is run on them. While this gives him a great insight into the operations of the company, it is not without its downsides, he says.
"We literally had our biggest week ever last week, and we had our biggest month ever last month, so to keep up with that you need more employees and that means they also need computers to work on," he says. "That means they also need training and education and they need to have new computers to work with, and I'll admit that I can't always keep up.
"There was a time that I was writing all the software for the service department, so we haven't always had software for the service department," he jokes. "Or at least we didn't have the right software for the service department."
On a more serious note, Bergemann notes that managing and maintaining a productive and happy staff under such extreme growth conditions is no joking matter.
"Finding good employees is not really the most difficult part," he says, noting that he finds most employees through simple ads online at craigslist.org and through word of mouth. "Keeping them and keeping them happy is the true challenge, and that's a complicated effort but also a very important one."
His personal philosophy on how to maintain that balanced and happy workforce is surprisingly simple: Keep bad employees out of the mix. And if one gets in, get them out fast.
"The best thing you can do to keep your staff happy is to not have poor employees around messing things up," he says. "Bad employees have the potential to really kill morale.
"We have the most amazing staff here, and that is what has allowed us to be so successful over the past 10 years," he adds. "To keep them happy, you have to get rid of the bad ones fast. I believe that the fact we are able to do that effectively is a sign of good leadership and good communication."
By keeping poorly performing employees out of the shop and great ones around as long as possible, HorsepowerFreaks has undeniably built an impressive track record of success. And the best part of the job, according to Bergemann?
"That's easy: Seeing the happy faces of our customers when they drive their HPF BMWs for the first time," he says. "That is really something special."
Knowing that customer satisfaction is top-of-mind for Bergemann and HorsepowerFreaks, it's not surprising that performance enthusiasts will likely be seeing a lot more of the company in coming years.
"We've been growing like a weed, and we fully intend that to continue," he says. "We are expanding into many more vehicle models, will spend more time involved in track and drag events, have more exposure on TV and just plain have a lot more fun."
For a company experiencing the growth that HorsepowerFreaks has experienced over the past decade, that sounds like a worthwhile endeavor to pursue.